Switch from WooCommerce
Trouble customizing WooCommerce storefront? Sync an existing WooCommerce store with aasaan or import your data with a few clicks. Aasaan's store builder unlock custom shopping experiences that grow with your business—with no hidden costs and without needing to code.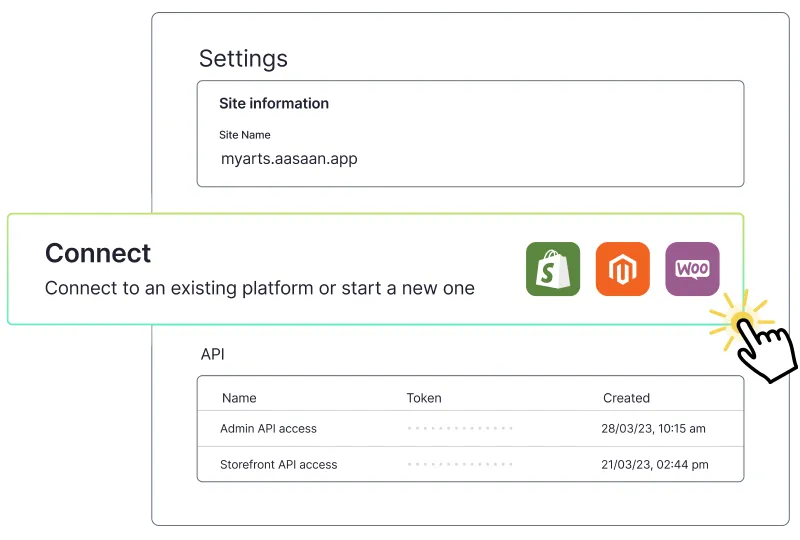 COMPARE
Aasaan vs WooCommerce
Aasaan offers a more full-featured store builder stack and lets see how it compares.


Intuitive and simple, yet still powerful

USABILITY
Clunky, outdated, and frustrating

SPEED
Imagine a sloth, but less cute
Work rolls up to Teams, like in real life

STRUCTURE
Work rolls up to nebulous Projects
One click to see work across multiple teams

VISIBILITY
Work siloed under one team
Docs are free and integrated w/ your work

DOCS
Confluence is a separate app and costs $$$
Reports work right out of the box

REPORTS
Reports require additional setup and cost
Onboard your whole team within hours

SETUP
Spend eternity onboarding your team
VALUE
Cut costs and
get more with Aasaan
Aasaan offers more value, advanced store builder features, and a cleaner interface.
Your team will thank you, and so will your accountant.


WooCommerce + Third-party apps
SWITCH
Two ways to switch:

Sync with WooCommerce


Try Aasaan hassle-free. The sync pulls all your existing data from Woocommerce to Aasaan seamlessly.

Sign up for free
Watch the Video (coming soon)
Migrate from WooCommerce


Ready to migrate from Woocommerce? This will pull over all of your data from Shopify to Aasaan effortlessly.

Sign up for free
Watch the Video (coming soon)
Our merchants love us
Merchants who use aasaan really love everything about it.
"Before we were using another platform"
September 30, 2023

Naushad Ansari
Business Owner
"Aasaan is a wonderful and supportive"
May 01, 2023

"Awesome"
August 26, 2023

Want to see reviews?
Read More
People prefer Aasaan
There are numerous reasons why people prefer Aasaan over WooCommerce, but the numbers don't lie.
Lightning-Fast Site Speed
Experience a 70% increase in site speed, ensuring a seamless shopping experience.
Boost Your Conversion Rates
Witness a 38% uplift in conversion rates, maximizing your sales potential.
Elevated Average Order Value
Enjoy a 20% surge in average order value, driving higher revenue per transaction.
Accelerated Time to Market
Achieve 90% faster time to market, enabling you to stay ahead of the competition.
Want to learn more?
Contact Us