5 Best Amazon Store Name Generators: Instantly Generate Business Names and Ideas
Did you know that over 2.5 million sellers compete on Amazon? Standing out in such a crowded marketplace starts with a name that clicks.
In this article, you'll learn about the best Amazon Store Name Generators and how to leverage them to craft a moniker that not only stands out but resonates with your target audience, ensuring your store starts on the right foot.
Have you ever found yourself stumped, trying to concoct the perfect name? You're not alone. Choosing a name can feel like finding a needle in a haystack.
But what if I told you there's a treasure map waiting to be used? Join me, and let's uncover the secrets to a name that sells.
How To Name Your Amazon Business
The global Amazon marketplace has 6.3 million sellers as of 2023. However, only 1.9 million of them are active, meaning they have products listed for sale. So, the competition may not be as fierce as you think.
Still, having a catchy name for your online store can help you attract more customers and stand out from the crowd. Some tips for choosing a good name are:
Make it easy to spell and pronounce
Use keywords related to your niche or products
Avoid trademark infringement or confusion with other brands
Be creative and memorable
Read on to discover top 5 Best Amazon store name generators for business to create a unique and brandable Amazon seller store name.
5 Best Amazon Store Name Generators: Instantly Generate Business Names and Ideas
1. Domain Wheel Amazon Store Name Generator: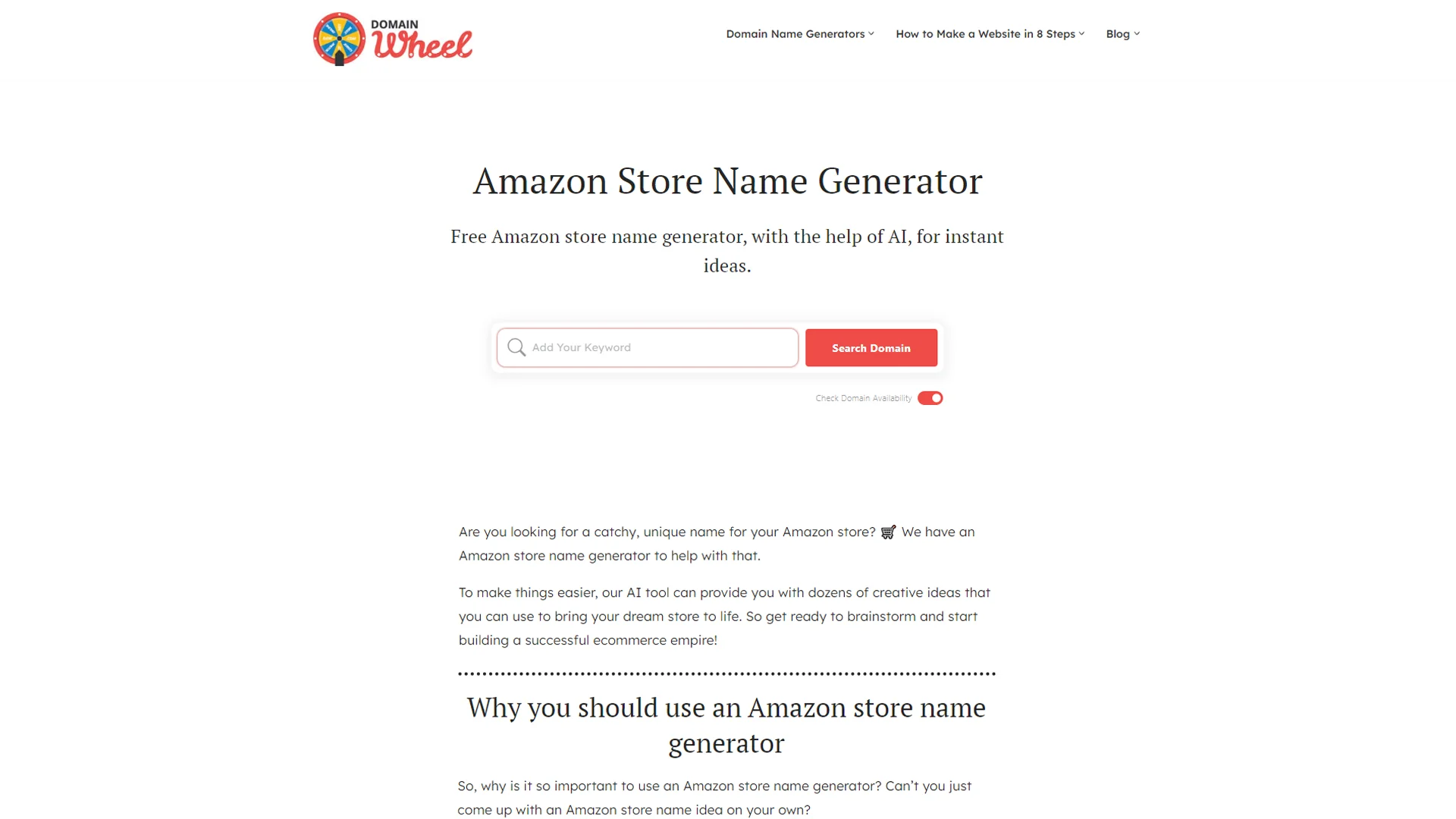 Domain Wheel's Amazon Store Name Generator is a valuable tool for individuals looking to create a catchy and unique name for their Amazon store. The generator leverages AI to provide instant name ideas, making it easier for users to brainstorm and establish a successful e-commerce brand.
One of the key advantages of using this generator is the ability to receive dozens of name suggestions in seconds, eliminating the need to wait for inspiration to strike. Additionally, the tool automatically checks the availability of domain names associated with the generated ideas, ensuring users can claim their desired domain without any hassles.
DomainWheel also offers search filters, allowing users to customize their search based on domain extensions and character length. The service is completely free, making it accessible for anyone seeking to create an Amazon store name.
For example, if you enter "coffee", you may get names like "CoffeeBuzz.com", "CoffeeZone.net", or "CoffeeLover.org".
2. Business Name Generator: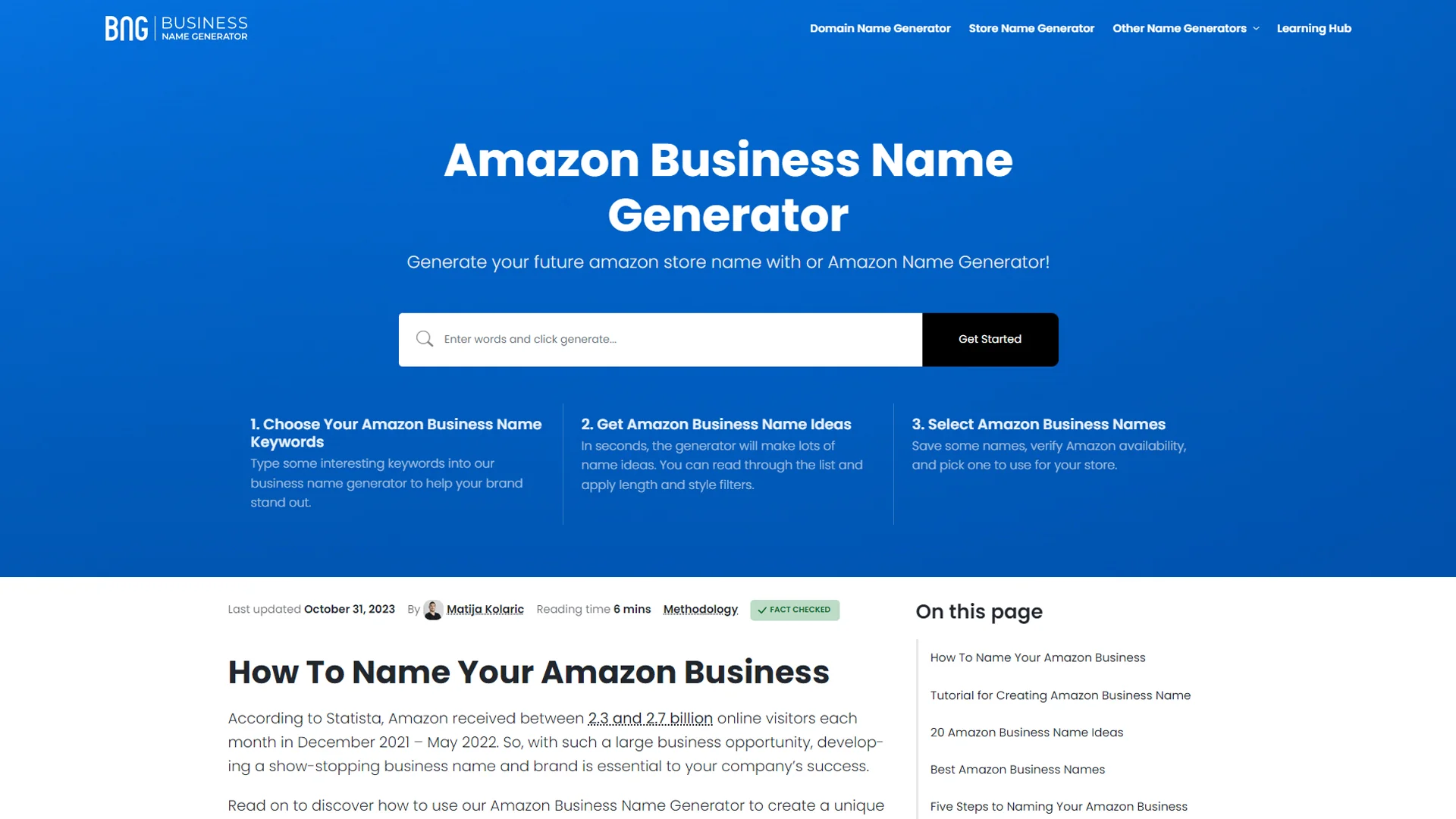 Business Name Generator is another tool that helps you create a name for your Amazon store. It works similarly to Domain Wheel, but it also allows you to choose your industry from a drop-down menu, such as Fashion, Beauty, Food, etc.
This way, you can get more specific and relevant names for your store. You can also select the name style, such as Rhyming, Alliterative, Compound, etc. Business Name Generator also shows you the availability of the domain names and social media handles for each suggestion.
For example, if you choose "Beauty" as your industry and enter "skin", you may get names like "SkinSavvy.com", "SkinSense.net", or "SkinScape.org".
3. Founderjar - Amazon Business Name Generator: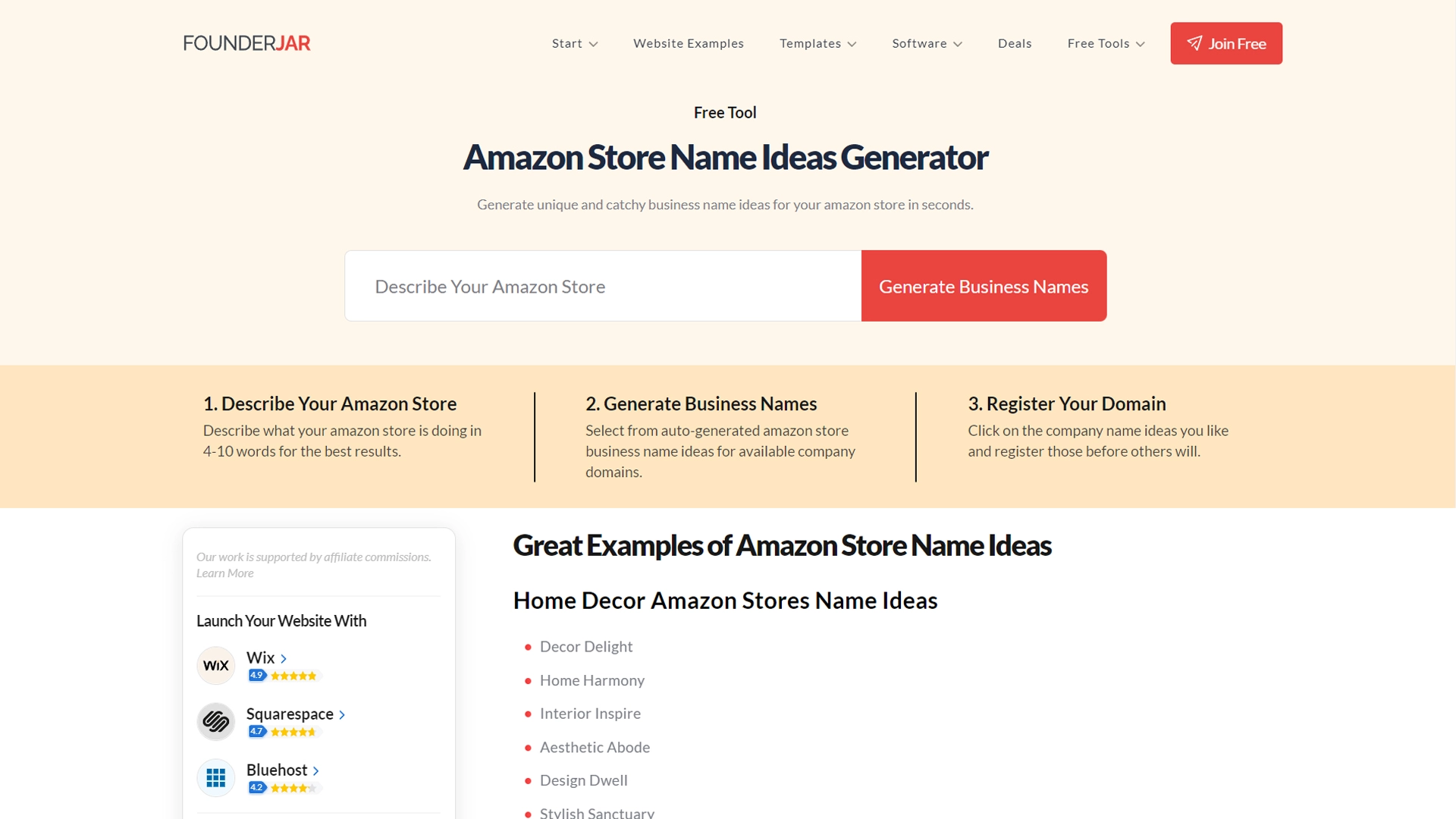 The FounderJar Amazon Business Name Generator is a user-friendly online tool designed to help entrepreneurs create unique and catchy names for their Amazon stores quickly. This free tool simplifies the naming process into three easy steps:
Describe Your Amazon Store: Users can provide a brief description of their Amazon store's purpose in 4-10 words to get personalized suggestions.

Generate Business Names: The tool then generates a list of auto-generated Amazon store business name ideas based on the provided description.

Register Your Domain: Users can click on the company name ideas they like and register them before others do, ensuring they secure their preferred domain names.
The FounderJar Amazon Business Name Generator aims to simplify the crucial task of naming an Amazon store, helping sellers find brandable, memorable, and SEO-friendly names that resonate with their target audience.
4. Brandsnag Amazon Store Name Generator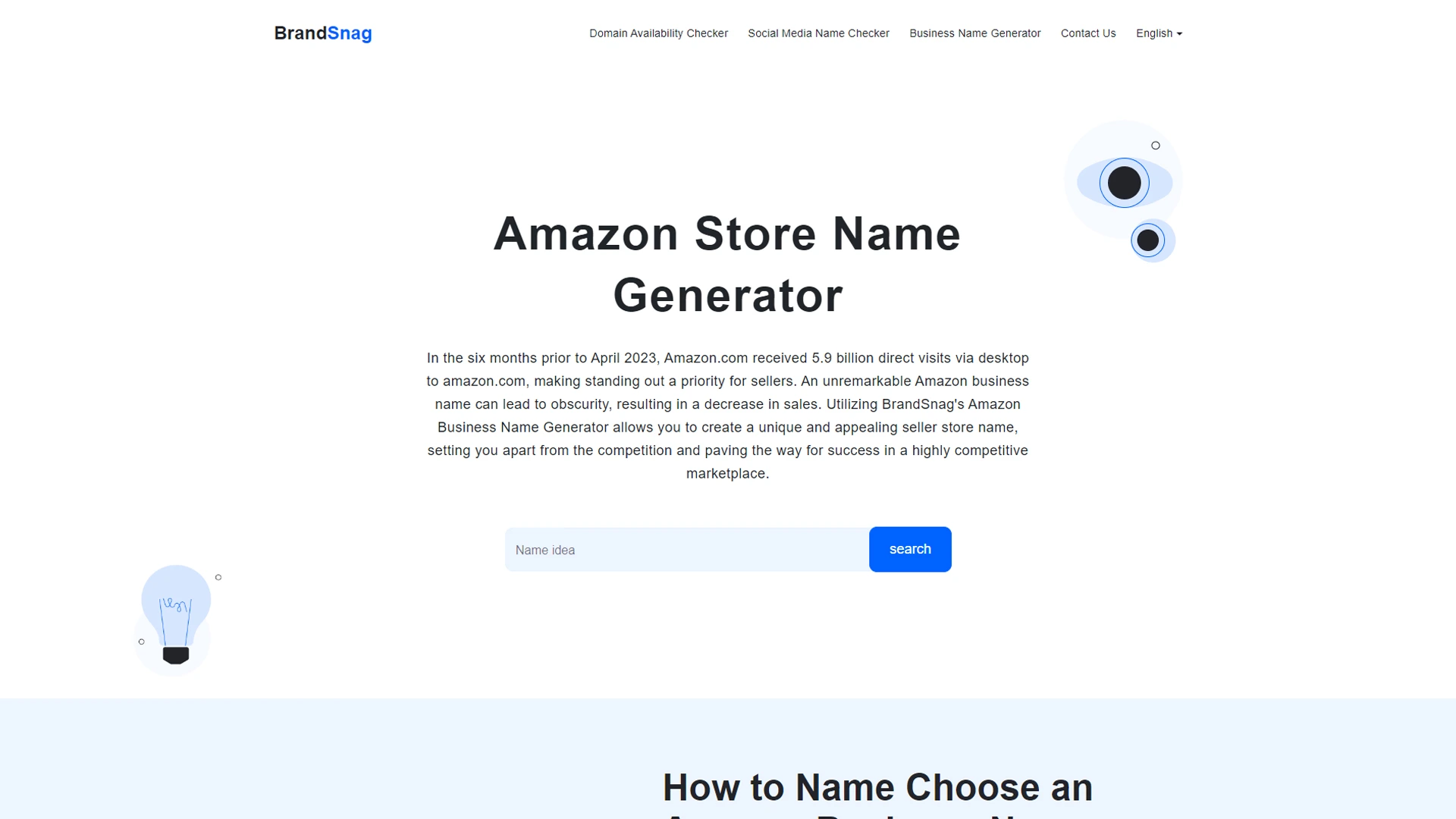 BrandSnag is a comprehensive online platform offering a range of name-related tools and generators to assist users in finding suitable and unique names for their businesses, social media profiles, domains, and more.
One of its prominent features is the Amazon Business Name Generator, specifically designed to help Amazon sellers create distinctive and attention-grabbing store names.
In a highly competitive marketplace like Amazon, having an outstanding business name is crucial for attracting customers and standing out from the crowd.
BrandSnag's generator is a valuable resource for sellers, as it emphasizes the importance of consistency in branding, making a lasting impression, and understanding the context of the business type when choosing a name.
The platform also highlights the significance of incorporating keywords for better visibility on Amazon and utilizing Amazon SEO techniques effectively.
It advises against copying existing brand names and encourages users to opt for professional, memorable, and positive names that resonate with customers.
BrandSnag goes beyond Amazon business names, offering a wide range of name-related tools, including gamertag and username generators, domain availability checkers, blog name generators, and more.
It provides a holistic approach to naming, helping users make informed decisions to establish strong brand identities across various platforms.
5. Namelix Business Name Generator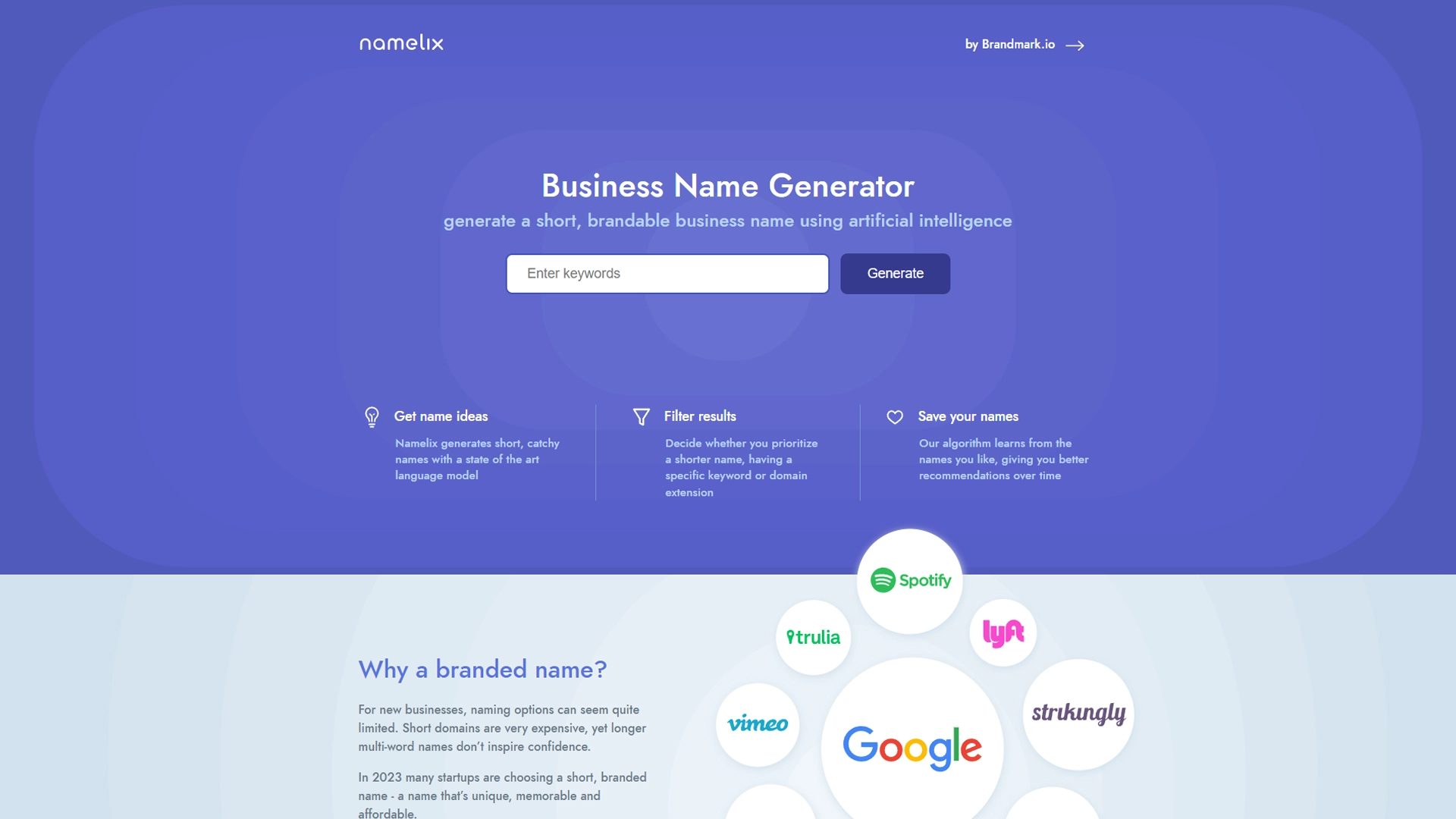 Namelix, featured on Brandmark.io's website, is a cutting-edge business name generator powered by artificial intelligence.
This innovative tool is designed to assist entrepreneurs and startups in crafting short, memorable, and brandable business names. Namelix employs a state-of-the-art language model to generate catchy name ideas based on the keywords provided by users.
One of Namelix's standout features is its ability to filter results according to user preferences, allowing you to prioritize factors like name length, specific keywords, or domain extensions.
Moreover, the platform offers a unique learning algorithm that adapts to your naming preferences over time. This means that as you save names you like, Namelix fine-tunes its recommendations, providing you with increasingly tailored and relevant suggestions.
Namelix recognizes the importance of a branded name for new businesses, particularly in a landscape where short domain names can be prohibitively expensive. It emphasizes the value of selecting a short, branded name that is not only unique but also cost-effective.
By using Namelix, startups can leverage AI to create distinctive and professional names that set them apart in the market, ensuring a memorable and lasting impression.
Steps for choosing your Amazon business name
Choosing an Amazon business name is a critical step that requires careful consideration of several key factors. Here's a compiled list of steps, to help you select an optimal name for your Amazon store:
Incorporate Keywords: Select keywords that are relevant to your product offering. This helps in becoming more visible and appealing to potential customers. For example, if you're selling children's clothing, use related terms like "kids clothes" or "children's attire".

Be Descriptive and Informative: Your Amazon store name should give a clear idea of what you sell. Names like "PureGaming" or "CableCreation" immediately convey the nature of the products offered, which customers appreciate as it aids in their search process.

Assess the Competition: Research other stores on Amazon, especially those in your niche. This will help you gauge what names are being used and find a name that stands out or is distinct from your competitors.

Check Name Availability: Before finalizing your name, ensure that it is available. This includes checking domain names and Amazon itself, as well as securing related social media profiles for branding purposes.

Avoid Personal Information: The seller name should not disclose your personal details; it should rather focus on the business and be seen as a distinct entity.

Brand Alignment: If you have an existing brand, website, or seller name on other marketplaces, try to align your Amazon seller name accordingly. However, if you sell various branded products, choose a name that highlights the unique benefits of your business.

Be Unique and Memorable: Create a seller name that is easy to remember and not too similar to existing ones to avoid confusion.

Stay Positive: Choose words with positive connotations for your seller name to elicit positive impressions and avoid any negative associations.

Create a Lasting Impression: Aim for a seller name that sticks in customers' minds, ideally something short, catchy, and easy to pronounce.

Ensure Coherence with Your Business Mission: Your business plan and mission statement should guide the selection of your seller name, reflecting your brand's ethos and product types.

Consider Your Seller Type: Know whether you are a reseller or if you are selling your own branded products, as this will influence how closely your seller name needs to be tied to your brand.

Match with Your Brand and Domain: It's beneficial if your Amazon seller name is associated with your brand name and matches your domain, facilitating easier listing optimization and offsite marketing.

Consider Long-Term Goals: Be cautious when using specific keywords in your name as this can limit future expansion. Ensure that your name is adaptable and not too niche-specific.

Avoid Generic Names: Generic names might not stand out and can be less memorable, which is not ideal when trying to build a brand identity on Amazon.
When selecting a name, it's also important to strike a balance between being descriptive and being broad enough to accommodate potential business pivots or expansions. A professional, memorable, and positively connoted name can significantly impact the perceived credibility and attractiveness of your Amazon store.
In Conclusion:
Amazon Business Name Generator Tools offer a super convenient way to find awesome names that could totally turn into killer brands.
Inside this cool tool, you can pick either a keyword-based or a brand-focused domain name, and both options come with their own cool perks.
So, first things first, when it comes to making a brand that really sticks, you gotta nail down that brand name. Think about it in a chill and smart way, covering everything from the name itself to how you talk about it and even how it looks.
And hey, branding is a big deal, but don't stress too hard. If you're ever stuck or just don't have the time, think about roping in some help. Sharing is caring, after all, especially when it comes to your brand's success!
FAQ'S on Amazon store name generators:
1. How to name my Amazon business?
To name your Amazon business, start by identifying keywords related to your products, ensure the name is memorable and check for its availability. Avoid personal information and ensure it aligns with your brand values.
2. What is a good name for my Amazon business?
A good name for your Amazon business should be unique, reflect your product line or brand ethos, be easy to remember, and have positive connotations.
3. Should I name my Amazon brand after myself?
Naming your Amazon brand after yourself is not typically recommended unless your personal name is already an established brand. It's often better to choose a name that reflects your products or brand vision.
4. How do I brand my Amazon business cheaply?
To brand your Amazon business cheaply, focus on creating a strong brand name and logo, utilize social media for marketing, and take advantage of Amazon's branding tools like A+ Content and Storefronts.
5. What should I make my Amazon store name?
Your Amazon store name should be relevant to your product offerings, catchy, and easy to search for. It should also be different enough from existing store names to avoid confusion.
6. How do I create a unique store name?
Create a unique store name by combining relevant keywords creatively, using name-generating tools for inspiration, and making sure it stands out from competitors and resonates with your target audience.
Get started
Experience the most powerful way to build beautiful & engaging shopping experience for your business here.
Check out our blogs
Aasaan help businesses build headless commerce storefronts using AI without needing to code. And this is our blog.
Read more stories