6 Best Ecommerce Platform For Auto Parts in 2023
Hey there, savvy entrepreneur! Are you in the auto parts business and looking to shift gears by taking your store online?
Well, you've revved your engine at the right pit stop.
In this comprehensive guide, we'll break down why ecommerce is the turbo boost your auto parts business needs, the skyrocketing trend of online auto parts sales, and the must-have features to look for in an ecommerce platform.
Ready to accelerate? Let's go!
Why Ecommerce for Auto Parts?
Let's face it, the traditional brick-and-mortar model for selling auto parts is like driving a classic car—nostalgic but not exactly efficient.
Ecommerce, on the other hand, is the electric car zipping past you on the highway. Here's why:
Wider Reach: Unlike a physical store limited by geography, an online store can reach customers far and wide. Imagine selling car batteries in Boston and windshield wipers in Wyoming—all from the comfort of your home!
Lower Operational Costs: No rent, no utility bills, and no extra staff. Your overhead costs plummet faster than a sports car goes from 0 to 60!
Data-Driven Decisions: With ecommerce, you can track every click, view, and purchase. This data is the GPS guiding you through the foggy road of business decisions.
24/7 Availability: Your online store never closes. It's like a tireless mechanic that's always on call.
Personalized Experience: Ever heard of AI-driven recommendations? They're the virtual salespeople upselling products like a pro.
The Rise of Online Auto Parts Sales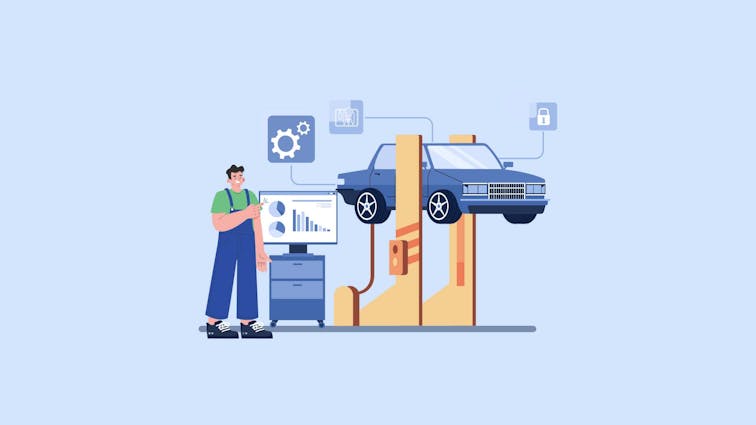 If you're still skeptical, let the numbers do the talking. According to recent studies, the online auto parts market is expected to hit a jaw-dropping $20 billion by the end of 2023. That's not just a bump; it's a quantum leap! Here's what's fueling this growth:
Consumer Comfort: As people become more tech-savvy, the hesitation to buy auto parts online is vanishing faster than the morning fog.
Variety: From OEM to aftermarket parts, the options online are as numerous as the bolts in an engine.
Convenience: Why drive to a store when you can click your way to the exact part you need?
Competitive Pricing: Online platforms are the battlegrounds of price wars, and guess who benefits? The consumer!
Key Features to Look For
Alright, you're convinced that ecommerce is the way to go. But how do you choose the best ecommerce platform for auto parts? Look for these key features:
User-Friendly Interface: If navigating through the platform feels like solving a Rubik's Cube, it's a hard pass.
SEO Capabilities: A platform that's not SEO-friendly is like a car without an engine. It won't get you far.
Customization: Your platform should be as customizable as a luxury car. If you can't add your own flair, what's the point?
Payment Gateways: Multiple payment options are the fuel that keeps the buying process running smoothly.
Customer Support: A robust customer support system is the airbag of your ecommerce journey—essential for when things don't go as planned.
When choosing an ecommerce platform, you can consider things like:
Whether the platform aligns with the core specifics of your business
Whether the platform offers quality technical support
Whether the platform allows for customizations without hurting your budget
Whether the platform ensures high website performance
Whether the platform offers secure integrations with multiple payment gateways
Top 6 Automotive Website Providers for Auto Parts eCommerce
1. Aasaan: The No-Code, API-First Ecommerce Solution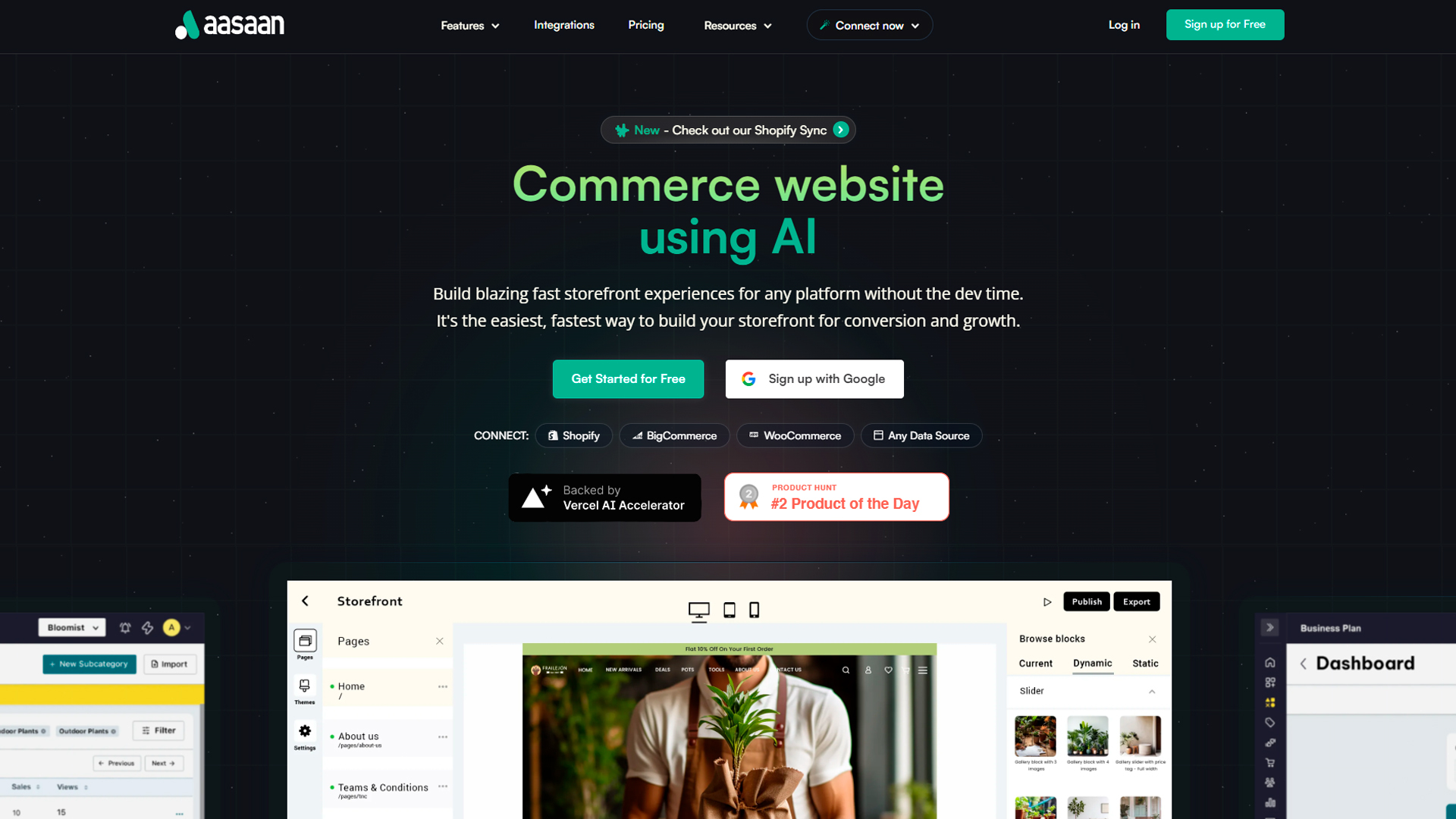 Aasaan is a no-code, API-first ecommerce platform that empowers businesses to build visually stunning online stores without the need for coding.
With a focus on speed, conversion rates, and average order value, Aasaan aims to provide a seamless shopping experience.
The platform offers a single admin app to manage all aspects of your business, from orders and inventory to payments.
Pros
No-code platform, easy to use
API-first approach for seamless integrations
Lightning-fast site speed
Remarkable uplift in conversion rates
Increased average order value
Quick time to market
Single admin app for business management
Cons
Limited information on third-party integrations
Free plan includes branding
Don't support B2B
G2 Review: 4.8/5
Pricing
Premium: Priced at $50 per month, this plan is for merchants and startups to help grow their business with branding.
Business: At $165 per month, this plan is for advanced merchants and includes everything in the Premium plan, plus branded iOS and Android apps, full store access via backend API, webhooks, 5 inventory locations, 10 staff accounts, and unlimited integrations.
Enterprise: This plan is designed for D2C brands looking for unlimited scalability, greater control, and dedicated resources. It includes everything in the Business plan, plus self-hosted storefronts for high performance, custom storefront themes, custom integrations, and 100% uptime SLA. The pricing for this plan is available upon contacting sales
2. Wix Overview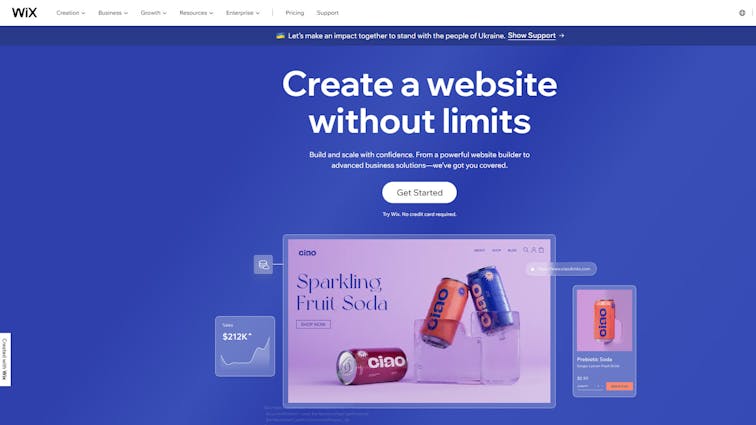 Wix is one of the best automotive ecommerce website builder that allows users to create professional-looking websites without the need for coding or design skills. It offers an intuitive drag-and-drop editor, a wide range of customizable templates, and a variety of features to meet the needs of different users.
Pros of Wix:
User-friendly interface
Wide range of templates
Mobile responsive
App Market for additional features
Multimedia support
Customer support
SEO-friendly
Cons of Wix:
Limited design freedom
Template limitations
Scalability limitations
Limited e-commerce options
Advertisements on free plans
G2 Review: 4.2/5
Pricing:
E-commerce: $16.17/mo - best for small businesses Unlimited: $12.45
3. Squarespace: The Designer's Dream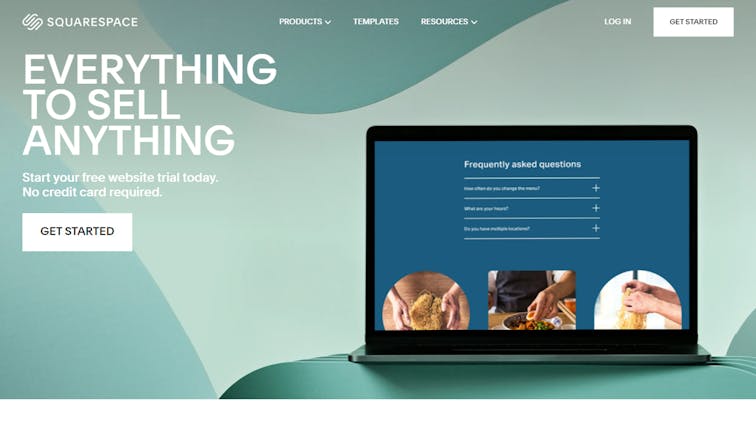 Squarespace is the scalable ecommerce platform for those who prioritize aesthetics and design. Known for its visually stunning templates and intuitive drag-and-drop interface, Squarespace is a favorite among creatives and businesses that want to make a strong visual impact.
It's not just about looks, though; Squarespace also packs a punch when it comes to ecommerce features, making it a well-rounded choice for auto parts retailers.
Pros
User-friendly design interface
High-quality, customizable templates
Built-in SEO tools
Excellent blogging capabilities
Robust analytics and reporting
Integrated payment gateways
Strong focus on mobile optimization
24/7 customer support
Cons
Limited third-party integrations
No native app store for additional features
Less scalable for larger businesses
Higher learning curve for non-designers
Limited dropshipping options
G2 Review: 4.4/5
Pricing
Squarespace offers a variety of pricing plans to suit different needs:
Personal: Priced at $12/month, this plan is ideal for small businesses or individual sellers who don't require advanced ecommerce features.
Business: At $18/month, this plan offers a full suite of ecommerce capabilities, including inventory management and unlimited contributors.
Basic Commerce: For $26/month, you get additional ecommerce features like customer accounts and advanced analytics.
Advanced Commerce: At $40/month, this is the most comprehensive plan, offering features like abandoned cart recovery and advanced shipping options.
3. Shopify: The Ecommerce Juggernaut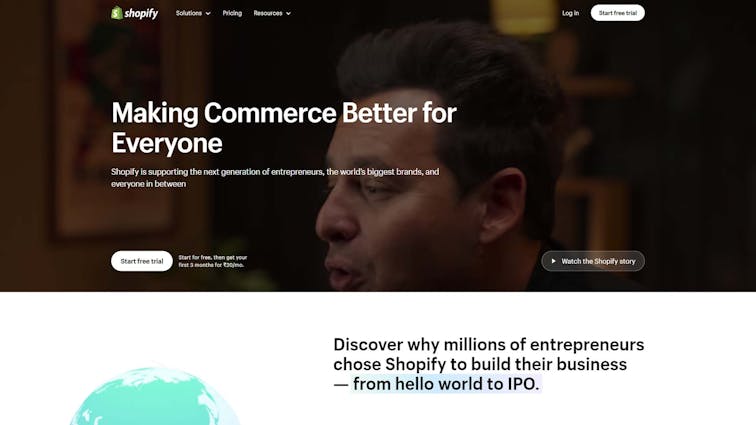 Shopify is the one of the best automotive ecommerce solution platform, offering a one-stop solution for businesses of all sizes. With its user-friendly interface, extensive app ecosystem, and robust customer support, Shopify is a top choice for entrepreneurs looking to sell anything—auto parts included.
Pros
Intuitive user interface
Extensive app marketplace
Built-in SEO features
Multi-channel selling capabilities
Robust inventory management
24/7 customer support
Highly scalable
Cons
Transaction fees unless using Shopify Payments
Limited customization with basic plans
Learning curve for advanced features
Additional costs for premium apps
G2 Review: 4.4/5
Pricing
Shopify's pricing is designed to accommodate businesses at various stages:
Basic Shopify: At $29/month, this plan offers all the essentials for startups or small businesses.
Shopify: For $79/month, you get additional features like gift cards and professional reports, ideal for growing businesses.
Advanced Shopify: Priced at $299/month, this plan is tailored for high-volume sellers and offers advanced features like third-party calculated shipping rates.
4. BigCommerce: The Heavy Hitter of Ecommerce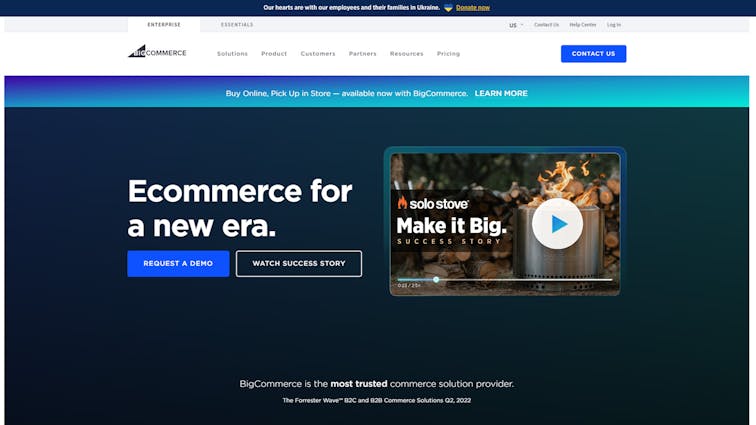 BigCommerce is a popular automotive ecommerce platform that offers a wide range of built-in features right out of the box. Known for its scalability and flexibility, it's a top choice for businesses that have complex needs and are looking for a platform that can grow with them. If you're in the auto parts industry and have a large inventory or plan to scale quickly, BigCommerce is worth a serious look.
Pros
Excellent scalability
Extensive built-in features
Strong SEO performance
Multi-channel selling options
No transaction fees
High-level security features
Cons
Steeper learning curve
Higher cost for enterprise plans
Limited free themes
Additional costs for premium integrations
Pricing
BigCommerce offers a variety of pricing plans to suit different business sizes and needs:
Standard: At $29.95/month, this plan offers all the basic features you'd need to get started.
Plus: Priced at $79.95/month, this plan includes additional marketing tools and customer segmentation features.
Pro: For $299.95/month, you get advanced features like Google customer reviews and advanced product search filtering.
Enterprise: Custom pricing for businesses that need a fully customized solution with advanced features.
5. Siter.io: The No-Code Web Design Tool for Creatives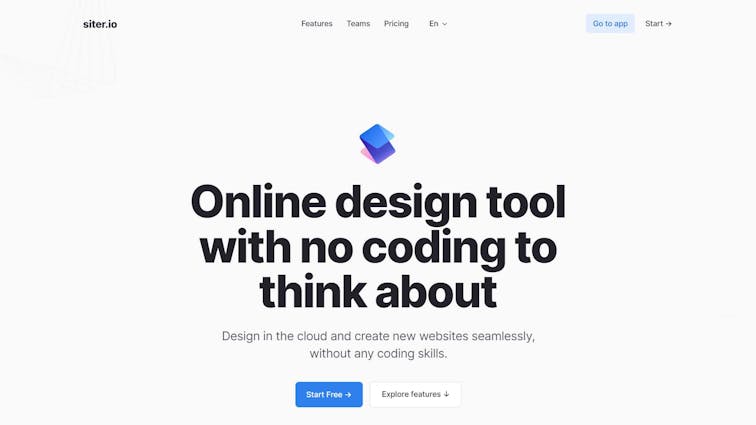 Siter.io is a no-code online design tool that allows you to build websites visually. It's tailored for designers who want to focus on the creative aspects rather than the coding. With features like freehand editing, intuitive design tools, and the ability to import from Figma, Siter.io aims to streamline the website creation process.
Pros
No coding required
Freehand editor for creative freedom
Intuitive design tools
Import from Figma
Real-time collaboration features
E-commerce capabilities
SVG editing and state switching
Cons
Limited information on SEO capabilities
No explicit mention of third-party integrations
Learning curve for those new to web design
G2 Review: 5/5
Pricing
Siter.io offers a range of pricing plans:
Personal: $12/month, 1 teammate, 1 project, unlimited pages & data, 5 forms.
Professional: $19/month, up to 5 teammates, 5 projects, unlimited pages & data, 25 forms.
Agency: $39/month, unlimited teammates, 20 projects, unlimited pages & data, unlimited forms.
6. Adobe Commerce: The Enterprise Ecommerce Solution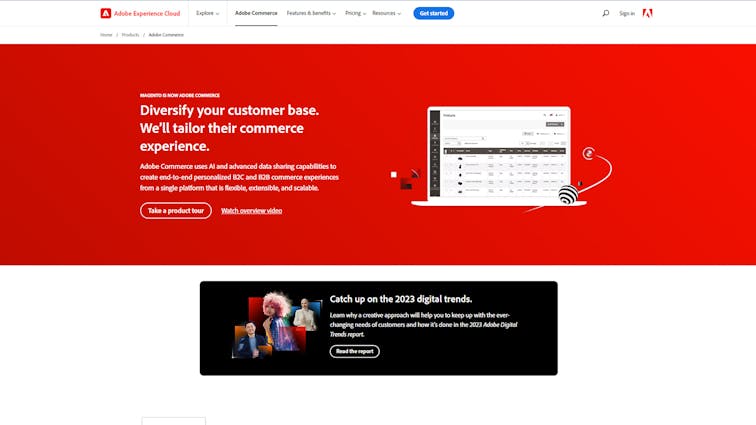 Adobe Commerce, powered by Magento, is a leading auto parts ecommerce platform designed for enterprise-level businesses. With its open-source flexibility, extensive feature set, and robust scalability, Adobe Commerce is a top choice for businesses that require a highly customizable and best auto parts ecommerce platform.
Pros
Highly customizable and scalable
Extensive feature set for B2B and B2C
Strong SEO capabilities
Multi-store and multi-language support
Large community and marketplace for extensions
Robust analytics and reporting tools
Cons
High cost of ownership
Requires technical expertise for customization
Steeper learning curve
Additional costs for premium extensions
Performance can be resource-intensive
G2 Review: 4/5
Pricing
Adobe Commerce Cloud: Starts at $40,000 per year and can cost up to $190,000 per year.
Adobe Commerce Pro: Starts at $22,000 per year, but can cost up to $125,000 per year if a business's GMV exceeds $25M+ per year.
Conclusion:
When choosing an ecommerce software or web design tool for your auto parts business, consider costs, scalability, user-friendliness, SEO capabilities, and integration options. User reviews can also provide valuable insights.
Aasaan, Shopify, BigCommerce, Siter.io, and Adobe Commerce each offer distinct advantages that may address your business needs. Bear in mind the scalability of your venture to ensure your chosen platform can accommodate your growth.
Before choosing, check out each platform's website, request a demo or trial, and compare all the features meticulously to ensure it suits all your business requirements. Equipped with the right tools, you're ready to navigate the competitive online marketplace successfully.
FAQ's:
1. Is it profitable to sell auto parts?
Absolutely, selling auto parts can be a highly profitable venture, especially in today's digital age. The automotive industry is booming, with a projected market size of over $100 billion by 2025. The key to profitability lies in sourcing quality parts at competitive prices, effective inventory management, and a strong online presence. Ecommerce platforms have made it easier than ever to reach a global customer base, thereby increasing the potential for higher sales and profits.
2. Is selling car parts online profitable?
Yes, selling car parts online can be incredibly profitable. The convenience of online shopping has led to a surge in online sales of auto parts. According to Hedges & Company, online sales of auto parts are expected to reach $20 billion by 2023. With lower overhead costs compared to brick-and-mortar stores and the ability to reach a global audience, the profit margins can be quite attractive for those who know how to leverage digital marketing and ecommerce platforms effectively.
3. How to sell auto parts online?
Selling auto parts online involves several steps:
Market Research: Understand your target audience and what kinds of parts are in demand.
Sourcing: Establish relationships with suppliers to source quality parts.
Ecommerce Platform: Choose the best auto parts ecommerce platform that suits your needs. Platforms like Shopify, WooCommerce, and Magento are popular choices.
Website Setup: Design your online store, keeping user experience in mind. Make sure it's mobile-responsive.
Payment Gateway: Integrate multiple payment options to cater to a broader audience.
SEO and Marketing: Optimize your website for search engines and invest in digital marketing strategies like PPC, social media marketing, and email marketing.
Customer Service: Provide excellent customer service to encourage repeat business.
4. What are some automotive e-commerce trends?
Several trends are shaping the automotive ecommerce landscape:
Mobile Shopping: More consumers are using mobile devices to shop for auto parts.
Personalization: AI and machine learning are being used to offer personalized shopping experiences.
Virtual Showrooms: Augmented reality is enabling virtual showrooms for customers to explore products in a 3D environment.
Direct-to-Consumer Models: Brands are increasingly bypassing retailers to sell directly to consumers.
Subscription Services: Auto parts subscription services are gaining popularity, offering regular deliveries of essential items like oil filters, wiper blades, etc.
These trends indicate a shift towards a more digital, customer-centric approach in the automotive ecommerce industry.
Get started
Experience the most powerful way to build beautiful & engaging shopping experience for your business here.
Check out our blogs
Aasaan help businesses build headless commerce storefronts using AI without needing to code. And this is our blog.
Read more stories