5 Best Ecommerce Platform For Furniture in 2024
Ecommerce, or electronic commerce, has become increasingly important in the furniture industry.
It refers to the buying and selling of goods or services over the internet. In this context, ecommerce allows customers to browse and purchase furniture products online, providing convenience and accessibility.
This article will explore why ecommerce is relevant for the furniture industry, the importance of choosing the right platform, the rise of ecommerce in the furniture industry.
The shift from brick-and-mortar stores, and the impact of the COVID-19 pandemic on ecommerce in this sector.
Why Ecommerce for Furniture?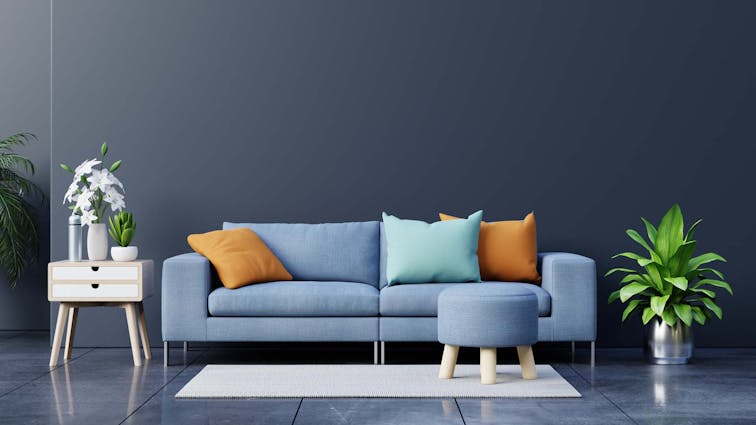 Ecommerce offers several advantages for the furniture industry. Firstly, it provides a platform for furniture retailers to reach a wider customer base, including customers who may not have access to physical stores or prefer the convenience of online shopping.
Additionally, ecommerce allows for greater product visibility, as retailers can showcase their entire furniture catalog online, providing customers with a wider range of options to choose from.
Moreover, ecommerce enables customers to compare prices, read reviews, and make informed purchasing decisions, enhancing the overall shopping experience.
The Importance of Choosing the Right Platform:
Choosing the right ecommerce platform is crucial for furniture retailers. A well-designed and user-friendly platform can attract and retain customers, while a poorly designed one can lead to frustration and lost sales.
Key factors to consider when choosing an ecommerce platform for furniture include the ability to showcase products effectively, provide detailed product information, offer secure payment options, and provide a seamless checkout process.
Additionally, integration with inventory management systems and shipping providers can streamline operations and enhance the customer experience.
The Rise of Ecommerce in the Furniture Industry
In recent years, ecommerce has experienced significant growth in the furniture industry. Advancements in technology, increased internet penetration, and changing consumer preferences have contributed to this rise.
As more customers embrace online shopping, furniture retailers have recognized the need to establish a strong online presence to remain competitive.
This has led to the emergence of specialized furniture ecommerce platforms and the integration of ecommerce capabilities by traditional furniture retailers.
The Shift from Brick-and-Mortar
The rise of ecommerce has also led to a shift from traditional brick-and-mortar stores in the furniture industry.
While physical stores still play a role, many customers now prefer the convenience of shopping for furniture online. This shift has prompted furniture retailers to rethink their business models and invest in ecommerce capabilities.
By embracing ecommerce, retailers can expand their reach, reduce costs associated with physical stores, and adapt to changing consumer behavior.
The Pandemic Effect:
The COVID-19 pandemic has further accelerated the growth of ecommerce in the furniture industry.
With restrictions on in-person shopping and the closure of physical stores, consumers turned to online channels to fulfill their furniture needs. This forced many furniture retailers to prioritize their online presence and invest in ecommerce infrastructure.
As a result, ecommerce has become an essential channel for furniture sales, and its importance is likely to continue even as the pandemic subsides.
In summary, ecommerce has become increasingly important in the furniture industry, providing benefits such as wider customer reach, product visibility, and enhanced shopping experiences.
Choosing the right platform is crucial for success, and the rise of ecommerce has led to a shift from traditional brick-and-mortar stores.
The COVID-19 pandemic has further accelerated the growth of ecommerce in the furniture industry, making it an essential channel for sales.
Key Features to Look for in an Ecommerce Platform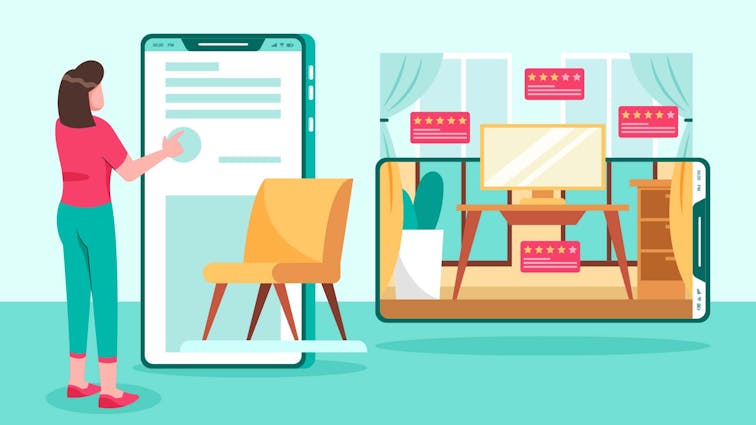 Alright, let's get down to brass tacks. What should you be looking for in an ecommerce solution for your furniture business?
User Experience: First impressions last, especially online. Your ecommerce website should be as inviting as a plush velvet armchair.
Customization: You wouldn't want your living room to look like everyone else's, would you? The same goes for your online store. Look for a platform that lets you tailor your digital space to your unique brand.
Payment and Security: Let's face it, nobody wants to hand over their credit card details to a sketchy website. Secure payment options are a must.
Instagram Ecommerce Marketing Tactics: In today's digital age, your Instagram marketing strategy for ecommerce can make or break your business. Choose a platform that integrates seamlessly with Instagram to boost your ecommerce sales.
SEO and SERP: You want to be found, right? Opt for a platform that's SEO-friendly and optimizes your chances of ranking high on Google.
Scalability: As your furniture business grows, your platform should grow with it. Look for options that are scalable to avoid the hassle of switching platforms later.
Customer Engagement: Your platform should offer features that keep your customers engaged. From augmented reality to 3D models, the more interactive, the better.
Global Ecommerce: If you have ambitions of becoming an international sensation, make sure your chosen platform supports multiple currencies and languages.
Inventory Management: You don't want to sell a sofa that's out of stock, do you? Effective inventory management is key.
Conversion Rate Optimization: At the end of the day, it's all about making that sale. Features like abandoned cart recovery can give your conversion rates a much-needed boost.
Top 6 Best Ecommerce Platforms for Furniture
1. Aasaan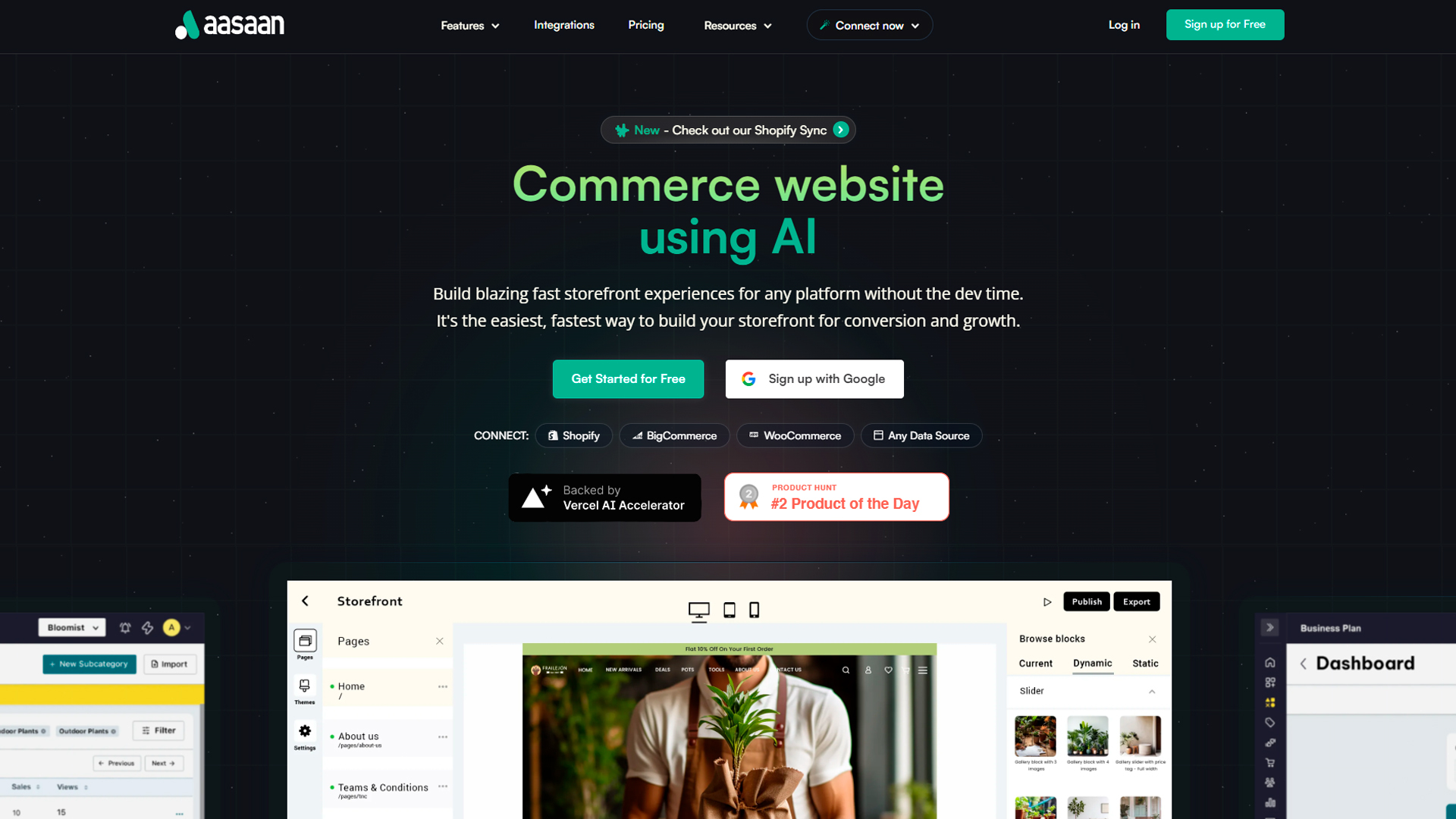 Aasaan is a no-code SaaS platform designed for SMEs to build storefronts and mobile apps using a template-driven front-end.
It allows businesses to visually build next-generation shopping experiences without any coding.
Aasaan seamlessly integrates with your existing backend or starts with its API-first commerce platform, enabling you to create rich, dynamic shopping experiences.
Pros of Aasaan
Ease of Use: Aasaan offers a no-code platform, making it easy for anyone to set up an online store or mobile app.
Speed: Aasaan promises a 70% increase in site speed, ensuring a seamless shopping experience.
Conversion Rates: Aasaan claims to help businesses witness a remarkable 38% uplift in conversion rates, maximizing sales potential.
Integration: Aasaan seamlessly integrates with your existing backend or starts with its API-first commerce platform.
Cons of Aasaan
Free plan include branding
Don't have feature of B2b
Standout Features
Drag & Drop Builder: Aasaan offers a drag and drop builder that allows you to create bespoke experiences from scratch.
Single Admin App: With Aasaan, you can manage all aspects of your business from a single admin app, streamlining your operations.
Seamless Integrations: Aasaan allows you to expand the capabilities of your store with tools you love and boost your business growth.
Pricing and Plans
Premium plan: For merchants and startups to help grow business with branding. It costs $50 per month if billed annually or $65 per month if billed monthly.
Business plan: Enables advanced merchants with advanced features. It costs $165 per month if billed annually or $200 per month if billed monthly.
Enterprise plan: Unlimited scalability, greater control, and dedicated resources for D2C brands to scale. It requires you to contact sales for a custom quote.
2. Shopify Overview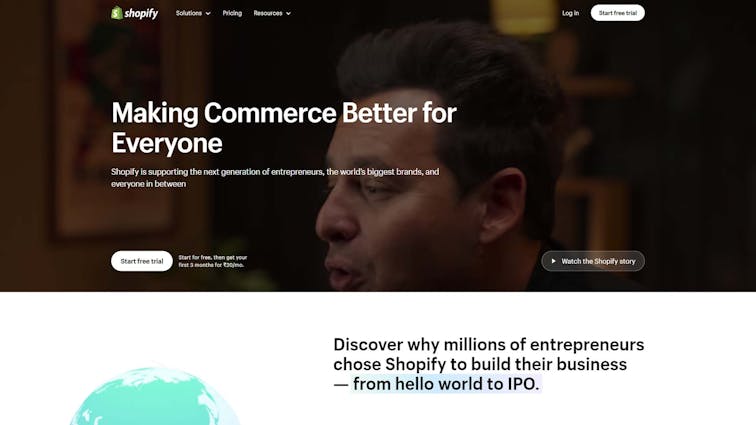 Shopify is an ecommerce platform that allows businesses to create and manage their online stores. It provides a range of features and tools to help businesses sell products and services online.
Pros of Shopify:
Ease of use: Shopify offers a user-friendly interface and intuitive setup process, making it accessible for users with limited technical knowledge.
Design and customization: The platform provides a wide range of professionally designed themes and customization options, allowing businesses to create a unique and visually appealing online store.
Payment options: Shopify integrates with various payment gateways, allowing businesses to accept payments from customers using different methods.
App and integration ecosystem: Shopify has a large marketplace of apps and integrations that extend the platform's functionality. This allows businesses to add features and integrate with other tools to enhance their online store.
Scalability: Shopify is built to handle stores of all sizes, from small businesses to enterprise-level operations. It can accommodate growth and handle high levels of traffic without compromising performance.
Customer support: Shopify offers 24/7 customer support through various channels, including live chat, email, and phone, ensuring that businesses can get assistance when needed.
Cons of Shopify:
Transaction fees: Shopify charges transaction fees for certain payment gateways, in addition to the fees charged by those gateways. This can add to the cost of running an online store.
Customization limitations: While Shopify provides a range of customization options, there may be limitations in terms of design and functionality compared to a fully custom-built website.
Monthly cost: Shopify operates on a subscription-based model, so businesses need to pay a monthly fee to use the platform. This cost can be a consideration for small businesses with tight budgets.
Learning curve for advanced features: While the basic setup and operation of a Shopify store are relatively easy, mastering advanced features and customization may require additional time and effort.
Pricing:
Shopify offers different pricing plans to cater to businesses of various sizes and needs. The plans include:
Basic Shopify: $29 per month
Shopify: $79 per month
Advanced Shopify: $299 per month
In addition to these plans, there is also Shopify Lite, which starts at $9 per month and allows businesses to sell on social media and embed products on existing websites.
It's worth noting that transaction fees may apply depending on the payment gateway used, unless businesses use Shopify Payments as their payment gateway.
3. Wix Overview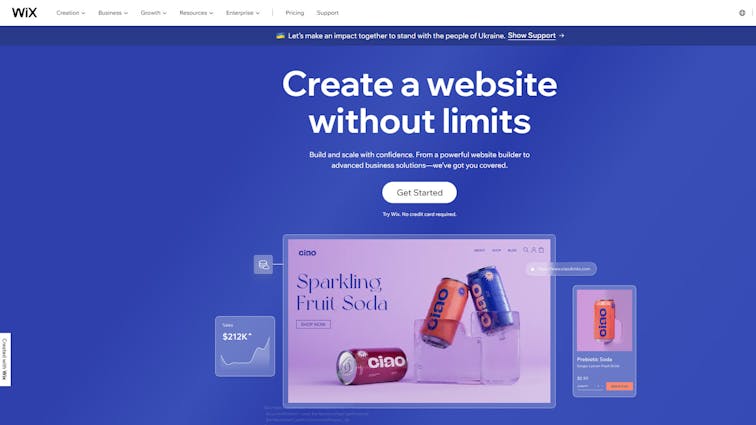 Wix is a website builder that allows individuals and businesses to create and customize their own websites without the need for coding or technical skills. It offers a range of features and templates to help users create professional-looking websites.
Pros of Wix:
Ease of use: Wix provides a user-friendly interface with a drag-and-drop editor, making it easy for beginners to create and customize their websites.
Design and customization options: Wix offers a wide selection of professionally designed templates and allows users to customize their websites to match their brand or personal style.
App market: Wix has an extensive app market that allows users to add additional functionality to their websites, such as forms, galleries, and e-commerce features.
Mobile-friendly: All Wix websites are automatically optimized for mobile devices, ensuring a positive user experience across different screen sizes.
Customer support: Wix offers customer support through various channels, including email, phone, and a help center, to assist users with any issues or questions they may have.
Cons of Wix:
Limited design flexibility: While Wix provides a range of design options, there may be some limitations in terms of customization compared to fully custom-built websites.
Template limitations: Some users may find that the templates offered by Wix have a similar look and feel, making it challenging to create a truly unique website.
Advertisements on free plan: The free version of Wix displays Wix ads on user websites, which can be distracting for some users.
Limited e-commerce features on lower-tier plans: The basic plans on Wix have limited e-commerce functionality, such as the ability to accept payments or set up a full online store.
Pricing:
Wix offers different pricing plans to cater to different needs. The plans include:
Free plan: This plan is free to use but includes Wix ads on the website and has limited features.
Combo plan: $14 per month - This plan is suitable for personal use and includes a free domain for one year.
Unlimited plan: $18 per month - This plan is suitable for entrepreneurs and freelancers and offers unlimited bandwidth and 10GB of storage.
Pro plan: $23 per month - This plan is suitable for complete online branding and offers additional features like a professional logo, social media logo files, and more.
VIP plan: $39 per month - This plan is suitable for priority support and offers additional features like priority response and VIP support.
It's important to note that these prices are subject to change, and there may be additional costs for add-ons or premium features.
Overall, Wix is a popular website builder that provides an easy-to-use platform for creating and customizing websites. It offers a range of features and pricing plans to suit different needs, but it's important to consider the limitations and potential costs when choosing a website builder.
4. BigCommerce Overview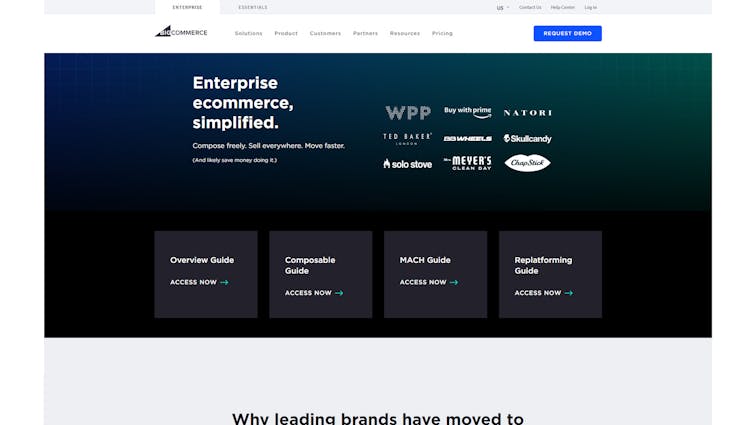 BigCommerce is a web-based e-commerce platform that provides businesses with a range of advanced sales tools, making it a good choice for businesses looking to scale their online presence. It offers powerful e-commerce features and integrates with common business tools, allowing businesses to centralize their operations.
Pros of BigCommerce:
Scalability: BigCommerce is designed to handle high levels of traffic and can accommodate businesses of various sizes, making it suitable for both small and large enterprises.
Advanced sales tools: BigCommerce offers a range of advanced sales tools, including product customization options, multi-channel selling, and built-in marketing features, allowing businesses to optimize their online sales.
Integration capabilities: BigCommerce integrates with popular business tools like payment gateways, shipping providers, and marketing platforms, enabling businesses to streamline their operations and enhance efficiency.
Design and customization options: BigCommerce provides a variety of customizable templates and themes, allowing businesses to create visually appealing and unique online stores.
Customer support: BigCommerce offers 24/7 customer support through various channels, including live chat, phone, and email, to assist businesses with any issues or questions they may have.
Cons of BigCommerce:
Learning curve: BigCommerce has a steeper learning curve compared to some other e-commerce platforms, and beginners may require some time to familiarize themselves with the platform.
Pricing: BigCommerce's pricing plans may be higher compared to other e-commerce platforms, especially for businesses with larger sales volumes. However, it's important to consider the value provided by the advanced features and scalability of the platform.
Limited built-in features: While BigCommerce offers a wide range of integrations, some users may find that the built-in features are not as extensive as they would like, necessitating the use of third-party apps or plugins.
Pricing:
BigCommerce offers different pricing plans to accommodate businesses of different sizes and needs. The plans include:
Standard plan: Starting at $29.95 per month - This plan is suitable for small businesses looking to establish an online presence. It offers essential features for selling products online.
Plus plan: Starting at $79.95 per month - This plan is suitable for growing businesses and offers additional features such as abandoned cart recovery and customer segmentation.
Pro plan: Starting at $299.95 per month - This plan is suitable for high-volume businesses and provides advanced features like Google customer reviews and faceted search.
Enterprise plan: Pricing varies - This plan is suitable for large-scale businesses with specific needs and offers custom pricing and features tailored to the business's requirements.
It's important to note that these prices are subject to change, and there may be additional costs depending on the specific requirements and customizations needed for a business.
Overall, BigCommerce is a robust e-commerce platform that offers advanced sales tools, integration capabilities, and scalability. While it may have a steeper learning curve and higher pricing compared to some other platforms, it provides businesses with the tools and features needed to succeed in the online marketplace.
5. PrestaShop Overview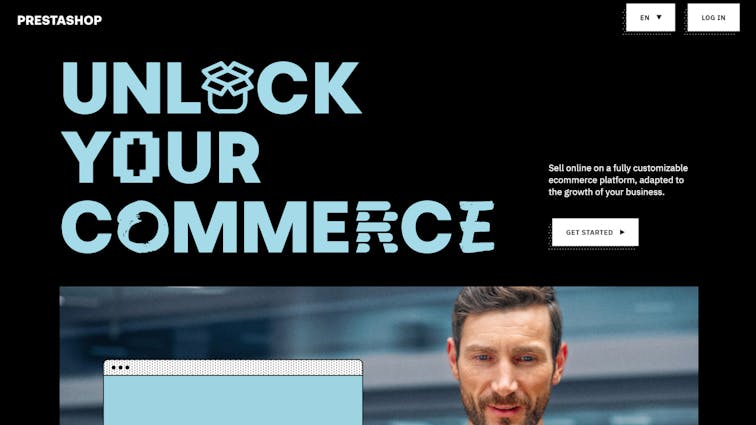 PrestaShop is an open-source e-commerce platform that allows businesses to build and manage their online stores. It offers a range of features and customization options, making it a popular choice for businesses of all sizes.
Pros of PrestaShop:
Open-source and customizable: PrestaShop is an open-source platform, which means that it can be freely modified and customized to meet the specific needs of a business. This flexibility allows businesses to create unique and personalized online stores.
Feature-rich: PrestaShop offers a wide range of features and modules, including product management, inventory tracking, payment gateways, and shipping options. These features help businesses effectively manage their online operations.
Multilingual and multi-currency support: PrestaShop supports multiple languages and currencies, making it suitable for businesses operating in different countries or targeting international markets.
SEO-friendly: PrestaShop provides built-in SEO features that help businesses optimize their online stores for search engines, increasing their visibility and potential for organic traffic.
Community and support: PrestaShop has a large and active community of users and developers who contribute to its ongoing development and provide support to users. This community-driven approach ensures that there are resources and assistance available for businesses using PrestaShop.
Cons of PrestaShop:
Technical knowledge required: PrestaShop may require some technical knowledge to set up and customize, especially for users who are not familiar with web development or coding. Beginners may find the learning curve steep.
Limited scalability: While PrestaShop can handle small to medium-sized businesses, it may not be as scalable as some other e-commerce platforms. Businesses with high growth potential may need to consider other options.
Third-party integrations: While PrestaShop offers a range of built-in features, some businesses may find that certain specific functionalities or integrations require the use of third-party modules or plugins.
Pricing:
PrestaShop itself is a free and open-source platform. However, there are costs associated with running an online store on PrestaShop. These costs include:
Hosting: Businesses will need to choose a hosting provider and pay for hosting services to run their PrestaShop store. Hosting costs can vary depending on the provider and the specific hosting plan chosen.
Domain name: Businesses will need to purchase a domain name for their online store. The cost of a domain name can vary depending on the domain registrar and the chosen domain extension.
Extensions and themes: While PrestaShop offers a range of free modules and themes, businesses may choose to purchase premium extensions or themes to enhance their store's functionality or design. The cost of these extensions and themes can vary.
It's important to note that the pricing for hosting, domain names, and premium extensions/themes is not directly controlled by PrestaShop and can vary depending on individual business needs and preferences.
Overall, PrestaShop is a feature-rich and customizable e-commerce platform that offers businesses the ability to create and manage their online stores. While it may require some technical knowledge and may not be as scalable as some other platforms, it provides a cost-effective solution for businesses looking to establish their online presence.
Key Trends Shaping the Online Furniture Market
Here are some key trends shaping the online furniture market:
Digital Shift: While shoppers are still buying their furniture in stores, there is certainly a digital shift occurring. This includes the emphasis on social commerce and its ability to fuel online shopping. On the supply chain side, digital transformation will be key for success.
Customization and Modularity: As younger generations begin to buy homes and move out on their own, customization will prevail as the key differentiator. For furniture companies, this means developing made-to-order workflows.
Cash and Carry Option: Younger shoppers prefer a cash and carry option. This direct-to-consumer model is in line with many noted trends.
Mobile Commerce and Network Marketing: Mobile commerce and network marketing is the primary trend in the global online furniture market.
Augmented Reality (AR) and Virtual Reality (VR): Online retail is now offering consumers a near-perfect and immersive buying experience through AR and VR.
Personalization: Personalization in marketing has quickly become a customer expectation.
Direct-to-Consumer (DTC) Growth: The continued growth of direct-to-consumer is another significant trend.
Social Commerce: The importance of social commerce is growing, especially for the younger generation.
These trends are not only shaping the way consumers shop for furniture but also how companies operate within this industry.
Navigating Online Sales Channels for Furniture: Marketplace vs. Ecommerce Website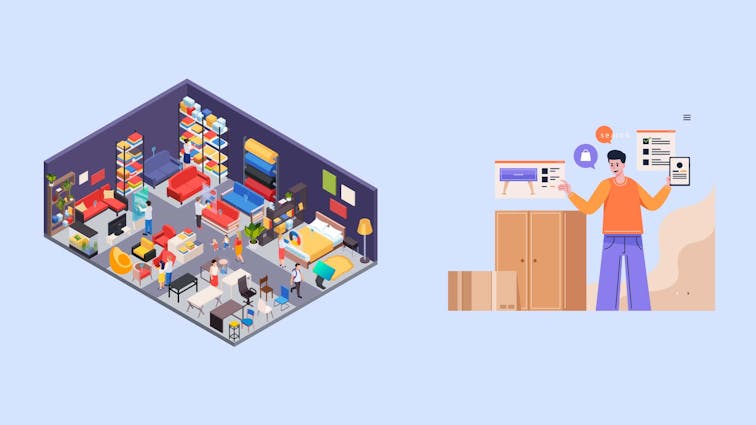 When it comes to online sales channels for furniture, businesses are choosing between two key options: online marketplaces and e-commerce websites.
Why Even Consider Marketplaces?
First off, marketplaces are like the shopping malls of the internet. They're crowded, sure, but they're also where everyone goes. You get instant access to a massive customer base, and you don't have to spend a dime on driving traffic. Sounds like a dream, right?
Pros:
Instant Traffic: No need to build from scratch.
Trust Factor: Customers often trust marketplaces more than unknown websites.
Ease of Use: Generally easier to set up and start selling.
Cons:
High Competition: You're a small fish in a big pond.
Limited Customization: Your "store" looks like everyone else's.
Fees: They take a cut of your hard-earned cash.
Why Go Solo with an Ecommerce Website?
Imagine having your own boutique where everything—from the window display to the "final sale" signs—is entirely up to you. That's what having an ecommerce website is like. You're the boss, the designer, and the marketer all rolled into one.
Pros:
Full Control: Your brand, your rules.
Better Margins: No middleman taking a slice of your pie.
Customer Relationships: You own the customer data.
Cons:
Traffic: It's on you to bring in the customers.
Upfront Costs: Website design, hosting, etc.
Maintenance: You're the janitor as well as the CEO.
The Hybrid Approach: Best of Both Worlds?
Why not both? Seriously, who says you can't sell on Amazon and have your own website? It's like having your cake and eating it too, but there's a catch. Managing multiple channels can be like juggling flaming torches while riding a unicycle. It's doable, but tricky.
Pros:
Diversified Channels: You have more opportunities to reach customers.
Risk Mitigation: If one channel does not do well, you can rely on the others.
Potential Revenue Increase: More sales channels might contribute to increased revenues.
Cons:
Resource Intensive: Managing multiple channels takes time and effort.
Increased Complexity of Operations: The requirement to synchronize products, orders, and inventory across different platforms can be daunting.
Channel Competition: You might see competition between your channels, which may dilute the benefits.
Choosing the right sales channels is highly dependant on your business capability and ultimate goals. It's crucial to thoroughly explore your options and potential outcomes before making a decision.
Conclusion:
Hey, thanks for sticking around! If you found this article helpful, don't forget to share it with your network.
And if you're looking for an easy way to kickstart your own ecommerce journey, why not check out some headless commerce platforms?
They offer the flexibility of an ecommerce website with the ease of a marketplace. Happy selling!
FAQ's:
1. What are the top eCommerce Furniture companies?
Some of the top players in the eCommerce furniture space include Wayfair, Ashley Furniture, and IKEA's online store. These companies have successfully combined quality furniture offerings with an easy-to-navigate online shopping experience.
2. Is furniture eCommerce profitable?
Absolutely, furniture eCommerce can be a highly profitable venture. The key lies in offering high-quality products, a seamless online shopping experience, and excellent customer service. With the right strategies, you can achieve healthy profit margins.
3. What is furniture eCommerce?
Furniture eCommerce refers to the buying and selling of furniture through online platforms. This can range from large online marketplaces like Amazon to specialized furniture eCommerce websites. It offers consumers the convenience of shopping from home and the ability to choose from a wide range of products.
4. How to start an eCommerce furniture store?
Starting an eCommerce furniture store involves several steps:
Market Research: Understand your target audience and what they're looking for.
Product Sourcing: Decide whether you'll manufacture your own furniture or source from suppliers.
Website Development: Create an eCommerce website, possibly using platforms like Shopify or WooCommerce.
SEO and Marketing: Optimize your website for search engines and invest in digital marketing.
Logistics: Plan how you'll handle shipping and returns.
Launch: Once everything is in place, launch your online store and start selling.
5. What furniture is most profitable?
Smaller, easy-to-ship items like coffee tables, nightstands, and chairs often have higher profit margins compared to larger pieces like sofas and beds. Customized or specialized furniture can also command higher prices.
6. Is selling furniture on Amazon profitable?
Selling furniture on Amazon can be profitable, but it comes with challenges like high competition and fees. However, the vast customer base can make it a lucrative channel if you can differentiate your products and optimize your listings.
Get started
Experience the most powerful way to build beautiful & engaging shopping experience for your business here.
Check out our blogs
Aasaan help businesses build headless commerce storefronts using AI without needing to code. And this is our blog.
Read more stories