8 Best Mobile friendly website builders in 2024 - aasaan
In the digital age, having a website is no longer a luxury, but a necessity.
Whether you're a small business owner, a freelancer, or a blogger, a website is your digital business card, a platform to showcase your work, and a tool to reach a global audience.
However, with the rapid growth of mobile internet usage, it's not enough to just have a website. Your website needs to be mobile-friendly.
According to Statista, over 90% of internet users access the web via their mobile devices. This means that if your website isn't optimized for mobile, you're potentially missing out on a significant portion of your audience.
But don't worry, creating a mobile-friendly website doesn't have to be a daunting task. There are numerous website builders available today that make the process easy, even if you don't have any coding skills.
In this blog post, we will introduce you to the 8 best mobile-friendly website builders in 2023. These platforms not only allow you to create stunning websites but also ensure that they are fully optimized for mobile devices.
Stay tuned as we delve into the features, pros, and cons of each platform, and help you choose the one that best suits your needs.
So, whether you're looking to create a blog, an online store, or a portfolio website, we've got you covered. Let's dive in and explore the world of mobile-friendly website builders!
What Makes a Website Builder Mobile-Friendly?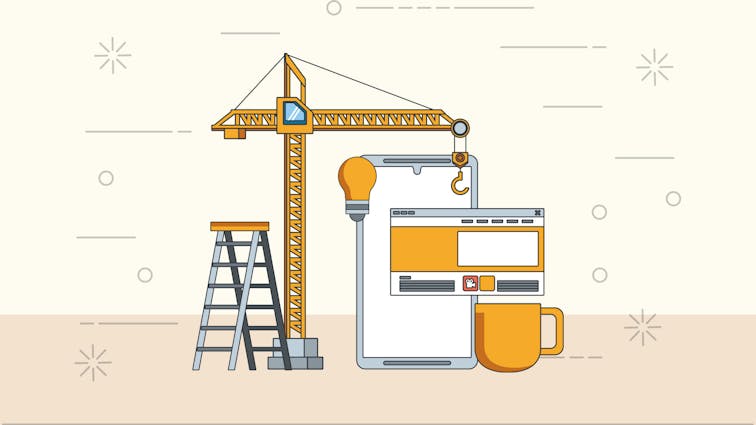 A mobile-friendly website builder allows you to create websites that are easily viewable and navigable on a variety of mobile devices, including smartphones and tablets.
This is achieved through responsive design, a technique that automatically adjusts the layout of your website based on the screen size and orientation of the device being used to view it.
Responsive design is a crucial aspect of mobile-friendly website builders.
It ensures that your website's content is displayed correctly and conveniently, regardless of whether it's being viewed on a desktop computer, a smartphone, or a tablet.
This means that text is easily readable without zooming in, navigation is intuitive and touch-friendly, and images and videos are properly sized and positioned.
Key features of mobile-friendly website builders include:
Responsive templates: These are design frameworks that automatically adjust to fit the screen on which they're displayed.
Mobile preview: This feature allows you to see how your site will look on various mobile devices.
Touch-friendly navigation: Menus and buttons are designed to be easily used on touch screens.
Fast loading times: Mobile users are often on the go, so it's essential that your site loads quickly.
SEO optimization: Mobile-friendly sites are favored by search engines and tend to rank higher in search results.
The Importance of Mobile-Friendly Websites in 2024
---
As we move further into the digital age, the importance of mobile-friendly websites continues to grow.
In 2024, mobile internet usage has skyrocketed, with a significant majority of internet users accessing the web via mobile devices.
This trend shows no signs of slowing down, making mobile-friendly design a crucial consideration for any business or individual looking to establish a strong online presence.
Mobile-friendly websites offer significant SEO benefits. Search engines like Google prioritize mobile-friendly sites in their search results, meaning that a mobile-friendly site is more likely to appear higher in search rankings.
This can lead to increased visibility and traffic for your website. Moreover, mobile-friendly websites provide a better user experience, which can lead to higher conversion rates.
When users visit a site that is easy to navigate and view on their mobile device, they are more likely to stay longer, view more pages, and take desired actions, such as making a purchase or filling out a contact form.
In contrast, if a site is not mobile-friendly, users may quickly become frustrated and leave, potentially turning to a competitor's site instead.
8 Best Mobile Responsive website builders to consider in 2024
1. Aasaan: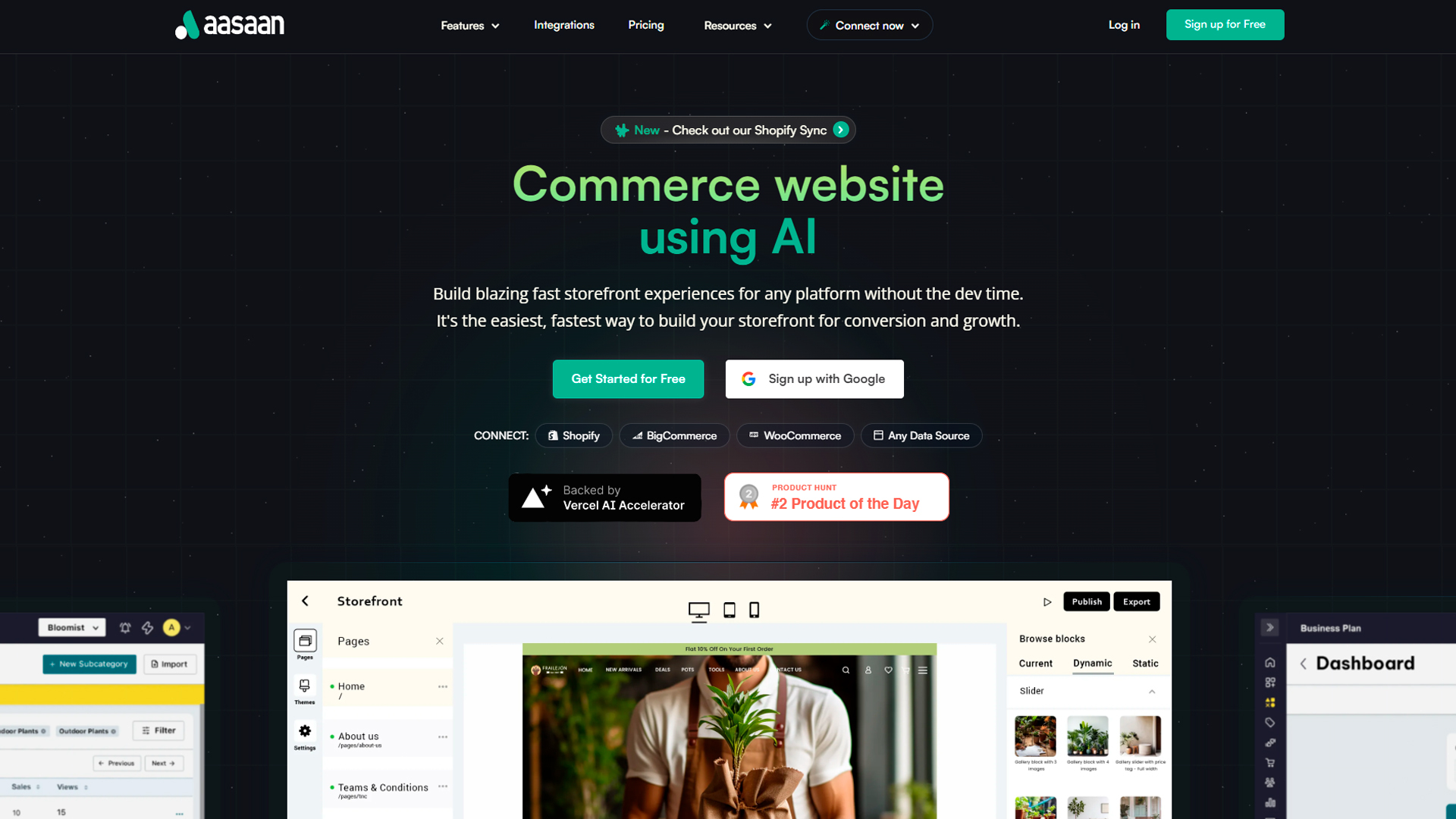 Aasaan is a user-friendly and feature-rich mobile-responsive website builder that is perfect for beginners as well as seasoned web designers.
With a wide range of customizable templates, Aasaan enables users to create stunning websites that are optimized for mobile devices.
A. Key Features and Benefits
Headless Store Builder and API-first Commerce Platform: Aasaan allows you to visually build next-generation shopping experiences without any coding.
High-Converting Headless Storefront: Aasaan provides a platform to build high-converting storefronts, trusted by over 100 partners.
Lightning-Fast Site Speed: With Aasaan, you can experience a 70% increase in site speed, ensuring a seamless shopping experience.
Accelerated Time to Market: Aasaan enables 10x faster time to market, allowing you to stay ahead of the competition.
Seamless Integrations: Aasaan seamlessly integrates with your existing backend or you can start with their API-first commerce platform. It also allows you to manage all aspects of your business from a single admin app.
B. Pricing and Plans
Standard: $18/month or $216/year, basic features and aasaan branding
Premium: $50/month or $600/year, more features and custom branding
Business: $165/month or $1980/year, advanced features and unlimited integrations
Enterprise: custom pricing and features, high performance and dedicated resources
Free trial for 14 days and demo available
C. User Experience
Aasaan is designed to be user-friendly, offering a range of tools and features to help entrepreneurs build their businesses.
From seamless integrations to a single admin app for managing all aspects of your business, Aasaan aims to provide a seamless experience for its users.
2. Wix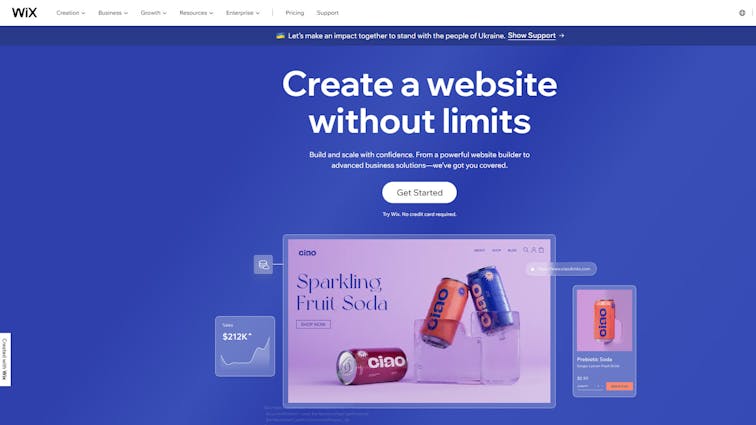 Wix is a popular website builder known for its stunning templates and intuitive interface. Its mobile-optimized features ensure seamless visuals and functionality on phones.
A. Key Features and Benefits
Unlimited Creation: Wix provides a complete suite of advanced functionalities to bring your vision to life.
Powerful Infrastructure: Wix offers an enterprise-grade foundation for limitless scalability and peace of mind.
Growth Platform: Wix has built-in marketing and business solutions for seamless conversion and scaling.
Customizable Templates: Wix offers over 900 free, customizable website templates, or you can start from a blank canvas on their website builder.
Drag and Drop Editor: Wix provides a smart drag and drop editor with thousands of advanced design capabilities.
Fast Loading and SEO: Wix is designed for performance so your site loads faster and is built with SEO in mind for search visibility.
Accessible for Everyone: Wix includes built-in accessibility tools to make your website inclusive.
B. Pricing and Plans
Wix offers a free version with optional paid plans for additional features and capabilities.
C. User Experience
Wix offers a user-friendly platform with a wide range of customizable templates, making website creation accessible for beginners. However, its flexibility can sometimes lead to complex design interfaces, potentially overwhelming for some users.
3. Squarespace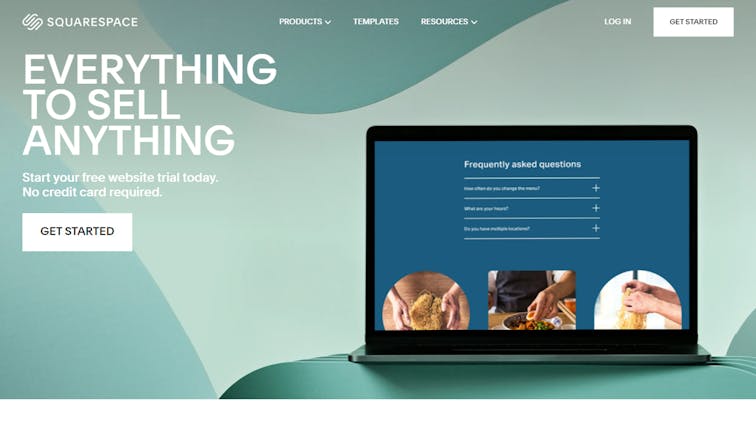 Squarespace offers beautiful, responsive designs with excellent ecommerce options and impressive blogging features, suitable for businesses and creatives alike.
A. Key Features and Benefits
Flexible Templates: Squarespace offers industry-leading website templates that can be customized to fit your personal style and professional needs.
Ecommerce Capabilities: Squarespace provides tools for setting up an online store, booking services, or adding your favorite third-party extensions.
Marketing Tools: Squarespace offers on-brand email campaigns and social tools to help you retain customers and grow your audience.
All-in-One Platform: Squarespace is an all-in-one content management system, or CMS. With a single subscription, you can create a website, host your content, register your own custom domain name, sell products, track your site's analytics, and much more.
24/7 Support: Squarespace offers personalized support around the clock by email, live chat, or by joining a live webinar.
B. Pricing and Plans
Squarespace offers a free 14-day trial so you can explore the platform, begin building a website, and decide if you're ready to subscribe to Squarespace. They also have various paid plans for additional features and capabilities.
C. User Experience
Squarespace is designed to be user-friendly, offering a range of tools and features to help users build their websites.
From flexible templates to ecommerce capabilities and marketing tools, Squarespace aims to provide a seamless experience for its users. It also offers 24/7 customer support for any support needs.
4. Weebly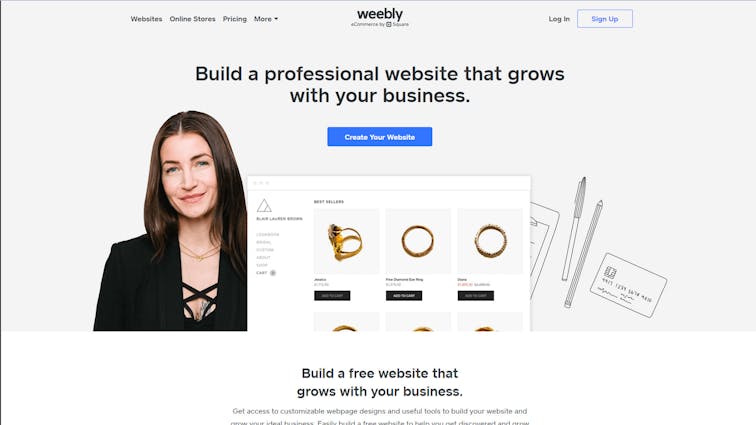 Weebly's easy-to-use web design platform aids in creating user-friendly websites with built-in mobile responsiveness.
A. Key Features and Benefits
Customizable Webpage Designs: Weebly offers access to customizable webpage designs and useful tools to build your website and grow your ideal business.
Guidance and Planning Tools: Weebly provides step-by-step guidance on how to build and launch a website with expert starter guides and planning tools.
eCommerce Tools: Weebly offers all-in-one powerful eCommerce tools to simplify order management, shipping, and payments.
Integrated Marketing Tools: Weebly provides integrated marketing tools, from Facebook ads to automated email campaigns, to help you find new customers.
Part of the Square Product Suite: Weebly is now a part of the Square product suite, which means never missing a sale and letting your customers pay how they want to.
B. Pricing and Plans
Weebly offers a free version with optional paid plans for additional features and capabilities.
C. User Experience
Weebly is known for its user-friendly interface, making it easy for beginners to create professional-looking websites.
With step-by-step guidance, customizable designs, and integrated marketing tools, Weebly simplifies the website-building process for its users.
The addition of the Square product suite also enhances the overall experience, allowing seamless eCommerce integrations and payment options.
5. Shopify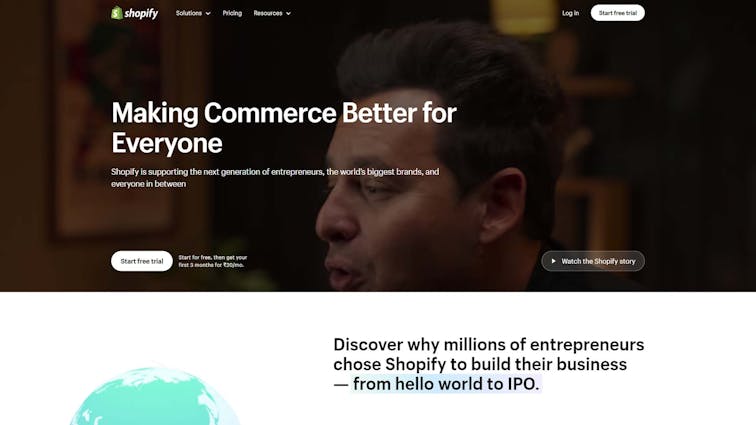 Shopify specializes in creating optimized ecommerce sites with a seamless shopping experience, designed for mobile devices.
A. Key Features and Benefits
Global Commerce Platform: Shopify allows you to build your business and sell online, offline, and everywhere in between. It caters to millions of merchants worldwide and represents over 170 countries.
Sales Channels: Shopify provides marketing tools, social integrations, and sales channels to get your products in front of customers. You can sell online, in person, and around the world.
Fast, Reliable Checkout: Shopify offers Shop Pay, a one-click checkout system that's built to convert, providing the best-converting checkout on the planet.
Point of Sale: Shopify's POS system allows customers to shop their way, from online to checkout line, providing a flexible point of sale to power your retail store.
Built-in Marketing Tools: Shopify provides SEO, social media, and content marketing tools to help you reach customers where they are.
Centralized Business Operations: With Shopify, you can manage inventory, track payments, and view real-time business insights — all in one place, so you can focus on building your business.
B. Pricing and Plans
Shopify offers a free trial and a promotional offer of 3 months of Shopify for $1/month on select plans.
C. User Experience
Shopify provides a user-friendly platform for setting up an online store, with a wide range of customizable templates and easy-to-use tools.
Its robust features and excellent customer support make it a reliable choice for both beginners and experienced sellers.
6. Webflow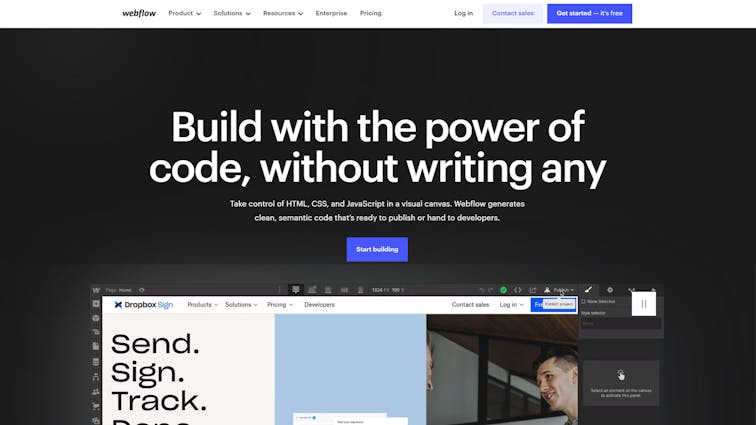 Webflow fuses customization and code-free visual tools to help create impeccable, mobile-optimized websites with an emphasis on high-performance UX and UI.
A. Key Features and Benefits
Code-Free Design: Webflow allows you to take control of HTML, CSS, and JavaScript in a visual canvas without writing any code.
Collaborative Platform: Webflow is used by more than 1,700,000 designers and teams to create, collaborate on, and scale beautiful websites in a completely visual canvas.
Versatile Tool for Various Roles: Whether you're a solo designer, a marketer, or a developer, Webflow gives you the controls you need to build any project that comes your way.
Custom Ecommerce Stores: Webflow allows you to build an online store that sets your brand apart.
Memberships and Gated Content: With Webflow, you can grow your audience with logins and gated content.
Interactive Design: Craft immersive experiences with interactions and animations.
B. Pricing and Plans
Webflow offers a free Starter plan for as long as you like. For publishing, hosting, and unlocking additional features, you can purchase a paid Site plan.
C. User Experience
Webflow offers a unique user experience by allowing users to design with the power of code, without writing any.
It provides a visual canvas that generates clean, semantic code that's ready to publish or hand to developers. The platform is designed to be collaborative, allowing designers and teams to create and scale beautiful websites.
With Webflow, users can launch campaigns faster, optimize their site on the fly, and connect their website to their key marketing tools.
7. Mobirise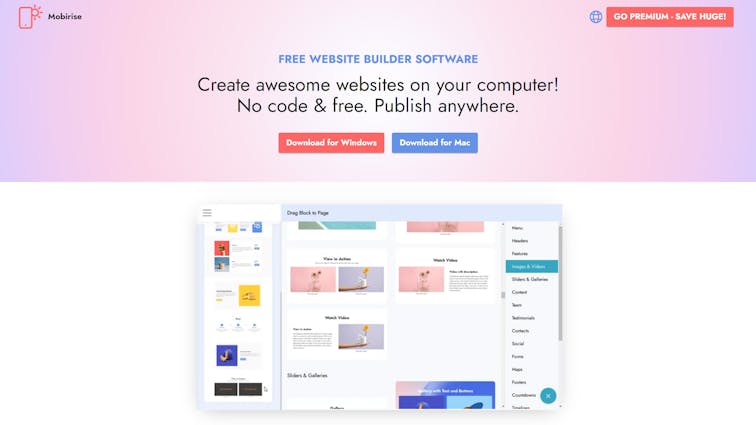 Mobirise is a drag-and-drop desktop website building application, focused entirely on creating mobile-responsive sites without the need for any coding experience.
A. Key Features and Benefits
Offline Website Builder: Mobirise is a free offline app for Windows, Mac, and Linux to easily create small to medium websites, landing pages, and simple web stores.
No Coding Required: Mobirise is perfect for non-techies who are not familiar with the intricacies of web development and prefer to work with a no-code solution.
Drag and Drop Interface: Mobirise offers a minimalistic, extremely easy-to-use interface with a drag and drop feature.
Mobile-Friendly: All sites created with Mobirise are mobile-friendly, adapting automatically to different devices.
7600+ Templates: Mobirise offers 7600+ beautiful website blocks, templates, and themes based on the latest web design trends.
Full Control Over Your Site: With Mobirise, you own your website and can host it anywhere.
Various Extensions: Mobirise offers various extensions such as social feeds, Google AMP, PayPal, and more.
B. Pricing and Plans
Mobirise is free for both personal and commercial use. You can download and use it for your own or client's websites without restrictions.
C. User Experience
Mobirise offers a unique user experience with its offline, code-free website building software.
It's designed for users who prefer a no-code solution and want to have full control over their website.
The drag and drop interface makes it extremely easy to use, and the wide variety of templates and extensions provides flexibility for customization.
Users can create mobile-friendly websites that adapt automatically to different devices, ensuring a seamless browsing experience for their visitors.
8. Strikingly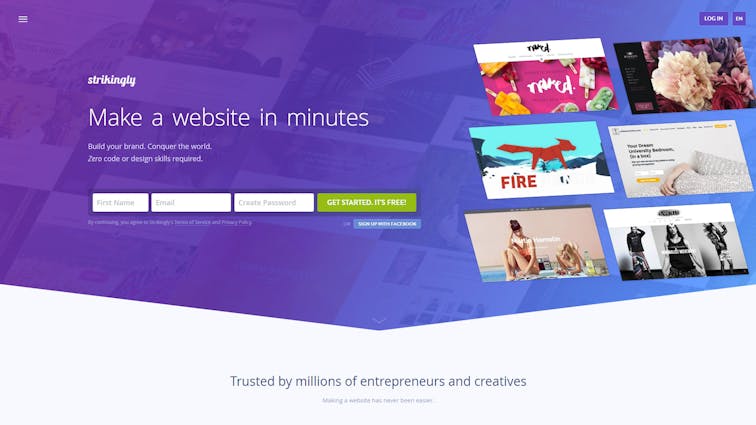 It provides an all-in-one website builder aimed at professionals and agencies, with an easy-to-use interface and full mobile optimization.
A. Key Features and Benefits
Easy Website Creation: Strikingly allows you to build your brand and create a website in minutes with zero code or design skills required.
E-commerce Integration: Strikingly offers built-in e-commerce tools, allowing you to add a Simple Store and connect to PayPal or Stripe to start making sales immediately.
Audience Engagement Tools: Strikingly provides tools to cultivate your audience, including signups, forms, live chat, and newsletters all in one place.
Custom Domain Names: You can register a new domain name or use one you already own with Strikingly.
HTTPS Built-in: All websites created with Strikingly get HTTPS automatically, for free, enhancing security and SEO.
24/7 Support: Strikingly offers round-the-clock support to help you succeed.
B. Pricing and Plans
Strikingly offers a free version of its website builder. For access to more features and capabilities, they offer various paid plans. The specifics of these plans are best found on the Strikingly website.
C. User Experience
Strikingly is praised for its user-friendly interface and ease of use. Users can create a website quickly with no coding or design skills required.
The platform also offers a variety of tools to engage audiences and cultivate a following. Users have reported a positive experience with Strikingly's 24/7 support, finding it helpful and responsive.
The platform is trusted by millions of entrepreneurs and creatives, making it a popular choice for website building.
How to Choose the Right Website Builder for Your Needs
A. Understanding Your Requirements
Before you can choose the right website builder, you need to understand what you need from your website.
Do you need an online store? A blog? A portfolio? Different website builders excel in different areas, so knowing what you need is the first step.
B. Matching Features to Your Needs
Once you know what you need, you can start looking at what each website builder offers.
If you need an online store, for example, you'll want a website builder with strong e-commerce capabilities.
If you're not tech-savvy, you might want a builder with an easy-to-use interface.
C. Considering Your Budget
Finally, you need to consider your budget. Website builders range in price, with some offering free versions and others requiring a monthly or yearly subscription.
Make sure to consider what you're getting for your money - a more expensive builder might offer more features or a better user experience.
Enhance your online business experience with Aasaan
Check out Aasaan as your go-to ecommerce website builder. Instead of a feature list, we're all about showing you what makes us cool.
Try Aasaan before picking the right plan for your ecommerce hustle. Dive into a free trial today to see how easy, user-friendly, and feature-packed our ecommerce website builder is. Let's make your online store journey a breeze!
Conclusion: The Future of Mobile-Friendly Website Building
A. Key Takeaways
Mobile-friendly website builders are an essential tool for any business or individual looking to establish an online presence.
With a range of options available, there's a solution for every need and budget. By understanding your requirements and considering your budget, you can find the perfect website builder for you.
B. Predictions for the Future
As technology continues to evolve, we can expect to see even more advancements in website building.
We might see more AI integration, making website building even easier and more intuitive. We can also expect to see more focus on mobile-friendly design as the use of mobile devices continues to rise.
Whatever the future holds, one thing is clear: mobile-friendly website builders will continue to play a crucial role in the online world.
FAQ's On Mobile Resonsive Website Builders:
1. What is the best website builder for mobile?
The best website builder for mobile depends on your specific needs and preferences. Some of the top mobile-friendly website builders include Aasaan, Wix, Weebly, Squarespace, Webflow, Duda, Strikingly, and Jimdo. Each of these platforms offers different features, pricing, and ease of use, so it is important to assess your requirements before choosing the best one for your needs.
2. How do I turn my website into mobile friendly?
To turn your website into mobile-friendly, follow these steps:
Choose a responsive design theme or template that automatically adapts to different screen sizes and devices.
Optimize your images and videos to ensure they load quickly and properly on mobile devices.
Use mobile-friendly navigation, including touch-friendly buttons and collapsible menus, to make it easy for users to navigate on mobile screens.
Ensure all text and content elements are legible and accessible on smaller screens, by using appropriate font sizes and avoiding excessive use of fixed-width elements.
Test your website on various devices and screen sizes, and make any necessary adjustments to optimize its appearance and functionality.
Implement mobile-first design principles, by prioritizing mobile user experience when planning and designing your website.
3. Are website builders mobile friendly?
Yes, Many website builders are mobile-friendly, offering responsive design themes, built-in mobile responsiveness, and tools for mobile optimization. However, not all excel in mobile optimization, so thorough research and comparison are crucial to finding the ideal one for your mobile needs.
4. How important is mobile-friendliness for my website?
Mobile-friendliness is increasingly important, as more and more internet users access websites using mobile devices. In 2022, mobile web traffic accounted for more than half of the total global web traffic. Considering this trend, having a mobile-friendly website is crucial for businesses looking to connect with customers, drive engagement, and maximize conversions.
5. Can you build a website from a mobile device?
Yes, it is possible to build a website from a mobile device, as some website builders offer mobile apps or mobile-friendly interfaces that allow you to create and manage your website using a smartphone or tablet.
Get started
Experience the most powerful way to build beautiful & engaging shopping experience for your business here.
Check out our blogs
Aasaan help businesses build headless commerce storefronts using AI without needing to code. And this is our blog.
Read more stories