Best Website Hosting Companies for a Small Business
We are well aware of the challenges one faces while attempting to narrow in on the optimal hosting provider and hosting plan for their website.
Those who are looking to purchase hosting services for the first time might expect a bumpy voyage. Online shopping is entertaining, but when it comes to web hosting, you need to be careful because your business depends on it.
Choosing a trustworthy shared hosting company is crucial for business owners with small websites. We've produced this guide to the finest web hosting for small businesses to help you make an informed decision that will have a positive effect on your revenue and client satisfaction.
Most individuals want "unlimited" web hosting. "Unlimited" has been delivered in several industries. Many favors unlimited plans. But web hosting redefines Unlimited.
More than 90% of buyers opt for unlimited plans without knowing the details. If we're unsure, we seek professional help. Forums, social media, and review sites can gather user feedback.
Small company web hosting is economical and the ideal solution for your website. Now we'll define small business hosting.
What is Small Business Hosting?
Small business hosting is a web hosting service built for small businesses that's super-affordable and delivers the needed resources to make your website accessible online.
If you own a small business or a start-up, you know how crucial it is to have an online presence. If your firm isn't online, people will distrust its trustworthiness.
Since businesses are increasingly online, it's important to examine hosting choices for your small business. Find an economical and trusted web host to help you succeed online for the best plan. A reliable web host may make or break your company.
Web hosting is required for any website to be active online. While web hosting is a no-brainer, picking the appropriate one can be difficult due to industry jargon, similar (but different) features, inclusions, and cost. We found the finest web hosting for small businesses so you can discover the correct solution easily.
Before we start, know what your website needs. Every small business website needs a custom domain name, SSL certificate, CMS, and enough storage and bandwidth for content and backups. We have examined the cost, uptime, and functionality of dozens of web hosts for this list.
Best Web Hosting For Small Business 2023: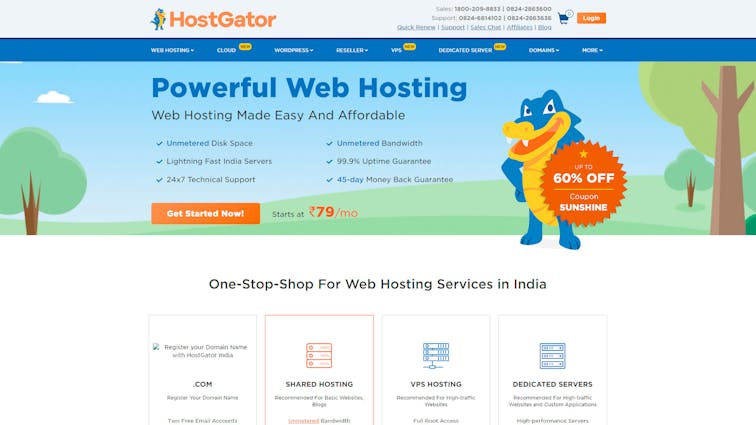 1. HostGator
****Paid Plans: $3.95 - $159.99 / month
HostGator's affordable plans offer a 45-day money-back guarantee, so small businesses may test the waters without risking savings. HostGator's service and support are top-notch, making it our top pick for small enterprises.
HostGator's support service is available 24/7 via phone and live chat if you can't find an answer in the knowledge base. In a world where 100% uptime is impossible to guarantee, HostGator's stats are good. If HostGator doesn't meet this uptime guarantee, you'll get a month of credit.
Key Features:
Excellent site speed
Powerful features
Best help and support
PROS
Unlimited storage
Unmetered bandwidth
Free email marketing tools
** CONS**
Sluggish server
Cheapest single-site plan
Poor value for money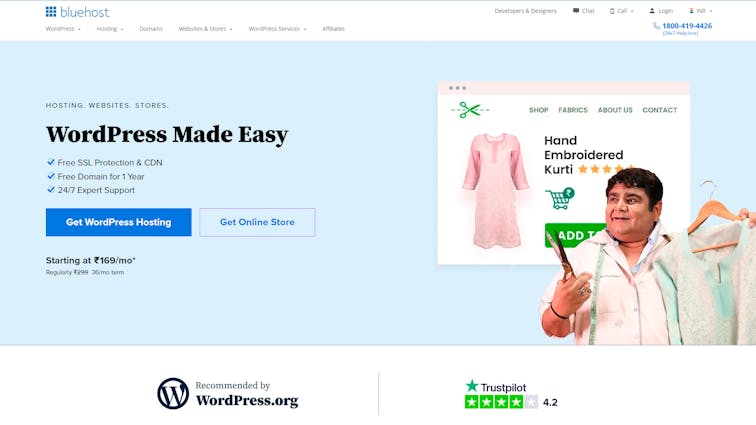 2.  Bluehost
Paid Plans: $2.95-$139.99/month
Bluehost's seamless integration with WordPress is a significant reason for its popularity. Due to its well-customized features, we suggest it most for WordPress users.
The one-click installation makes WordPress and Bluehost great for non-technical users. If you're not content with Bluehost's service, you can request a full refund within 30 days.
Key Features:
Trustworthy
Affordable
Excellent support
** PROS**
99.98% uptime
After discounts, stays cheap
Feature-rich
** CONS**
No storage
Consider extra costs
Performance average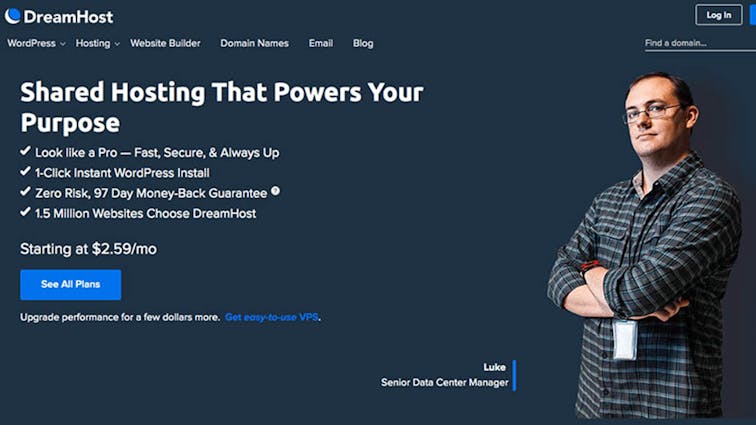 3. Dream host
****Paid Plans: $2.95 - $279 / month
Dream Host is perfect for small businesses with lots of material to host and the capacity to develop. WordPress is pre-installed, and you get daily backups, free domain privacy, and advanced features like Shell access.
The higher-tier package includes unlimited websites, email addresses, and storage, so keep that in mind while choosing.
Key Features:
Cheaper plans
Feature-rich
Extraordinary storage
** PROS**
97-day money-back guarantee
WordPress pre-installed
WordPress pre-installed 24/7 chat
** CONS**
  Limited phone support
Limited Beginner plan
Starter plan lacks free email addresses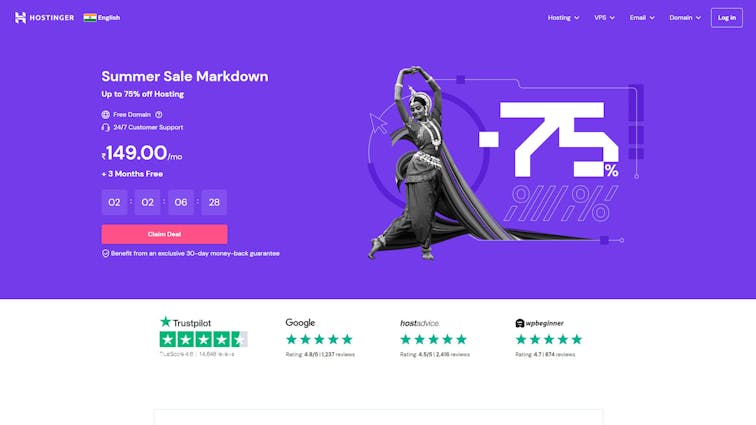 4. Hostinger
****Paid Plans: $1.99 - $109.99 / month
Hostinger offers plenty. Its biggest flaws are lack of support and performance. Hostinger's cheap plans are a deal, but don't commit yet! Hostinger offers a 30-day money-back guarantee so you can try it out. A team of specialists and engineers monitors its 99.9% uptime all day.
Key Features:
Affordable
Feature-rich
24/7 chat
 PROS
Cheap renewals
30-day refund
Multilingual support
** CONS**
Phone support is unavailable
Limits cheaper plans
Low performance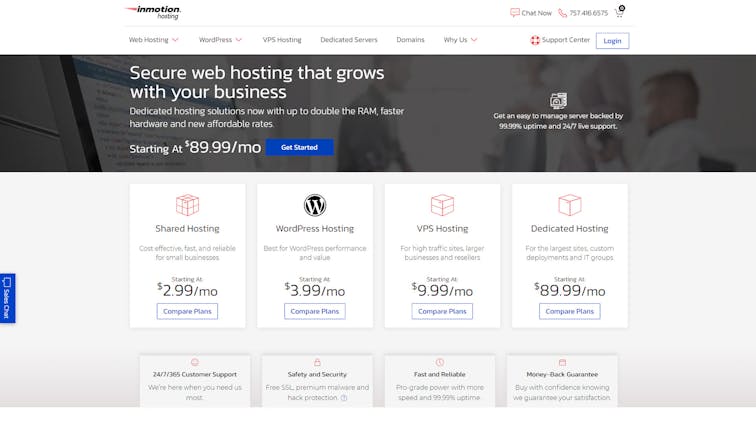 5. InMotion
****Paid Plans: $3.49 - $539.99 / month
InMotion isn't the cheapest option, but it offers superb security, support, and storage space. It also has a website builder; in case you require one. InMotion's security features are pretty impressive. All options include hack and malware protection, SSH access, and spam expertise.
Key Features:
Solid plans
Very secure
Well-priced
 PROS
Free storage
Free SSL
Quality Support system.
** CONS**
Not cheap
Cheaper plans are limited.
Slow and unreliable site.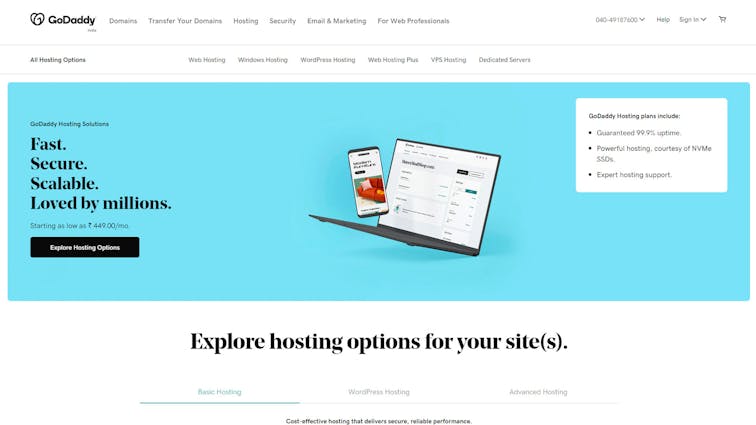 6. GoDaddy Hosting
****Paid Plans: $9.99 - $29.99 / month
GoDaddy's shared hosting plans aren't as good as HostGator's, but it has good help and support.
GoDaddy Hosting is pricey and performs poorly. GoDaddy is our second-best hosting service for server response time, but problems with site speed.
If they could fix this, they'd be much better off. Storage space and the number of websites allowed vary between plans, so check out each one to pick the ideal one.
Key Features:
Costly plans
Excellent server response
Strong support
** PROS**
24/7 phone/chat
FREE SSL
Global Datacenter
** CONS**
Slow site
Pricier than others
Average score.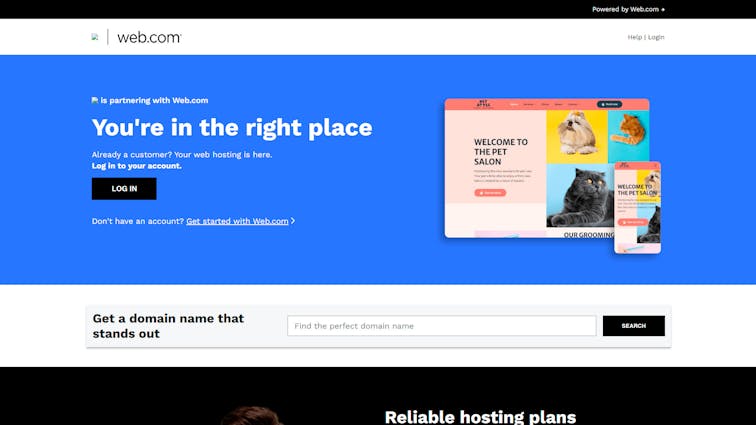 7. iPage
****Paid Plans: $2.99 / month
It's a good, economical alternative to GoDaddy Hosting. You may be able to locate a solution on iPage's website by searching its Knowledge Base. It's the only provider on the list with one shared hosting plan, so picking the suitable bundle is easy.
Key Features:
Affordable
Good speed
Support 24/7
PROS
Boosted security suite
Domains unlimited
30-day refund
CONS
Unscalable
Email support is unavailable
Renewal costs rise.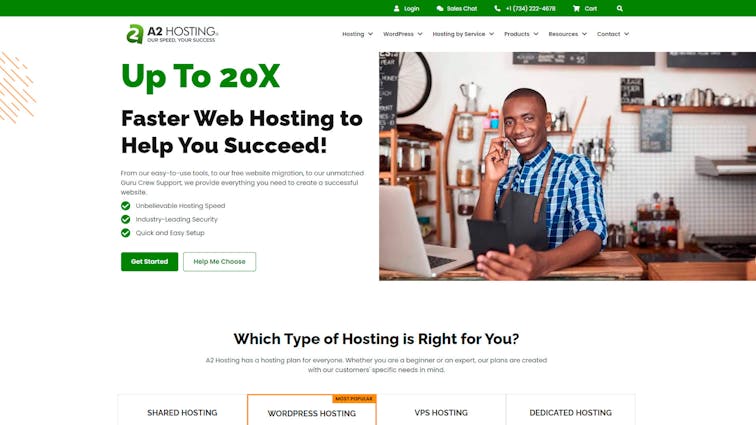 8. A2 Hosting
****Paid Plans: $6.59 - $529.99 / month
Researchers determined A2 Hosting's 99.9% uptime is average. A2 Hosting should perform better.
A2's 30-day money-back guarantee provides you the opportunity to test out its services. If you're unhappy with the service, you can request a complete refund during that time.
Key Features:
Good team
Pricier
Free Migration
 PROS
30-day money-back guarantee
Servers worldwide
Free SSL
** CONS**
Average prices
Low score
Minimal plan.
9. IONOS
****Paid Plans: $0.5 - $30 / month
IONOS's small business hosting scores are inconsistent. Help and support are poor, but pricing and features are good.
Pricing and support are important for small businesses, but a website's speed and uptime are more important.
Fast loading times are worth it when setting up your small business online, and IONOS puts you up for success from day one.
Key Features:
Best site speed/uptime
Storage limitless
Free SSL certificate
PROS
24/7 phone service
Auto-backups
One-year free domain
** CONS**
Beware of extra fees
Bad support system
Limited Beginner plan.
How to Choose the Perfect Web Hosting: Key Features to Consider:
As you embark on the exciting journey of creating a website or launching a new online project, one of the key considerations you'll face is selecting the best web hosting service.
To make the process easier for you, we've compiled a list of essential features that a good hosting provider should offer.
A. Uptime and reliability
A top factor to consider while choosing a web host is the uptime as high as possible to minimize the risk of potential downtime. The ideal uptime would be 99.9% and above; anything below 99% should be a clear red flag.
Look for hosts that have a proven track record of minimal downtime and strong server infrastructures for quick loading and efficient performance.
B. Customer support
Customer support is crucial to helping you troubleshoot problems, deal with security incidents, and get technical assistance as needed round the clock.
Your web host should offer multiple support options such as live chat, knowledge bases, forums, and environment-specific support like phone, email, or social media.
C. Pricing
Comparing plans, packages, and prices is essential when selecting a web host. Most providers offer several tiers with varying pricing options, so be sure to choose a package that fits your budget and requirements.
Keep your eye out for both the sign-up and renewal rates, as they may differ significantly in some cases.
D. Scalability
As your website grows in popularity, your hosting requirements will inevitably increase as well. You should choose a web hosting plan that allows for easy scaling of resources, including CPU, memory, and storage.
Some hosts offer a smooth transition between different plans, eliminating the need for manual importing/exporting files and risking potential downtime.
E. Security and backups
Security is paramount to ensuring the safety of your website's data, users, and online presence. Therefore, look for a host that offers essential security features such as SSL certificates, malware scanning, and denial-of-service (DDoS) protection.
Creating regular backups of your site helps safeguard it from malicious attacks or other incidents. Many hosting providers feature automated daily, weekly, or monthly backups, ensuring your site's latest version remains intact.
F. User interface and ease of use
Choosing a web host with an intuitive user interface allows you to manage and maintain your site quickly and efficiently, saving you time and potential headaches.
User-friendly navigation and website management are facilitated with popular control panels such as cPanel or Plesk.
Conclusion:
****It can be confusing to choose a web host from the numerous available. In the end, you should base your choice on what is most important to you. It's important to think about how much storage space and bandwidth your business website will require.
A better understanding of your hosting requirements will help you select the most suitable service provider.
Get started
Experience the most powerful way to build beautiful & engaging shopping experience for your business here.
Check out our blogs
Aasaan help businesses build headless commerce storefronts using AI without needing to code. And this is our blog.
Read more stories