Rank Math vs Yoast SEO vs All in One SEO: Comparing the Best Wordpress SEO Plugins for 2024
Did you know that over 64 million websites use WordPress SEO plugins, but the real puzzle lies in choosing the right one? In the digital arena, your website is like a needle in a haystack, and the right SEO plugin is the magnet that can pull it out. You're not just looking for a tool; you're searching for a digital ally that can elevate your site's visibility.
In this article, you'll learn about the showdown between Rank Math, Yoast, and All in One SEO (AIOSEO) and how to harness their unique features to boost your website's SEO performance, ensuring your content doesn't just exist but thrives online. Why is this important? Because in the sea of digital content, being good isn't good enough; you need to be found.
You've likely experienced the tug-of-war of plugin choices, each promising the moon in search engine dominance. But which one truly aligns with your digital strategy? Can Rank Math's user-friendly interface, Yoast's robust content analysis, or AIOSEO's powerful sitemaps give you the edge?
Prepare to have that question answered. We're not just comparing; we're dissecting features, usability, and those little secrets that make each plugin stand out. By the end of this post, you'll not only have clarity but also a strategy to propel your website to the forefront of search engine results.
So, invite curiosity, engage with expertise, and let's unravel the mystery of which SEO plugin—Rank Math, Yoast, or AIOSEO—is your key to unlocking the full potential of your website's SEO.
Introduction Rank Math vs Yoast vs All in One SEO
Rank Math, Yoast, and All in One SEO are three popular WordPress SEO plugins that help you optimize your website for search engines. They offer a variety of features, including keyword optimization, meta descriptions, and sitemaps. All in One SEO logoOpens in a new window
Rank Math is the newest of the three plugins, and it has quickly become one of the most popular. It offers a comprehensive set of features, including a built-in keyword research tool, AI-powered content optimization, and schema markup. It also has a clean and user-friendly interface.
Yoast is the oldest of the three plugins, and it is still one of the most popular. It is known for its ease of use and its helpful on-page optimization tips. However, it does not offer as many features as Rank Math.
All in One SEO is a good middle ground between Rank Math and Yoast. It offers a good balance of features and ease of use. However, it does not have as many advanced features as Rank Math.
Rank Math vs All in One SEO vs Yoast : Features
Rank Math key features: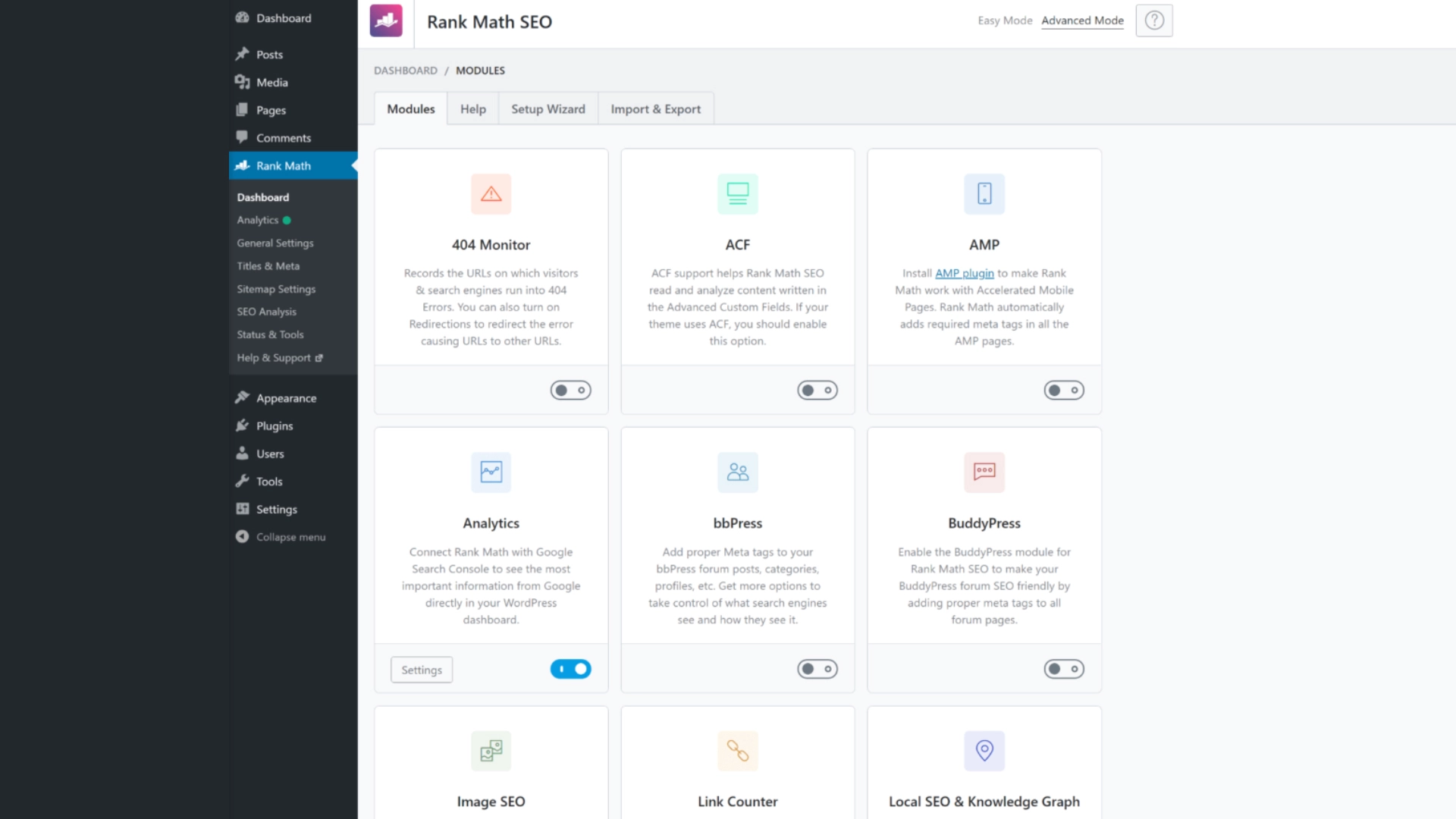 Here is a list of the key features of Rank Math:
1. Easy Setup Wizard: Rank Math provides a step-by-step installation and configuration wizard to set up SEO for WordPress easily.
2. Clean and Simple User Interface: The user-friendly interface presents important information about your posts alongside the post itself, making it easy to improve your post's SEO.
3. Content AI: Rank Math includes a Content AI feature to assist you in writing SEO-friendly content.
4. Advanced SEO Analytics Module: It offers insights from Google Search Console within your WordPress dashboard, helping you track keyword rankings and search engine errors.
5. Google Index Status: Provides information on your site's index status, crawl times, and more.
6. Google Analytics Integration: You can monitor your website's stats directly from your WordPress Dashboard.
7. Knowledge Graph Meta Data: Adds Knowledge Graph meta tags to help your website rank for more keywords.
8. Keyword Comparison & Google Trends Tool: Easily research and compare keywords using Google Trends integration.
9. XML Sitemap: Automatically generates search engine-compatible XML sitemaps for your website.
10. News Sitemap: Create a Google-compatible news sitemap for news websites.
11. Social Media Integration: Rank Math supports Facebook Open Graph tags and provides options for customizing social media sharing.
12. Icon Overlay for Thumbnails: Automatically adds play buttons or custom GIF icons to thumbnails for increased click-through rates on social media.
13. Control Title and Meta Description: Easily modify titles and meta descriptions for better click-through rates.
14. Robot Meta Tags Control: Manage robot meta tags to control which pages are crawled and indexed.
15. Category Optimization: Enables SEO optimization for each category.
16. Choose Separator Character: Customize URL separators to make your SERP listings stand out.
17. Post Preview on Google: View how your post will appear in Google's search results before publishing.
18. Link Builder (Coming Soon): Automatically create and maintain internal links.
19. Advanced Redirection Manager: Easily manage redirects, including affiliate links.
20. .htaccess Editor: Edit and modify your .htaccess file directly within WordPress.
21. robots.txt Editor: Create and update your robots.txt file within your WordPress admin.
22. RSS Optimization: Insert custom header and footer text into RSS feeds.
23. Custom Setup Wizard Mode: Import settings from another Rank Math installation for consistent configurations.
24. Yoast Free & Premium Advanced Options Importer: Seamlessly import settings from Yoast SEO.
25. All In One SEO Advanced Options Importer: Import settings from All in One SEO Pack.
26. Contextual Help: Tooltips and informative descriptions make every setting easy to understand.
27. Compatibility Check: Ensures compatibility with your website's tech stack and plugins.
28. Excellent Code Quality: Rank Math is known for its secure and efficient code.
29. Detailed Documentation: Extensive documentation for both end users and developers.
30. 24x7x365 Support: Round-the-clock support for resolving issues.
31. Multi-Site Compatible: Rank Math can be used on WordPress multisite networks.
32. WooCommerce Support: Optimizes product pages for e-commerce websites.
33. Deep Schema Integration: Supports various schema types for rich snippets.
34. Local Business SEO: Helps local businesses rank in Google for their intended keywords.
35. Higher Search Visibility: Improves search engine visibility for your website.
36. Email Ranking Reporting: Receive email alerts for ranking improvements.
37. Auto Canonical URLs: Automatically handles canonical URLs.
38. Google Webmaster Integration: Fetches data from Google Search Console within WordPress.
39. Bulk Optimization: Update SEO settings for your entire website in bulk.
40. 404 Monitor: Identifies and helps fix 404 errors on your site.
41. Role Manager: Manage user roles and permissions within Rank Math.
42. Multilingual SEO: Offers multilingual SEO support for different languages.
43. Advanced SEO Analysis: Performs more than 20 SEO tests on your website.
44. Local SEO Optimization: Helps local businesses improve their online presence.
45. Import/Export: Easily manage and back up your Rank Math settings.
46. Deep Integration with Google: Integrates with various Google services for comprehensive SEO.
47. Automated Image SEO: Automatically adds ALT and Title attributes to images.
48. Google Keyword Rank Tracking: Keeps track of your website's keyword rankings.
49. Full Schema Codex: Enables rich snippets for better search engine visibility.
50. Email Reports: Receive regular SEO updates via email.
All in One SEO Key features:
The All in One SEO plugin for WordPress offers an extensive range of features designed to optimize your website for search engines. The following list includes features from various sources to provide a comprehensive overview: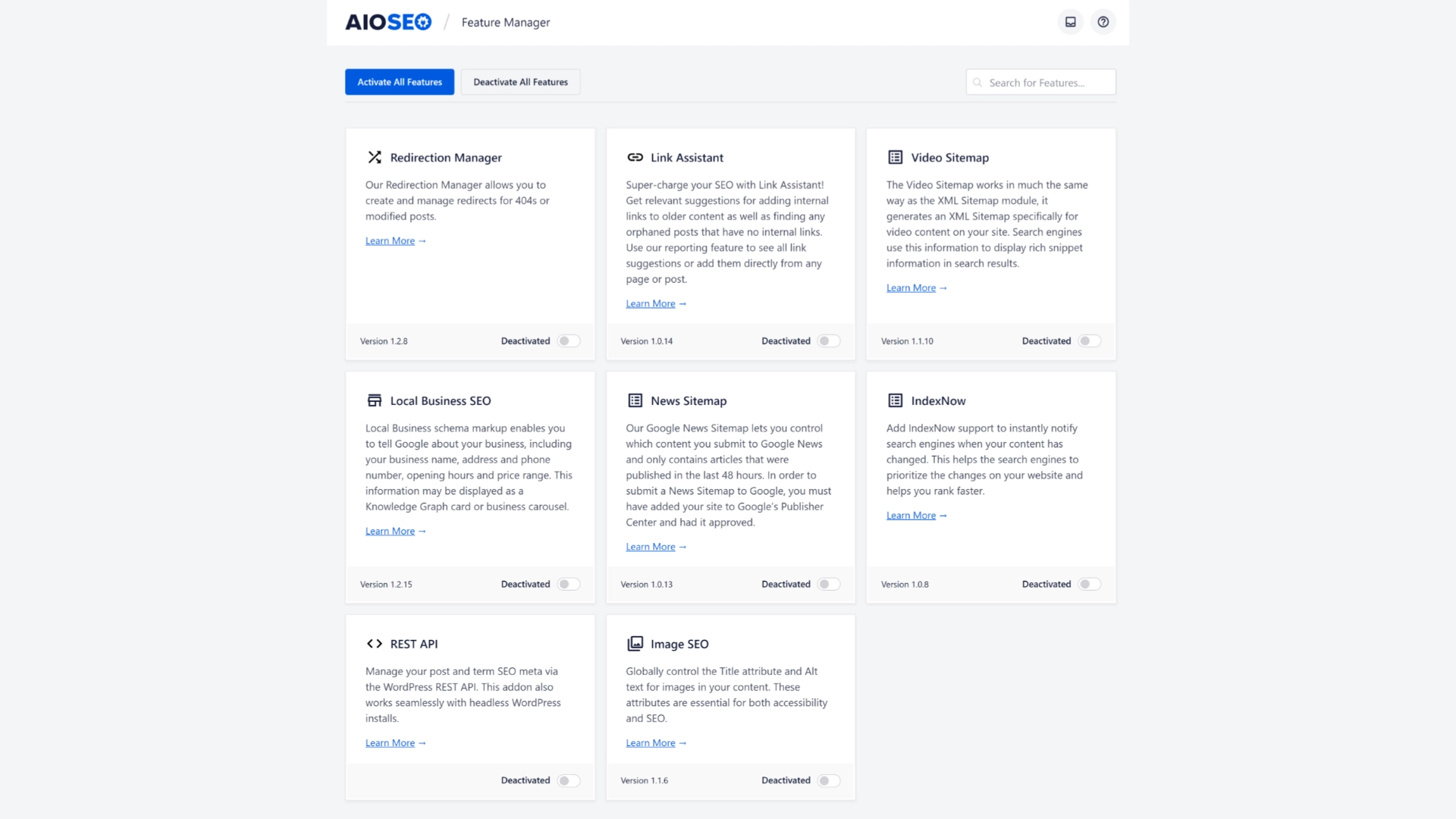 1. TruSEO On-Page Analysis: Offers tools for adding title tags, meta descriptions, and keywords for on-page SEO optimization.
2. Rich Snippets Schema: Supports schema markup for rich snippets to get more clicks and traffic.
3. Local SEO: Tools to improve local SEO and rank higher on Google Maps.
4. Smart XML Sitemaps: Generates XML sitemaps and notifies search engines of updates.
5. Video SEO Sitemaps: Includes a video sitemap generator to help rank in Google's video carousel.
6. Social Media Integration: Controls how content looks on various social media networks.
7. Link Assistant: Suggests internal links and identifies orphaned posts without internal links.
8. WooCommerce SEO: Provides advanced SEO support for WooCommerce to optimize product pages and categories.
9. SEO Audit Checklist: Detects critical errors and offers actionable insights to boost SEO.
10. Redirection Manager: Manages redirects for broken links to maintain search engine rankings.
11. Google News Sitemaps: Submits news articles to Google News for higher rankings and more traffic.
12. Robots.txt Editor: Allows control over what web crawlers can crawl on your site【63†source】. 13. Breadcrumbs: Improves site structure with SEO breadcrumb features.
14. SEO Custom User Roles: Manages access to SEO features without full site control.
15. RSS Content: Adds custom text, links, or advertisements to RSS feeds.
16. REST API: Supports headless WordPress site's SEO via REST API.
17. Image SEO: Automatically sets image alt text and title attributes.
All in One SEO provides a robust toolkit for WordPress site owners to improve their SEO rankings and increase traffic with a wide array of features tailored for different aspects of SEO, from content analysis to technical SEO configurations.
Yoast SEO Key Features: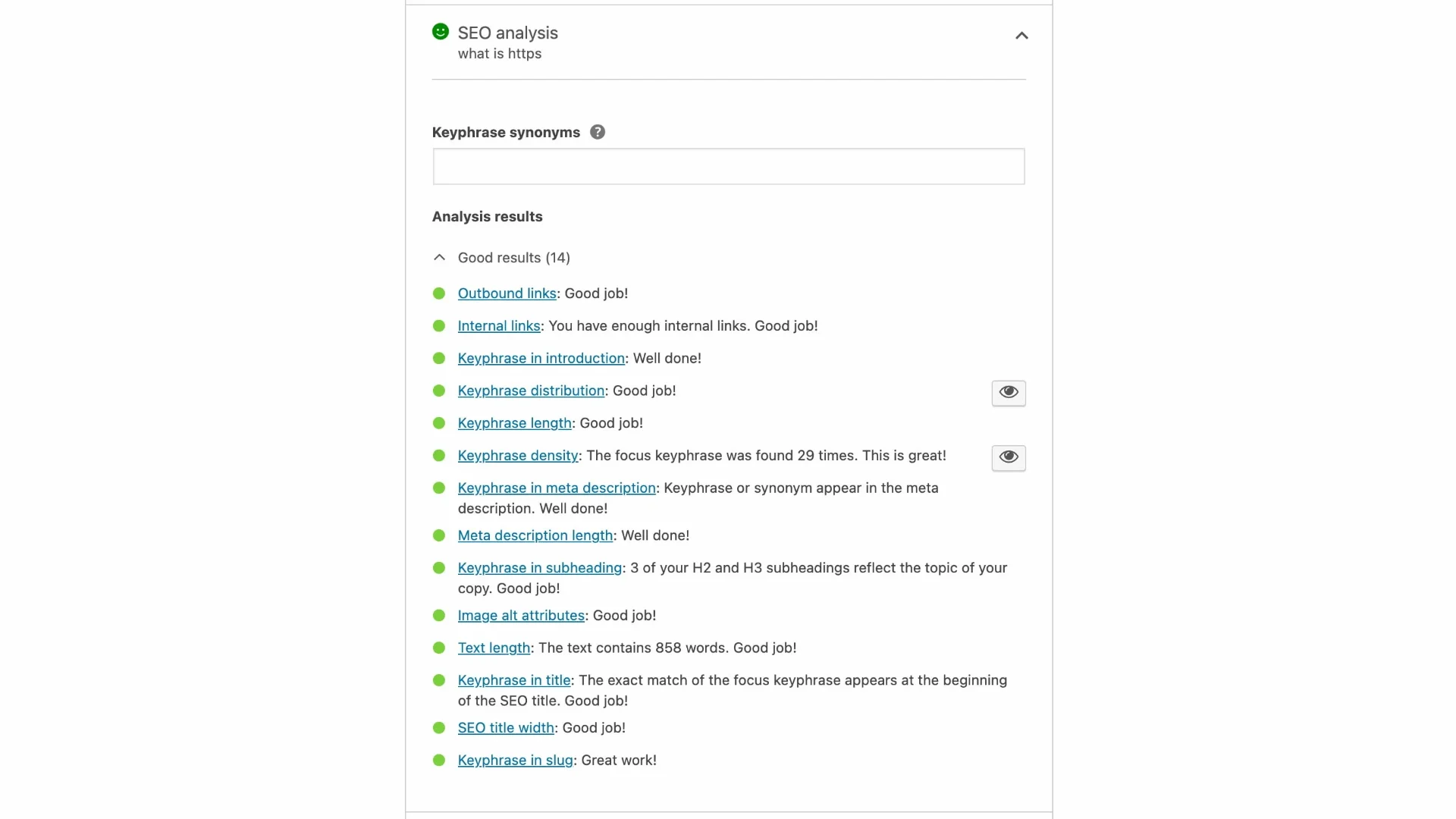 1. SEO Analysis: Provides recommended optimization opportunities.
2. On-Page Keyword Analysis: Offers actionable insights for keyword optimization.
3. Smart Tags: For dynamic page/post titles and meta descriptions.
4. Advanced WooCommerce SEO: Enhances SEO for WooCommerce stores (requires an extension).
5. Social Media Previews: Allows optimization for various social platforms.
6. Smart Sitemaps: Automated creation and submission of sitemaps to search engines.
7. Rich Snippets Schema: Supports structured data for better search result visibility.
8. Local SEO: Targets local search rankings (requires an extension).
9. Redirect Manager: Manages redirects to prevent 404 errors and dead links.
10. Internal Linking Suggestions: Identifies opportunities for better content interlinking.
11. Integrations: Works with SEMrush, Wincher, Elementor, Zapier, and WordProof for enhanced optimization.
12. Title and Meta Description Formatting: For consistent and branded snippets in search results.
13. Schema Implementation: Automatically adds structured data.
14. Canonical URLs: Sets canonical URLs to prevent duplicate content issues.
15. Readability Analysis: Helps create user-friendly content.
Setup and Configuration: Rank Math vs All in One SEO vs Yoast
1. Rankmath: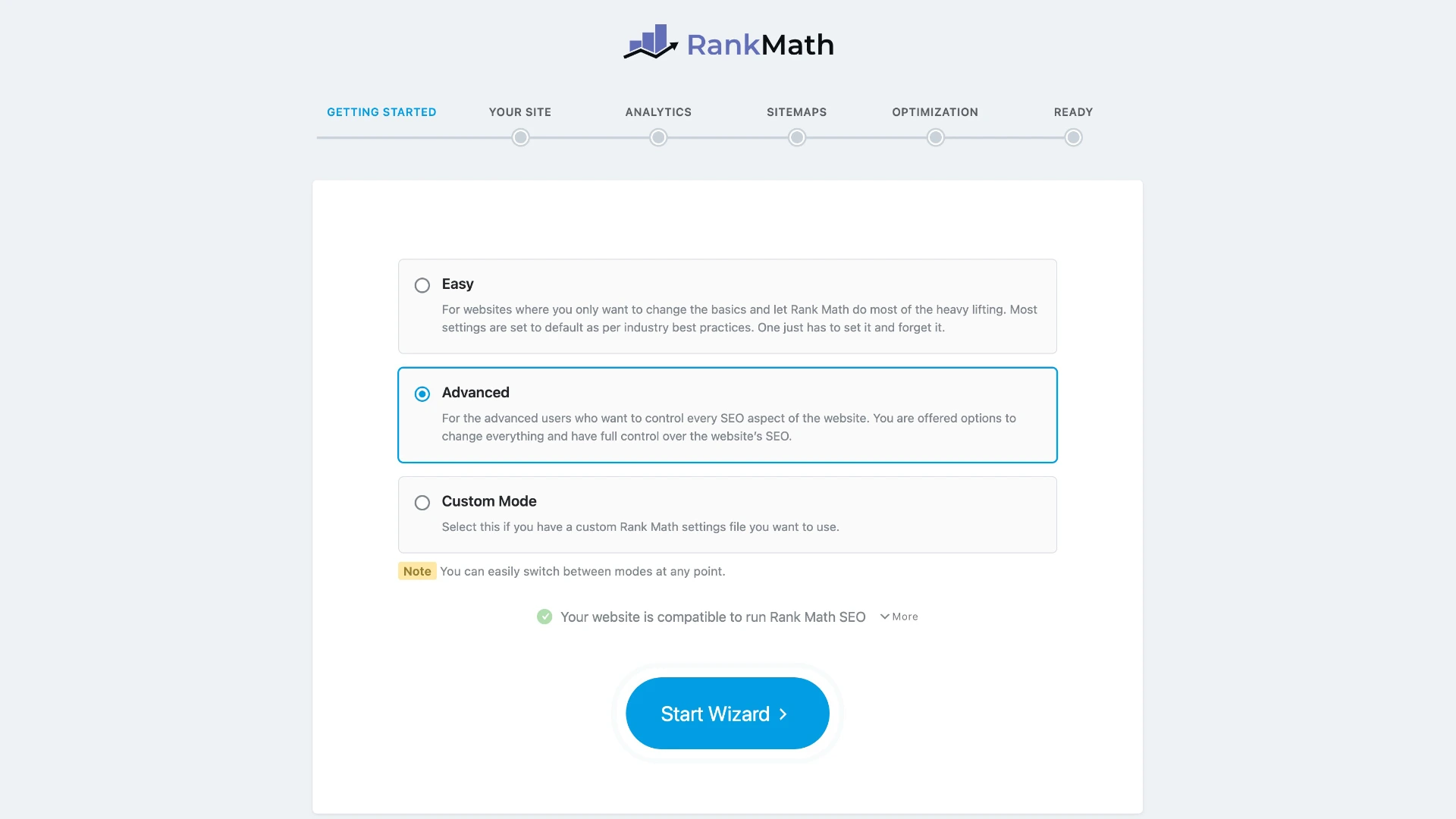 When you get Rank Maths up and running on your website, it's like hitting the start button for an exciting adventure. After activating the plugin, it will guide you to the setup wizard.
To get started, simply create a Rank Math Account using your Google, Facebook, or Gmail credentials.
You've got three wizard options to choose from: Easy, Advanced, and Custom. The Easy setup wizard is all about simplicity, focusing on the basics while letting Rank Math handle the heavy lifting.
If you're a control freak when it comes to SEO, the Advanced setup wizard gives you the reins to tweak every aspect of your website's optimization.
And guess what? The custom setup wizard is currently not available but will be released soon in the pro version of the plugin.
2. Yoast SEO: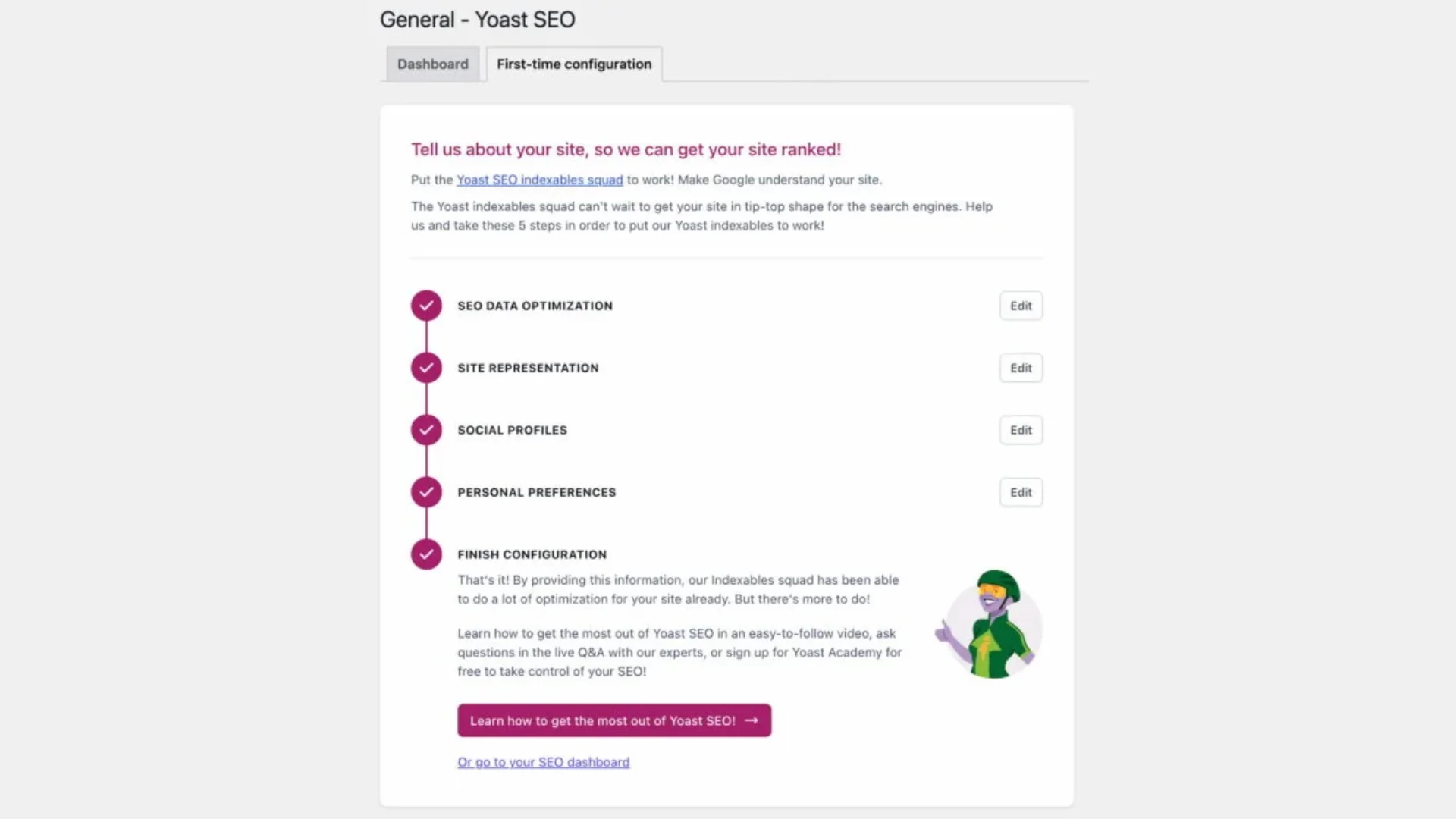 Unlike RankMath, Yoast SEO won't automatically take you to the setup wizard. You'll need to hop over to the configuration wizard yourself.
You can find it either through the notification bar at the top of your website screen or by heading to SEO > General in the left menu of your dashboard.
The Yoast configuration wizard walks you through eight different steps, giving you the power to toggle website indexing on and off as needed.
3. All in One SEO: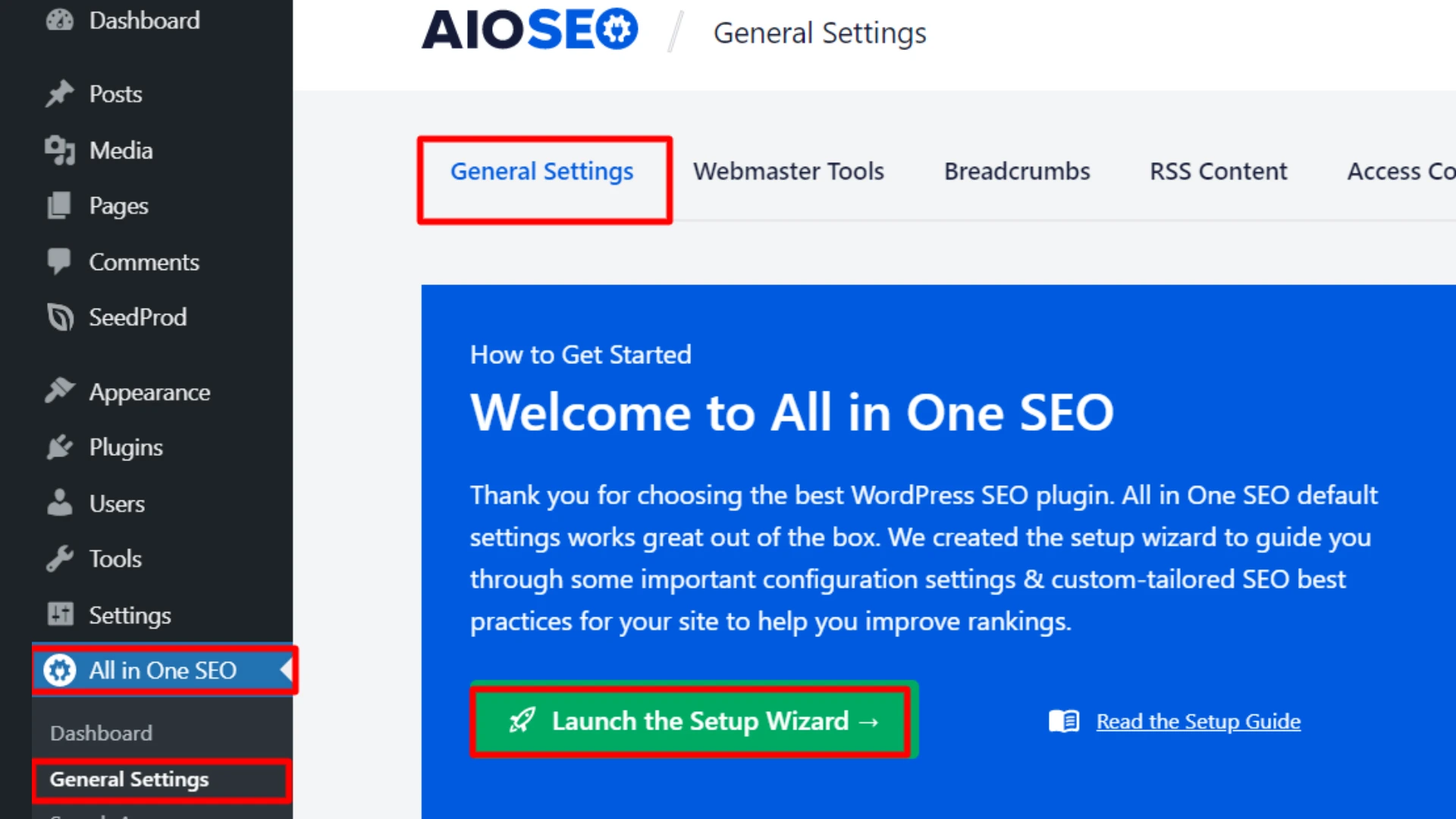 Similar to Rank Math, All in One SEO offers the convenience of automatically guiding you to the setup wizard immediately upon successful activation.
Upon activation, a warm welcome message will greet you, paving the way for you to seamlessly complete the straightforward 6-step process to configure your plugin.
All in One SEO vs Yoast vs Rank Math: User interface
We need an SEO plugin for the user interface with minimal clutter, automated optimization to start, and on-page SEO tools for every page and post. Also, a user-friendly main dashboard with an understandable SEO rating system is a plus.
ALL IN ONE SEO
All In One SEO sets itself apart from Yoast and Rank Math with its approach to feature integration. Unlike its counterparts, it doesn't offer a straightforward disable/enable option for individual features.
However, it compensates with a user-friendly UI design that provides quick and convenient access to various settings within the plugin. This design ensures that you can efficiently navigate and configure your SEO settings as needed.
RANK MATH
When it comes to Rank Math, you'll immediately notice its eye-catching user interface that enhances your overall dashboard experience.
Its dashboard offers a sleek and clean look, ensuring that you have an enjoyable user experience. Managing the various features is a breeze, as you can effortlessly toggle them on or off individually.
Each feature comes with a concise description within its designated box, complete with a user-friendly button to check its current status. With this intuitive design, you have the flexibility to enable or disable specific features to suit your unique requirements.
YOAST SEO
Yoast SEO, on the other hand, prioritizes functionality over aesthetics, offering a comprehensive user interface that gets the job done. While its design may lean towards simplicity, it remains highly effective.
The plugin allows you to seamlessly integrate or disable features of your choice with ease, streamlining your SEO efforts without any hassle.
Pricing: Rank Math Vs Yoast Vs All In One SEO
Here are the detailed pricing options for the Rank Math, All in One SEO, and Yoast SEO plugins for WordPress:
Rank Math SEO Pricing: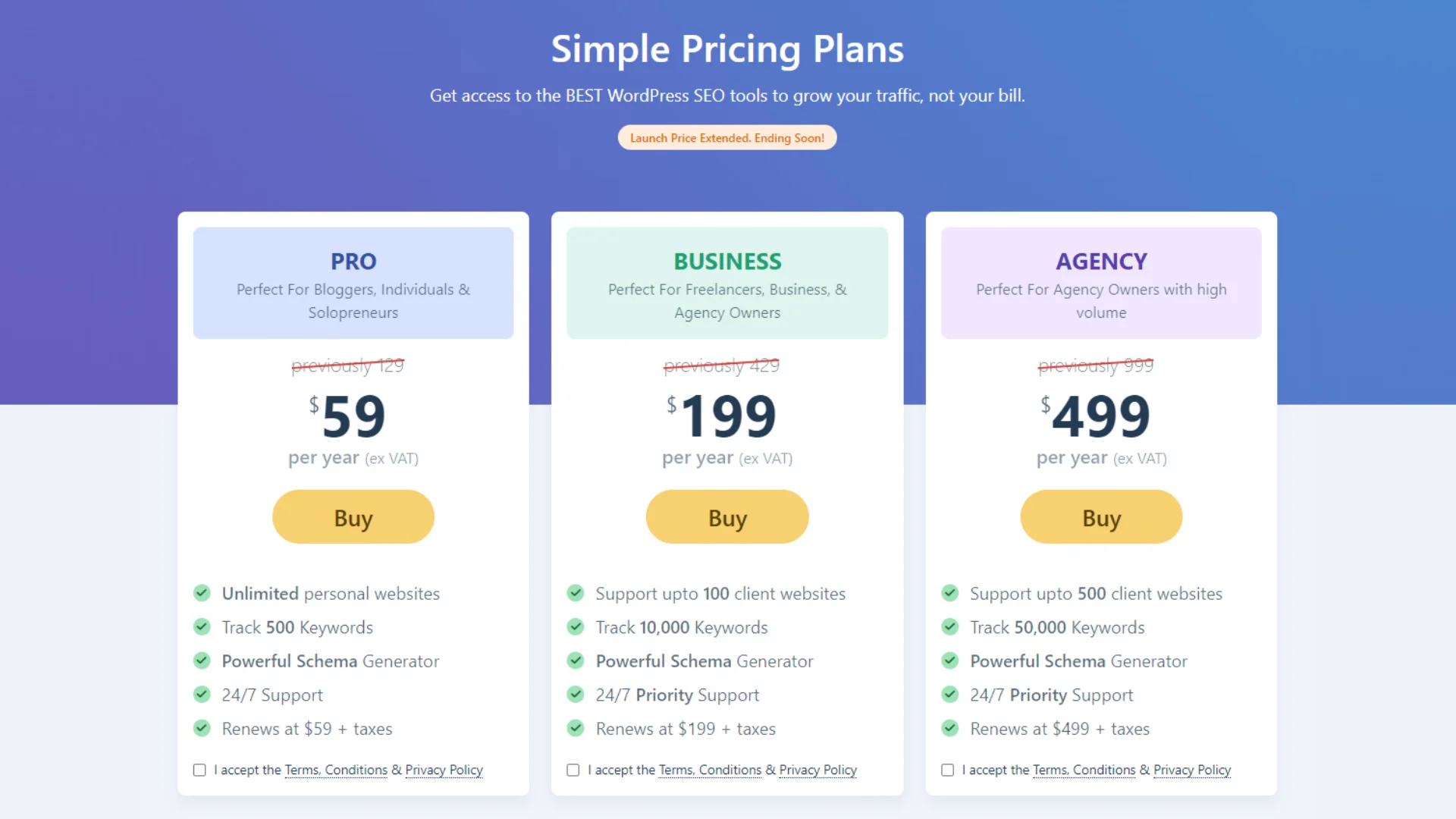 Pro: $59 per year for unlimited personal websites, with renewal at $79 plus taxes per year.
Business: $159 for the first year for up to 100 customers, with renewal at $229 plus taxes per year.
Agency: $499 for the first year for up to 500 customers, with renewal at $549 plus taxes per year.
All in One SEO Plugin Pricing: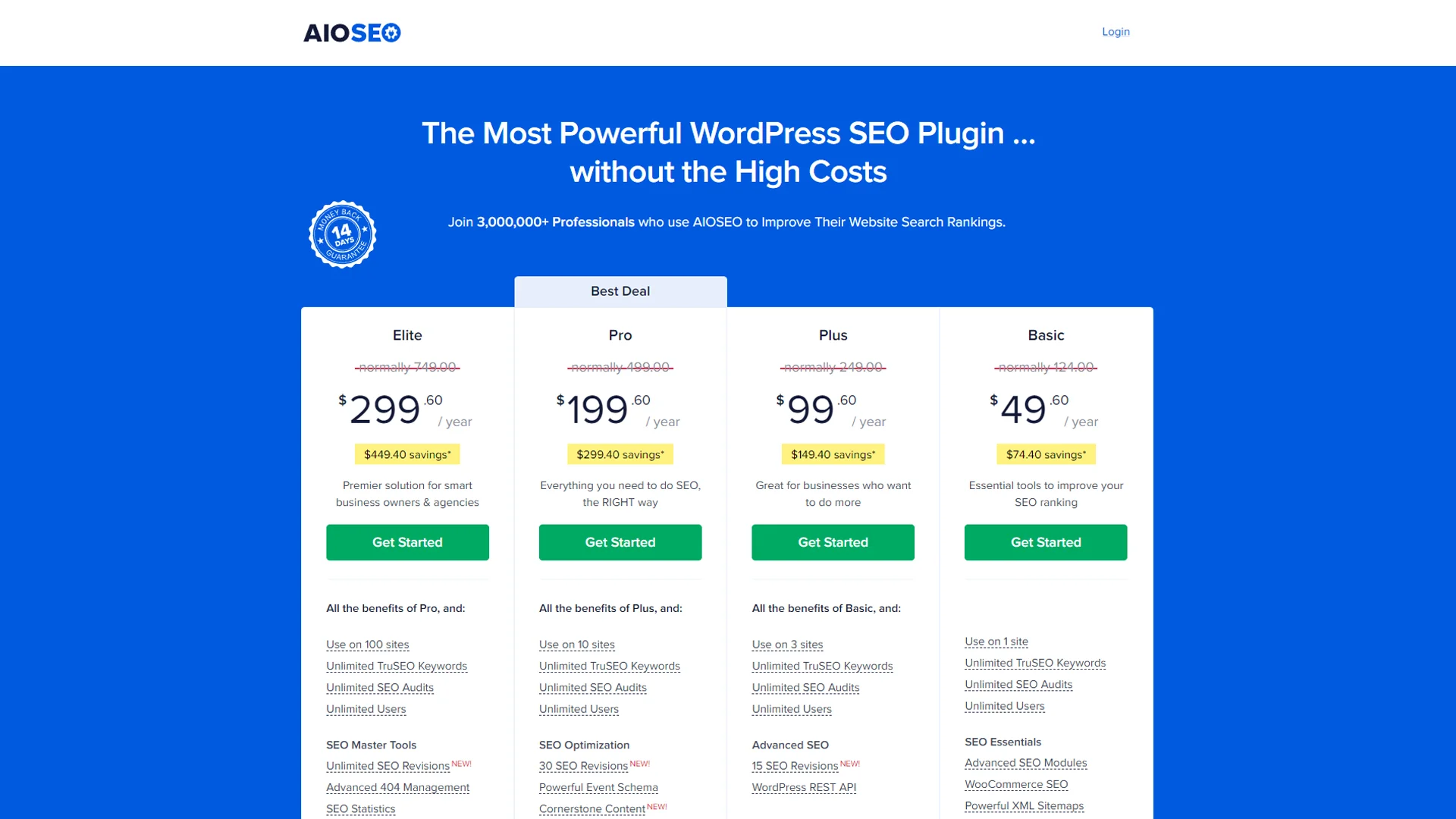 Basic: $49.60 per year for 1 site (normally $124.00).
Plus: $99.60 per year for up to 3 sites (normally $249.00).
Pro: $199.60 per year for up to 10 sites (normally $499.00).
Elite: $299.60 per year for up to 100 sites (normally $749.00).
Yoast SEO Pricing: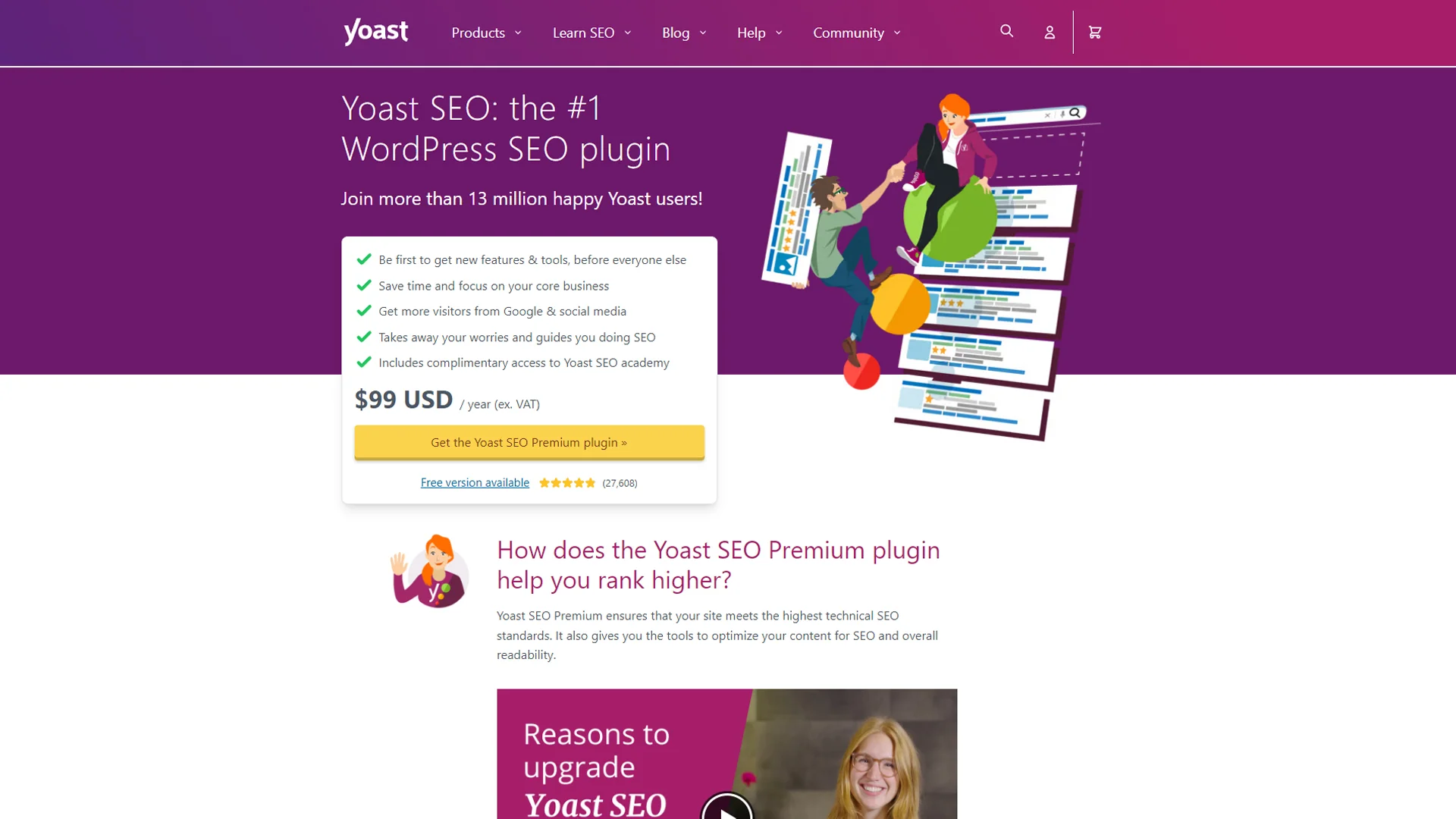 Free Version: Offers basic SEO features at no cost.
Premium: $99 per year (excluding VAT), which includes additional SEO-boosting features, 24/7 support, and access to all the Yoast SEO academy courses.
It should be noted that prices can vary based on promotional offers and the region from which you are purchasing. All three plugins offer different tiers to cater to various needs, from personal blogs to large businesses and agencies. The premium versions provide additional features and support compared to the free versions.
Now Which is the Best WordPress SEO Plugin?
Now that you've reached the end of the article comparing Rank Math, Yoast SEO, and All in One SEO, you might be in a better position to make an informed choice about the ideal SEO plugin for your WordPress website.
In my personal perspective, Rank Math stands out with its impressive set of advanced features available in the free version, features that many other plugins typically reserve for their paid versions.
However, it's worth noting that Yoast SEO and All in One SEO have held their own in the WordPress SEO plugin arena for quite some time, and they still offer robust solutions to enhance your website's SEO performance.
So, as you weigh your options, consider the unique strengths and features of each plugin to make the best decision for your specific needs.
FAQ'S ON RANK MATH VS YOAST VS ALL IN ONE SEO
1. Is Rank Math better than Yoast?
Rank Math is often praised for its user-friendly interface and advanced features offered in the free version. It provides extensive SEO capabilities such as automated SEO recommendations, schema markup, and keyword optimization. However, whether Rank Math is "better" than Yoast SEO can depend on the user's specific needs, skill level, and the particular features they value most.
2. What is the difference between Rank Math SEO and All in One SEO?
Rank Math SEO is known for its intuitive setup and user interface, along with features like built-in suggestions for content optimization. All in One SEO, on the other hand, offers a robust toolkit with features like SEO audit checklist and WooCommerce SEO. Both plugins offer premium versions with additional functionalities.
3. Is Yoast or All in One SEO better?
The choice between Yoast and All in One SEO depends on the user preference for certain features and the plugin's integration within their workflow. Yoast is notable for its focus on content analysis and SEO training resources, while All in One SEO offers a comprehensive set of tools that are useful for both beginners and advanced users.
4. Is Rank Math good for SEO?
Rank Math is considered a strong tool for SEO due to its wide range of features that facilitate on-site optimization, social media integration, and content analysis. Its ease of use and the additional functionalities provided in the free version make it a good option for both beginners and experienced SEO practitioners.
Get started
Experience the most powerful way to build beautiful & engaging shopping experience for your business here.
Check out our blogs
Aasaan help businesses build headless commerce storefronts using AI without needing to code. And this is our blog.
Read more stories