What is POS Software: What It is and Why Retailers Need It ?
Are you running a business and looking for a way to streamline your sales process?
Have you considered implementing a point of sale (POS) system? A POS system is a crucial part of any modern retail operation, providing a quick and efficient way to process transactions, track orders, and manage inventory.
With a POS system, you can say goodbye to clunky cash registers and hello to a sleek and organized sales process.
But with so many different options on the market, how do you choose the right POS system for your business?
Keep reading to learn more about the benefits of POS systems and how to find the best one for your needs.
What is POS Software?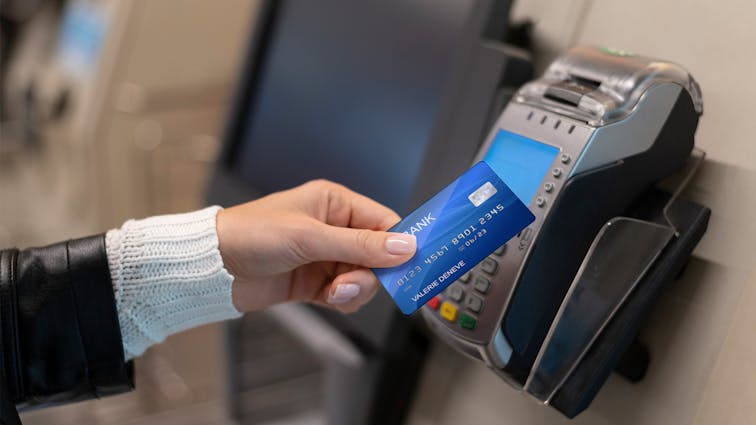 Point of sale (POS) software is a type of computer program that is used to process sales transactions and track customer orders in a retail or hospitality setting.
POS software is typically used in conjunction with POS hardware, such as a cash register or a terminal, to complete transactions and manage inventory.
POS software is a key component of a POS system, as it provides the functionality needed to process transactions, track orders, and manage inventory.
POS software can also be used to generate reports, analyze sales data, and perform other tasks related to running a business.
There are many different types of POS software available, ranging from basic programs that are designed for small retail operations to more sophisticated systems that are tailored to the needs of larger businesses.
What is a point-of-sale system?
Customers are rung up at the register, often known as a point of sale or point of purchase. Customers are at the point of sale when they make a purchase, be it through an online checkout process, a visit to your store's checkout desk, or your display booth.
The hardware and software of your point-of-sale system are what allow your company to make those sales possible.
There are several benefits to using POS software for your business. These include:
1. Improved efficiency:
POS software streamlines the sales process, allowing you to process transactions faster and more accurately. This can help reduce lines and improve the overall customer experience.
2. Increased accuracy:
POS software helps reduce errors by automating tasks such as calculations and data entry. This can improve the accuracy of sales and inventory data.
3. Enhanced inventory management:
POS software allows you to track inventory in real-time, making it easier to restock items and track sales trends.
4. Better customer relationship management:
POS software often includes customer relationship management (CRM) tools, which allow you to collect and analyze customer data. This can help you improve your marketing efforts and offer personalized experiences to your customers.
5. Simplified financial management:
POS software can be integrated with accounting software, making it easier to manage your financial data and create reports.
6. Increased security:
POS software often includes security features such as encryption and fraud prevention tools, helping to protect your business and your customers' sensitive data.
7. Greater flexibility:
Many POS software systems are cloud-based, meaning you can access them from any device with an internet connection. This can make it easier for you to manage your business from anywhere
How does a POS system work at a small business?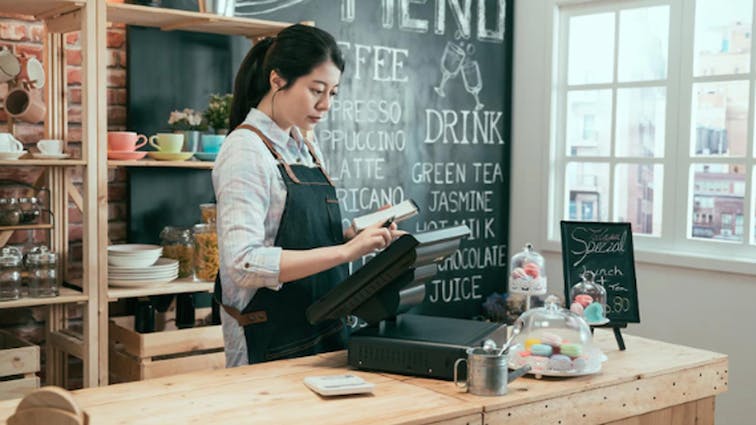 The ability to process consumer payments and monitor sales is made possible by a point-of-sale system. It appears to be straightforward, but there are several possible configurations, depending on whether or not you sell exclusively online, only in a physical store, or both.
The cash register in a store is an example of a POS system. Since today's POS systems are computerized, you may complete a sale from anywhere in the store. A tablet or smart phone with internet access and a point-of-sale app is all that's required.
What, then, is the function of a point-of-sale system? The normal procedure goes like this:
A buyer makes up their mind to buy your wares. In the case of a brick-and-mortar store, they may approach a cashier and request that they are rung up.
A barcode scanner would allow the salesperson to quickly and easily look up the item's pricing. Using the camera on your POS system or mobile device, you may "scan" products visually with some systems like Square.
When a customer is finished shopping online and is ready to pay for their purchases, they have reached this stage.
Your point-of-sale system automatically adds in sales tax when determining the final price of an item. When an item is purchased, the system automatically adjusts the available stock to reflect the sale.

Get paid by the customer. Your client can pay for their item using a variety of methods, including cash, a loyalty program card, a gift card, or a credit or debit card.
A bank authorization may be required from your customer's bank depending on the payment method they select.
The deal is closed at the register. At this point, you can consider the sale closed. The transaction is completed, a receipt is generated (either electronically or in paper form), and the goods are shipped to or delivered to the customer.
POS system in retail :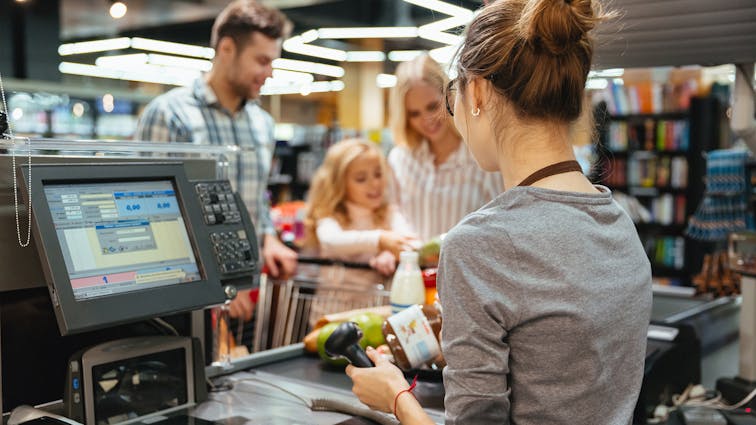 Having a reliable point of sale (POS) system is essential for any business.
The value of a point-of-sale (POS) system for stores lies not just in its ability to streamline checkout processes.
Here we'll take a look at seven compelling arguments in favor of implementing a point-of-sale system into your retail operation immediately.
1. Checkout procedure optimization
With a point-of-sale system, customers can get through the register much more quickly.
Having all of your items, prices, and customers in one place makes it easy to fulfill orders by matching products to consumers and applying any necessary discounts.
The use of a barcode scanner makes the procedure even more efficient
The longer a customer must wait to make a purchase, the less likely they are to make the buy.
Customer abandonment rates can be lowered with the use of a good point-of-sale system.
One of the numerous advantages of a POS system is a quick and easy checkout process. From the viewpoint of the consumer, it may be the deciding factor that causes them to remain faithful to your brand.
2. Add more methods of payment.
Retailers are under intense pressure to keep up with the rapid evolution of payment technology over the past five years, which highlights the significance of point-of-sale (POS) systems.
Customers have the option of paying with cash, credit card, eWallet, installments, or a combination of these options all at once.
With a customizable point-of-sale (POS) system, you can provide your customers with more ways to pay and ensure they leave with a positive impression of your business.
3.  Create win-win promotions with your customers.
A point-of-sale (POS) system is valuable because it centralizes information about customers, purchases, and sales. Using these numbers, you can plan and execute an effective advertising strategy that brings in clients without draining your profits.
Depending on the features of your POS system, you can create dynamic discounts that vary by item, order total, membership level, and more.
The point-of-sale system can then automatically apply the discounts to all sales without requiring any human intervention.
4. Organize customer-retention initiatives
In addition to advertising, loyalty programs almost always lead to growth in both new customers and repeat buyers.
By including loyalty programs like membership or gift cards into your POS, you can ensure that consumers are rewarded for their continued patronage without having to put in any additional effort.
Further encouraging repeat business, a cutting-edge POS can show clients how to earn points toward a loyalty program.
Your clientele will be able to see their progress toward freebies, such as how many points they have or how much they need to spend.
5. Reduce the possibility of mistakes made by humans
The danger of human error increases when employees have to enter product information and prices manually and when they are required to process many transactions per hour.
The correct stock-keeping unit (SKU) number, system-wide price, and order total are all things that can be guaranteed by using a point-of-sale system. The POS system logs all sales order information for later inspection.
6. Contain your losses as much as possible
According to Intuit Market Research, a retailer's annual operating expenses can be reduced by about 10%, or $30,000.
Incorrect stock levels are a major issue for many stores. Not knowing what caused these losses can be quite distressing.
One viable strategy is to meticulously document stock levels. You may take preventative measures against inventory loss, like knowing where and how much of each item is in your store at any one time.
A point-of-sale system is also useful because it can help you keep track of your money. Cash on hand, as well as daily and monthly revenue and expenditures, can all be recorded.
If your point-of-sale system is linked to your books, your accountants will have easy access to the data they need.
7. Maintain order among your staff
It can be difficult to keep track of and coordinate the efforts of your staff if they are all utilizing their worksheets.
A point-of-sale system is useful for monitoring employee attendance and shift logs. If you have a sophisticated POS system, it can also provide data on the sales success of each employee and figure out their commission.
Then you may determine how best to encourage and reward your employees based on their progress toward their goals.
Conclusion:
****You don't want to fall behind the competition because your processes are manual and out of current because the retail industry is undergoing increasingly fast transformations.
It is time to have an understanding of the significance of point-of-sale (POS) systems and to think about making improvements to your business processes.
Get started
Experience the most powerful way to build beautiful & engaging shopping experience for your business here.
Check out our blogs
Aasaan help businesses build headless commerce storefronts using AI without needing to code. And this is our blog.
Read more stories