The Top 10 Best Headless CMS Platforms for Your Business
Are you tired of dealing with traditional CMS platforms that restrict your creativity and hinder your business growth?
If yes, then it's time to switch to headless CMS platforms that offer unmatched flexibility and customization options. But with so many options available, choosing the Top headless CMS platforms for your business can be overwhelming.
In this article, we'll provide a brief overview of the top headless CMS platforms that can help you create engaging content and seamless digital experiences.
From Contentful and Strapi to Kentico Kontent and Sanity.io, we'll cover the pros and cons of each platform, so you can make an informed decision.
So, if you're ready to take your content strategy to the next level, read on!
We'll guide you through the ins and outs of the best headless CMS platforms for your business. Get ready to transform your content game like never before!
What is a Headless CMS?
A headless CMS, also known as a decoupled CMS, is a content management system that separates the content creation and storage process from the presentation layer.
Unlike traditional CMS platforms, which are tightly coupled with a specific front-end framework, a headless CMS provides content through APIs (Application Programming Interfaces), allowing developers to use any front-end technology to consume and display the content.
This decoupled architecture gives businesses the flexibility to publish content to multiple platforms, devices, and channels seamlessly. Whether you need to deliver content to a website, mobile app, IoT device, or any other digital touchpoint, a headless CMS empowers you to do so efficiently.
Traditional CMS vs. Headless CMS
To understand the benefits of a headless CMS, let's first compare it to a traditional CMS. In a traditional CMS, the back-end and front-end are tightly integrated, meaning the content creation and delivery process are interconnected.
This limits the flexibility and scalability of the system, as any changes made to the front-end may require modifications to the back-end.
On the other hand, a headless CMS decouples the back-end and front-end, allowing them to function independently. The content is stored in a central repository, while the front-end consumes it through APIs.
READ MORE: Headless CMS VS Traditional CMS.
This separation enables businesses to make changes to the front-end without affecting the back-end, making it easier to update the user interface, introduce new features, and adapt to evolving technologies.
Benefits of Headless CMS:
1. Frontend Technology Independent:
Use any modern frontend framework, such as React, Vue, Angular, etc., to build your applications.
2. Scalability:
The architecture is designed to achieve a high level of scalability, enabling easier horizontal scaling and integration with third-party applications.
3. Cross-Platform Content Delivery:
Deliver content to various platforms like web, mobile, etc., by consuming API endpoints.
4. Faster Development:
Since the frontend and backend systems are decoupled, teams can work independently and simultaneously on both components, making development faster.
5. Better Performance and Security:
Due to the separation and API-first delivery, efficient caching and better overall security of applications can be achieved.
6. Reusable Content:
Easily repurposed content across multiple applications, languages, or locations without the need for redesigning or redeveloping.
READ MORE: Unlocking Headless Architecture: Why It's a Big Deal for the Future!
Why Choose a Headless CMS?
Choosing a Headless CMS is ideal for organizations that require flexibility, speed, and enhanced performance for their digital content needs. Here are some scenarios in which a Headless CMS might be the preferred choice:
1. Embracing Modern Development:
Organizations looking to utilize modern web frameworks and technologies can take advantage of the Headless CMS, making it easier to integrate with modular and decoupled components.
2. Customizable User Experiences:
By offering an agnostic frontend technology experience, Headless CMS enables the development of a unique and tailored user experience across different devices and platforms.
3. Future-Proofing Your Content:
Given its inherent flexibility and collaboration focus, Headless CMS makes it easier for businesses to adapt to future market changes or leverage emerging technologies by providing a versatile content management infrastructure.
4. Expanding Into Multiple Channels, Platforms, or Languages:
If an organization plans to reach a broader or more diverse audience by delivering content to various digital fronts and languages, employing Headless CMS facilitates this progression seamlessly.
5. Agile Development and Collaboration:
Reduce time-to-market by enabling parallel workstreams of frontend and backend developers focusing on their areas of expertise, ensuring quicker iterations and enhanced productivity.
6. Microservices and Headless Architecture Adoption:
Organizations moving towards microservice architecture or those which emphasize the decoupling of modules as an essential part of their technology stack will find Headless CMS compatible with their ecosystem.
When it comes to choosing a suitable solution for your project, consider the various available Headless CMS options, each with their unique features, pricing models, and support levels. Some popular choices include:
Top 10 Headless CMS Platforms in 2024 To Check
1. Contentful :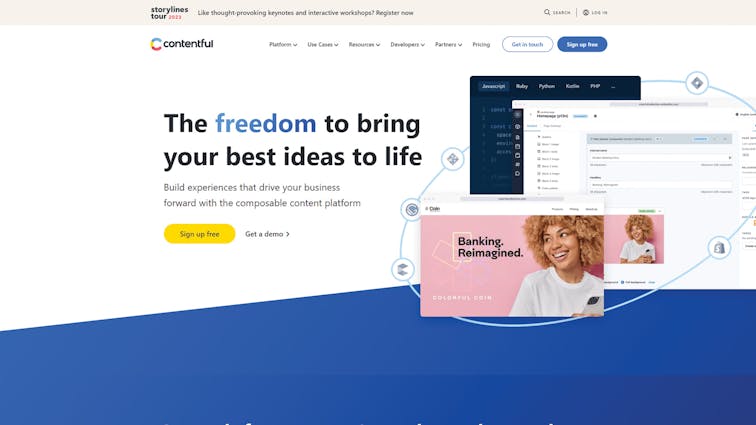 Contentful is a headless content management system (CMS) that enables users to create, manage, and publish content across multiple channels and platforms.
It offers a flexible and customizable approach to content management, making it a popular choice for businesses of all sizes.
Pros:
Rich text editor enables easy content creation and editing Wide range of integrations available
Ability to define custom content types and models
Supports workflow management and approval processes
Strong developer community and documentation
Cons:
Limited in-built features for non-technical users
Can have a steep learning curve for some users
Pricing can become expensive for large-scale projects
Examples of businesses that use Contentful include:
Spotify: Spotify uses Contentful to manage its podcast content, enabling users to create and publish new episodes quickly and easily.
Twilio: The cloud communications platform uses Contentful to build and maintain its developer documentation and marketing websites.
Red Bull: The energy drink company uses Contentful to manage its content for its global media network, Red Bull Media House.
2. Sanity :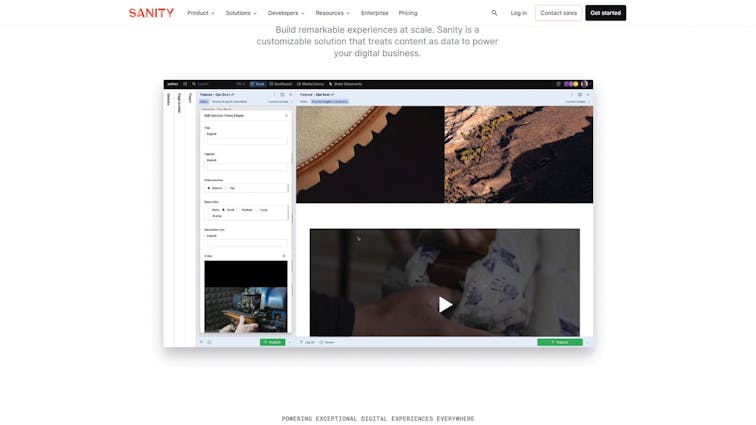 Sanity is a powerful yet lightweight headless CMS platform that provides real-time collaboration, a customizable editing interface, and simple API access.
Pros:
Real-time collaboration for content creation
Fast content deployment and API performance
Highly customizable and extensible
Strong developer community
Pay-as-you-go (PAY G) pricing model suitable for small to large projects
Cons:
Limited pre-built integrations, require custom development
Less-user friendly UI for non-developers
Additional customizations might require developer time
Examples of businesses that use sanity include:
Mux: The video infrastructure platform utilizes Sanity to easily maintain their user-friendly documentation and dashboards.
Cloudflare: Cloudflare uses Sanity to manage content for their various service descriptions and blog posts.
Figma: Figma, the popular design tool, uses Sanity to manage its content and documentation for their website.
3. Strapi :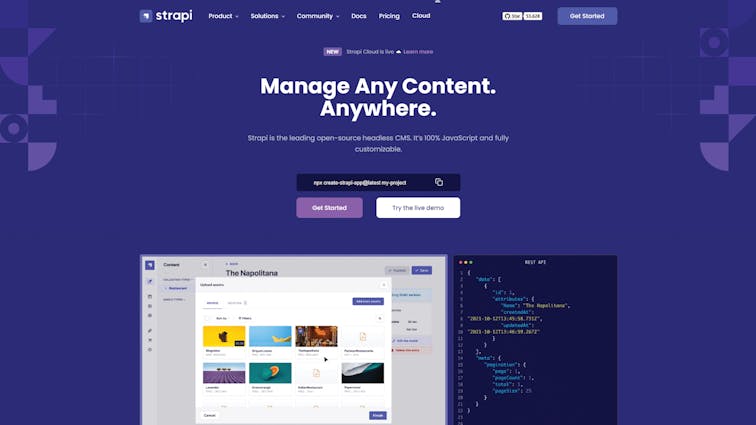 Strapi is an open-source headless CMS built on Node.js, known for its high performance, flexibility, and ease of use.
Pros:
Great developer experience due to extensive documentation
Customizable API and content types
Built-in RESTful and GraphQL API support
Simplified authentication and Role-Based Access Control (RBAC)
Cons:
Limited in-built plugins, require custom development
Initial setup might require time for complex projects
Scalability might be a challenge for large -scale deployments
Examples of businesses that use strapi include:
Walmart: Walmart utilizes Strapi for their eCommerce site's content management, providing a scalable and reliable solution to handle high volumes of content.
Toyota: Toyota employs Strapi to manage their global websites, offering a consistent and performant content delivery solution across various geographies and languages.
IBM: IBM uses Strapi to manage and deliver content across their various web properties and platforms, streamlining their content management efforts and efficiency.
4. Kentico Kontent: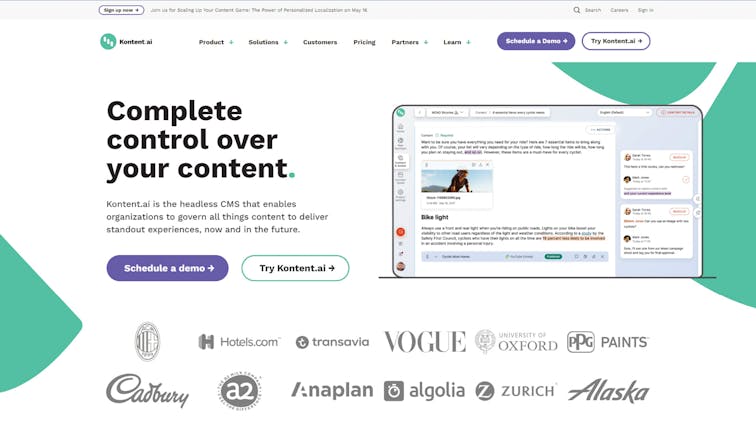 Kentico Kontent is a cloud-based headless content management system that offers a range of features for content creation, optimization, and collaboration.
Pros:
Comprehensive UI suitable for both technical and non-technical users
Strong multisite and localization support
Integration with Gatsby and Next.js framework
Workflow automation capabilities
Cons:
Limited no-code personalization features
Pricing might be challenging for small businesses
Less flexibility in customization compared to other platforms
Examples of businesses that use Kentico include:
Scania: Scania, a global transport solutions provider, leverages Kentico Kontent to manage and distribute their digital content across multiple platforms and channels.
Konica Minolta: The technology company utilizes Kentico Kontent for seamless content management across its business portfolio, ensuring consistent branding and messaging.
5. Prismic: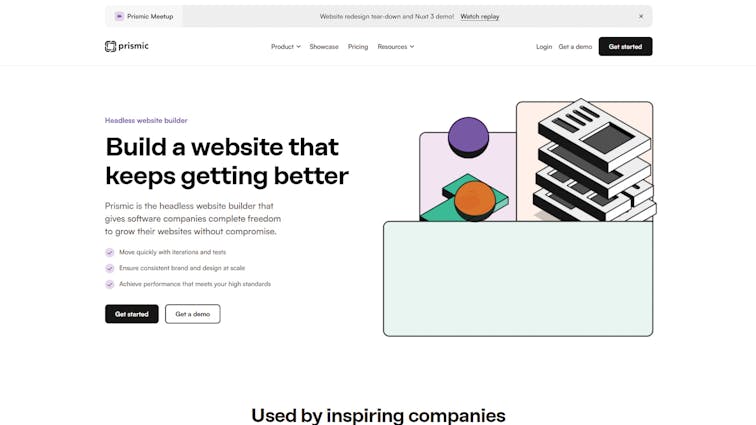 Prismic is a headless CMS that features a flexible dynamic layout system, API-based architecture, and a powerful customer-hosted server library.
Pros:
Intuitive and easy-to-use UI for content editors
Built-in previews and scheduling features
Support for multi-language and multi- site content
Free plan available for small projects and teams
Cons:
Limited integrations and plugin ecosystem
No built-in workflow and approval management
Custom development required for advanced features
Examples of businesses that use Prismic include:
Google: Google uses Prismic to manage content for the Google Cloud website, enabling efficient content updates and maintenance.
Sennheiser: The audio equipment manufacturer leverages Prismic to deliver and manage content across its online product catalog and corporate websites, ensuring accurate and up-to-date information.
Airbnb: The short-term rental platform adopts Prismic for managing content across its customer support and help center articles, providing a clear and helpful user experience.
6. ButterCMS: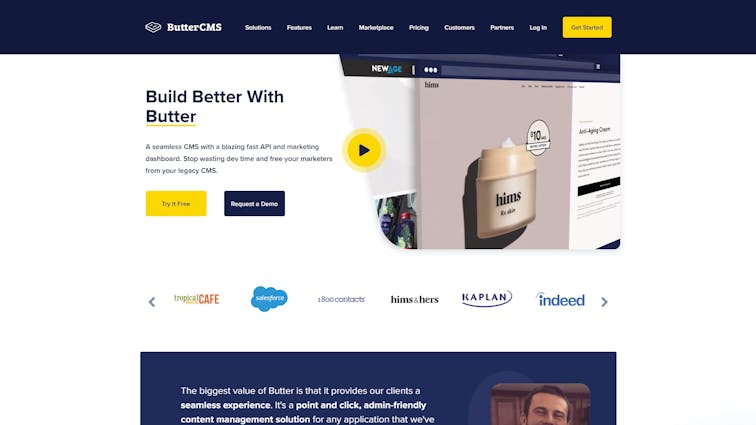 ButterCMS is a user-friendly, API-first headless CMS that simplifies content management for developers and marketers alike.
Pros:
Easy set-up and intuitive content modeling
SEO-friendly URLs and metadata support
Supports multiple programming languages through SDKs
API caching for faster content delivery
No server maintenance needed due to its fully-managed nature
Cons:
Limited plugin and integration ecosystem
No real-time collaboration or workflow features
Pricing might be too high for smaller projects
Examples of businesses that use ButterCMS include:
Skylight Frames, a digital photo frame company that uses ButterCMS to enable rapid A/B testing and content updates.
Sass and Haml, web development tools that use ButterCMS to power their marketing website and blog.
Winc, a wine subscription service that uses ButterCMS to create landing pages for ecommerce promotions and paid ad campaigns.
7. DatoCMS: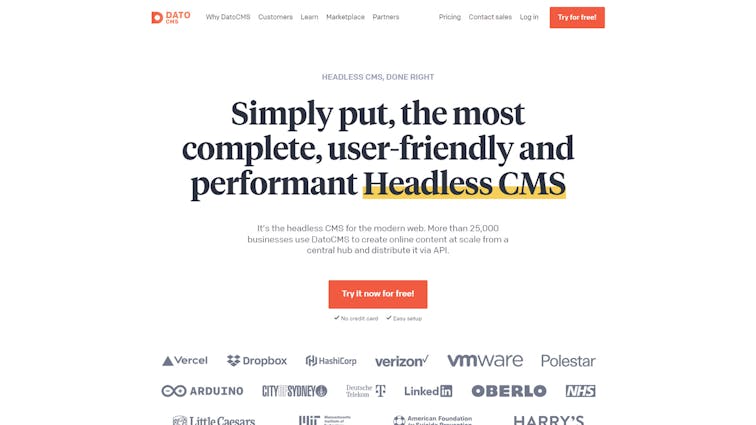 DatoCMS is a fully customizable headless CMS that offers features such as localization, rich media management, and integration with performance metrics tools.
Pros:
Granular control over content types and fields
User-friendly content editor with customizable plugins
Strong support for image and video management
Active developer community
Cons:
Limited built-in workflow management features
Lacks native support for some frontend frameworks
Might have a steeper learning curve for new users
Pricing may be steep for smaller projects and budgets
Examples of businesses that use DatoCMS include:
Pier, a Brazilian insurance company that uses DatoCMS to power their website and blog.
Livestorm, a video communication platform that uses DatoCMS to manage their marketing content and landing pages.
Maze, a user testing platform that uses DatoCMS to create and update their website content.
8. Contentstack: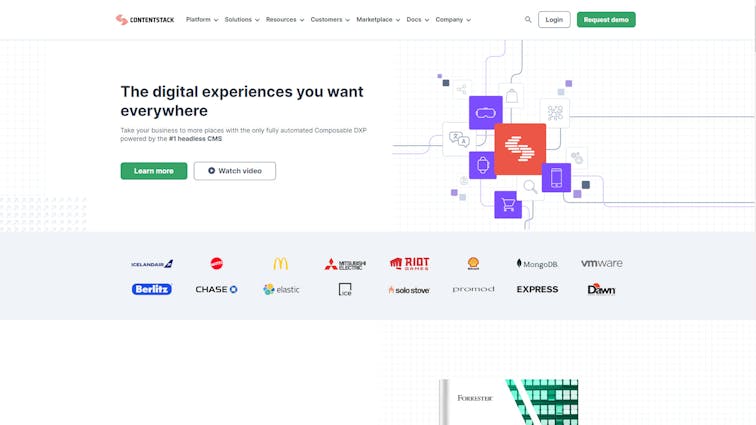 Contentstack is a scalable, API-first headless CMS known for its powerful out-of-the-box customization and seamless integration with various development tools and frameworks.
Pros:
Easy integration with third-party tools and services
Robust content modeling and management features
Supports multiple development environments and frameworks
Advanced workflow capabilities and permissions for content approval processes
Strong security and compliance features
Cons:
May require technical expertise for complex integrations
Limited built-in content preview options
Pricing might not be suitable for smaller projects or teams
Examples of businesses that use Contentstack include:
Elastic: Elastic, the search company behind Elasticsearch and the Elastic Stack, uses Contentstack for their content management needs, powering a dynamic and engaging user experience on their website and knowledge base.
Morningstar: Financial services company Morningstar employs Contentstack to manage and deliver accurate and timely financial information across their platformsand products, ensuring enhanced user access and insights.
9. Storyblok: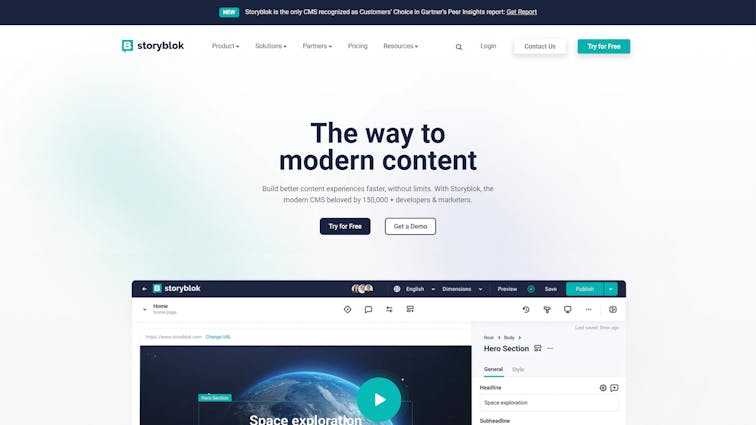 Storyblok is a headless CMS that combines visual story template creation with powerful content API access, making it a versatile solution for managing content across multiple platforms.
Pros:
Unique Visual Story Editor for non-technical users
Flexible content components and nested blocks
Integrates with popular frontend frameworks
Active developer community and support forum
Cons:
Limited built-in analytics and SEO features
Content versioning and rollback features could be improved
Some users might find the visual editor overwhelming
Pricing may become more expensive for larger projects and teams
Examples of businesses that use storyblok include:
Sennheiser: Audio equipment manufacturer Sennheiser relies on Storyblok for their content management needs, showcasing their diverse product portfolio across different channels while maintaining flexibility and customization.
Playstation.de: The official PlayStation Germany website employs Storyblok for managing and delivering various types of content, including gaming news, events, and product launches, catering to their expansive gaming community.
Adidas: Sportswear giant Adidas utilizes Storyblok for managing content across their multiple regional websites and campaigns, delivering tailored user experiences with a consistent brand image.
10. Directus:
Directus is an open-source headless CMS that offers a lightweight, modular, and extensible solution for managing your content collection, storing data, and sharing with popular development frameworks.
Pros:
Open-source platform with no limitations on use, self-host or cloud-hosted options
Lightweight and fast, with extensible architecture
Customizable at both data and system levels
Friendly for both technical and non-technical users
Active developer community
Cons:
Lacks some out-of-the-box features offered by proprietary alternatives
May require additional customization for extensive projects or specific requirements
Weather-based displays need to be provided separately or through third-party integrations
Support might not be as robust as with paid solutions
Examples of businesses that use Directus include:
NASA: NASA, the United States space agency, employs Directus for managing and sharing content related to its missions, research, and multimedia data.
Bitnami: Bitnami, a library of installers and bundles for software stacks, uses Directus to manage and display content associated with their software packages and releases.
StubHub: StubHub, a marketplace for event tickets and experiences, utilizes Directus to create data-driven content for their e-commerce platform, ensuring consistent and engaging user experiences across their channels.
Key features of a Headless CMS
A headless CMS offers a range of features designed to enhance your content management process. Here are some key features to look for when choosing a headless CMS:
API-driven architecture: The core of a headless CMS is its API-driven architecture. Ensure that the CMS you choose provides robust and well-documented APIs that allow for seamless integration with various front-end technologies.
Content modeling: Content modeling is the process of structuring and organizing your content. Look for a headless CMS that offers flexible content modeling capabilities, allowing you to create custom content types, fields, and relationships.
Content versioning and workflow: Content versioning and workflow management are essential for collaborative content creation. Choose a headless CMS that provides version control and allows you to define custom workflows for content approval and publishing.
Multi-channel publishing: The ability to publish content to multiple channels is a key advantage of a headless CMS. Ensure that the CMS supports publishing to websites, mobile apps, IoT devices, and any other digital touchpoint you may require.
Content localization: If you have a global audience, content localization is crucial. Look for a headless CMS that supports multi-language content and provides localization features such as translation workflows and content duplication.
Implementing a Headless CMS
Implementing a headless CMS requires careful planning and consideration. Here are some tips to help you successfully implement a headless CMS:
Define your content strategy: Before implementing a headless CMS, it's important to define your content strategy. Determine your target audience, content goals, and the platforms you want to deliver content to. This will help you choose the right headless CMS and plan your content architecture.
Evaluate your technology stack: A headless CMS is just one component of your technology stack. Assess your existing infrastructure and determine how the headless CMS will fit into your ecosystem. Consider factors such as integration capabilities, scalability, and ease of use.
Choose the right headless CMS: There are several headless CMS platforms available in the market, each with its own strengths and weaknesses. Evaluate your requirements and select a CMS that aligns with your content strategy and technical needs.
Plan your content architecture: A well-defined content architecture is crucial for a successful headless CMS implementation. Map out your content types, fields, and relationships, and ensure they align with your content strategy and user experience goals.
Test and iterate: Implementing a headless CMS is an iterative process. Continuously test and refine your content architecture, APIs, and front-end integrations to ensure everything is working seamlessly. Solicit feedback from users and stakeholders to drive improvements.
Best practices for using a Headless CMS
To maximize the benefits of a headless CMS, here are some best practices to keep in mind:
Collaborate between teams: A headless CMS requires collaboration between content creators, developers, and designers. Foster open communication and establish workflows that allow for seamless collaboration throughout the content creation and delivery process.
Adopt agile content management: Traditional content management processes are often rigid and slow. Embrace agile methodologies to enable faster content creation, iteration, and publishing. This will help you stay nimble and responsive to changing market demands.
Leverage analytics and data: A headless CMS provides valuable insights into how your content performs across different channels. Leverage analytics and data to understand user behavior, identify content gaps, and make data-driven decisions for continuous improvement.
Invest in training and support: Implementing a headless CMS may require upskilling your team. Provide adequate training and support to ensure your content creators and developers are equipped with the necessary skills to leverage the full potential of the CMS.
Stay up-to-date with industry trends: The digital landscape is constantly evolving. Stay informed about emerging technologies, industry trends, and best practices in content management. This will help you stay ahead of the curve and continue delivering engaging experiences to your audience.
Conclusion: Embracing the future of content management with a Headless CMS:
In conclusion, choosing the right headless CMS for your business depends on various factors, including ease of use, scalability, integration capabilities, and, of course, the budget.
The options listed above provide a range of features and benefits, catering to different projects and requirements.
As with any software decision, carefully consider the specific needs and goals of your business, and evaluate the CMS you choose based on those factors.
Taking the time to research and understand the available options will ultimately lead to a better content management experience, and better results for your business.
FAQ's on Best Headless CMS Platfroms in 2024
---
1. What is a Headless CMS?
A Headless CMS is a content management system where the front-end and back-end of a website are separate.
2. What are the advantages of Headless CMS?
Some advantages of Headless CMS include flexibility, scalability, content reusability, and easy maintenance.
3. What are the disadvantages of Headless CMS?
Some disadvantages of Headless CMS include increased complexity, a learning curve, higher costs, and a lack of out-of-the-box features.
4. What is the most flexible Headless CMS?
Contentful is considered one of the most flexible Headless CMS platforms.
5. Are Headless CMS good for SEO?
Yes, Headless CMS can be great for SEO, as it allows you to focus on creating high-quality content without worrying about how it will be presented.
Get started
Experience the most powerful way to build beautiful & engaging shopping experience for your business here.
Check out our blogs
Aasaan help businesses build headless commerce storefronts using AI without needing to code. And this is our blog.
Read more stories