2024's Best Mobile Business Ideas: Drive Profits with On-the-Go Small Business Ideas
Looking to diversify your income streams? Interested in tapping into the mobile market? Curious about how to get started with a mobile business?
The solution is crystal clear!…
You need to explore the best mobile business ideas that can offer you flexibility and profitability, all managed from your smartphone.
But before you dive into selecting the perfect mobile business, have you considered why this approach could be more advantageous than traditional business models?
You're definitely intrigued, aren't you? So, let's delve in and discover everything there is to know about mobile business ideas.
What is a Mobile Business?
A mobile business is essentially a business on wheels. Forget the traditional brick-and-mortar setup; we're talking about enterprises that you can operate from a van, truck, or even a small cart. Whether it's a food truck selling gourmet burgers or a mobile pet grooming service, the possibilities are endless.
Why is this concept gaining traction, especially in 2024? Because it offers a unique blend of flexibility and opportunity. You're not tied to a single location, which means you can go where the demand is.
Is a Mobile Business Profitable?
---
Ah, the million-dollar question! The short answer is: Yes, it can be incredibly profitable. But like any business, it comes with its own set of challenges and risks.
The profitability of a mobile business largely depends on several factors: the industry you're in, your business model, and, of course, how well you can market yourself.
For instance, mobile coffee shops often have lower overhead costs compared to traditional cafes, which can lead to higher profit margins.
What Are the Benefits of Starting a Mobile Business?
Starting a mobile business in 2024 comes with a slew of benefits that can make any aspiring entrepreneur jump with joy. Here are some of the perks:
Lower startup costs: Starting a mobile business typically costs less than setting up a brick-and-mortar shop. This is because mobile businesses don't require a physical storefront, which can save on rent and other expenses.
Flexibility: Mobile businesses offer flexibility in terms of location and schedule. Business owners can move to different locations on different days and attend special events to find new customers. They can also set their own schedules and work when it's most convenient for them.
Lower overhead costs: Mobile businesses have lower overhead costs than traditional businesses. They don't require as much equipment or staff, which can save on expenses.
Increased accessibility: Mobile businesses can reach customers who may not have access to traditional brick-and-mortar shops. This can include people who live in rural areas or those who have mobility issues.
Increased brand awareness: Mobile businesses can increase brand awareness by being visible in different locations. This can help attract new customers and build a loyal customer base.
Dynamic customer interaction: Mobile businesses can offer a unique customer experience by interacting with customers in different locations. This can help build relationships with customers and increase customer loyalty.
Direct Customer Interaction: Being on the front lines allows you to engage directly with your customers, gaining valuable insights and building stronger relationships.
Overall, starting a mobile business can be a smart move for entrepreneurs who want to save money on rent and employees, have location flexibility, and drive to multiple locations within a day for maximum sales opportunities.
What Are the Disadvantages of a Mobile Business?
Starting a mobile business can have several advantages, but there are also some disadvantages to consider. Here are some of the disadvantages of starting a mobile business:
Legal considerations: Mobile businesses need to comply with local laws and regulations. This includes obtaining permits and licenses, and following zoning laws. Failure to comply with these regulations can result in fines or even the closure of the business.
Limited space: Mobile businesses have limited space, which can make it challenging to carry a wide range of products or equipment. This can limit the types of services or products that can be offered.
Dependence on technology: Mobile businesses rely heavily on technology, such as smartphones, tablets, and internet connectivity. This can be a disadvantage if there are technical issues or if there is no internet or phone signal in certain locations.
Maintenance and repair: Mobile businesses require regular maintenance and repair of equipment and vehicles. This can be costly and time-consuming.
Seasonal fluctuations: Mobile businesses may experience seasonal fluctuations in demand, which can affect revenue. For example, a food truck may be more popular in the summer months than in the winter.
Limited branding opportunities: Mobile businesses may have limited branding opportunities compared to traditional brick-and-mortar shops. This can make it challenging to build brand awareness and attract new customers.
What Are Some Common Startup Costs for a Mobile Business?
The startup costs for a mobile business can vary depending on the type of business and industry. Here are some common startup costs for a mobile business based on the search results:
Equipment: Equipment costs for startups can range anywhere from $10,000 to $125,000, depending on the industry and size of the company. This can include vehicles, kitchen equipment, tools, and other necessary equipment.
Incorporation fees: Incorporation fees can cost around $145. This may vary depending on the state.
Research expenses: Research expenses can range from $100 to $30,000 or more. This can include market research, product research, and other research-related expenses.
Office space: Rental space for an office can be a startup cost for some mobile businesses. This can include renting a space for storage, meetings, or administrative work.
Insurance: Insurance costs can vary depending on the type of business and industry. This can include liability insurance, workers' compensation insurance, and other types of insurance.
Labor: Labor costs can include salaries or wages for employees, contractors, or freelancers. This can also include payroll taxes and benefits.
Basic supplies: Basic supplies can include office supplies, cleaning supplies, and other necessary supplies.
Basic technology: Basic technology costs can include computers, software, and other necessary technology.
Advertising or promotions: Advertising or promotions costs can include marketing materials, social media advertising, and other promotional expenses.
Business plan costs: Business plan costs can include hiring a consultant or attorney to help with the business plan.
It's important to note that these are just some typical startup costs for a mobile business, and the actual startup expenses depend entirely upon the specific business and industry.
30+ Profitable Mobile Business Ideas Worth Investing in
Certainly! Let's dive into each of these profitable mobile business ideas in detail:
1. Mobile Catering Business: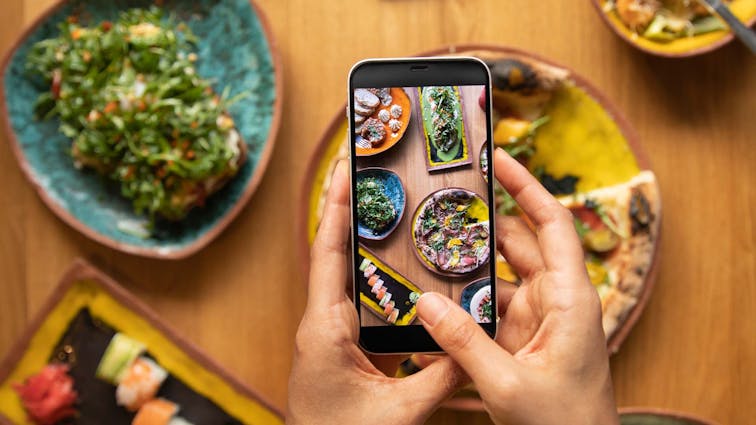 A mobile catering business involves providing food services on the go. With a fully equipped mobile kitchen, you can cater to various events, festivals, corporate gatherings, and even private parties.
This business offers the flexibility to move around and reach a wider customer base. You can specialize in a specific cuisine or offer a diverse menu to cater to different tastes.
The key to success in this industry is delivering delicious food, maintaining high hygiene standards, and building a strong reputation through excellent customer service.
2. Mobile Salon:
A mobile salon brings beauty and grooming services directly to clients' locations, whether it's their homes, offices, or event venues.
Services offered can include haircuts, hairstyling, manicures, pedicures, makeup application, facials, and massages.
This business idea caters to busy individuals who value convenience and personalized services.
Building strong relationships with clients and providing exceptional service are crucial for success in the mobile salon industry.
3. Mobile Pet Grooming Business:
Pet owners often struggle to find the time to take their pets to a grooming salon. A mobile pet grooming business solves this problem by offering grooming services at clients' homes.
Services can include bathing, haircuts, nail trims, ear cleaning, and dental care for pets. This business requires a mobile grooming van equipped with all the necessary tools and supplies.
It provides a convenient and stress-free grooming experience for both pets and their owners.
4. Mobile Car Wash: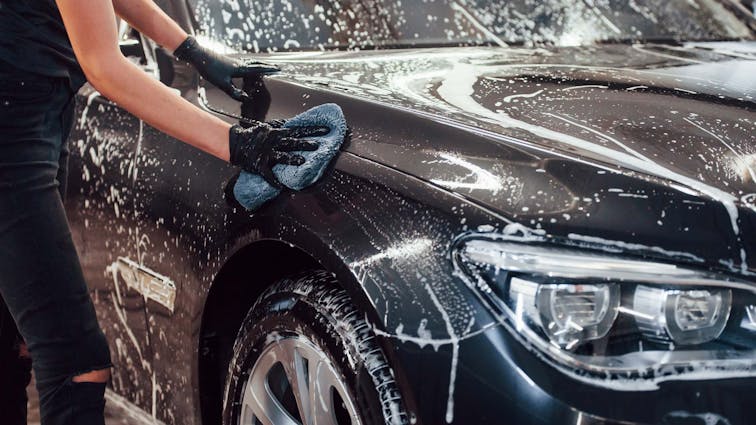 A mobile car wash business eliminates the need for car owners to drive to a physical car wash location.
With a mobile setup, you can offer car washing, detailing, and interior cleaning services at customers' preferred locations. This business idea appeals to busy individuals who value time-saving and eco-friendly solutions.
You can offer different packages, including waterless car washes, eco-friendly cleaning products, and additional services such as waxing and upholstery cleaning.
5. Mobile Bike Services:
As more people choose bicycles for commuting and recreational purposes, a mobile bike services business becomes increasingly valuable.
This business involves offering on-the-spot bike repairs, maintenance, and even bike rentals. Services can include fixing flat tires, adjusting gears, lubricating chains, and performing general tune-ups.
Operating from a mobile unit, you can provide services at bike trails, parks, events, and even customers' homes. This business idea caters to cycling enthusiasts who require convenient and reliable bike services.
READ MORE: Top 15 AI Chatbot Business Ideas: Innovate Your Company with Interesting Chatbot Ideas
6. Ice Cream Truck
An ice cream truck is a mobile food business that sells ice cream and other frozen treats directly to customers on the street.
It typically operates by driving around neighborhoods or parking in popular areas, attracting customers with its jingles or colorful appearance.
Ice cream trucks often offer a variety of ice cream flavors, popsicles, ice cream sandwiches, and other frozen desserts.
They are especially popular during the summer months and at outdoor events such as fairs, festivals, and parks.
7. Clothing Boutique
A clothing boutique is a small retail store that specializes in selling fashionable clothing and accessories.
Unlike larger department stores, boutiques often offer a curated selection of unique and stylish items that cater to a specific target market or niche.
Clothing boutiques can be found in various locations, such as shopping malls, trendy neighborhoods, or online platforms.
They provide a personalized shopping experience and often have a more intimate atmosphere compared to larger retail chains.
Boutique owners carefully choose their inventory, focusing on quality, trends, and individual style.
RELATED: 30 Profitable Part Time Business Ideas to Start Today
8. Mobile Billboard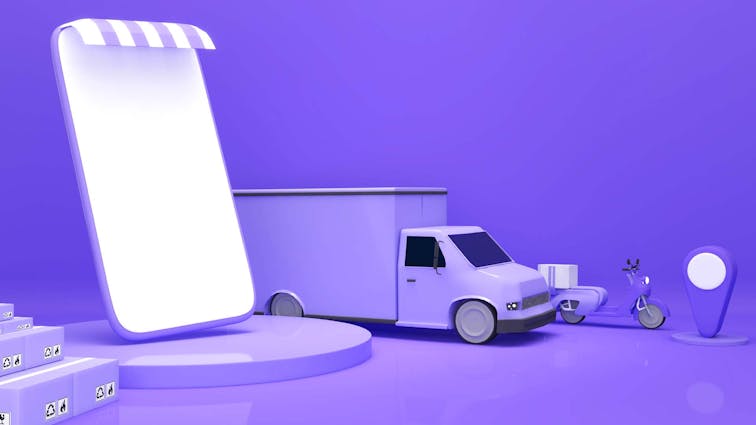 A mobile billboard, also known as a mobile advertising truck or mobile ad truck, is a vehicle that is specifically designed to display advertisements.
These vehicles are equipped with large, high-resolution LED screens or printed vinyl banners, which can display static or dynamic advertisements.
Mobile billboards are often used for outdoor advertising campaigns, as they can reach a wide audience by driving through busy streets or parking in strategic locations.
They can be an effective way to promote products, events, or brand awareness, as they have high visibility and can target specific geographic areas.
9. Mobile Mechanic
A mobile mechanic is an automotive technician who offers repair and maintenance services on-the-go.
Instead of operating from a fixed location like a traditional auto repair shop, mobile mechanics travel to their customers' locations, such as homes, workplaces, or roadside breakdowns.
They come equipped with tools and equipment necessary to diagnose and fix common vehicle issues, such as engine problems, electrical repairs, brake repairs, or tire replacements.
Mobile mechanics provide convenience and flexibility for vehicle owners who may not have the time or means to take their vehicles to a shop.
10. Personal Trainer
A personal trainer is a fitness professional who provides one-on-one or small group training sessions to clients.
They are experts in exercise science, anatomy, and nutrition, and they design customized workout programs based on individual goals, fitness levels, and health conditions.
Personal trainers can work in various settings, including fitness centers, private studios, or as independent contractors who offer home visits or virtual training sessions.
They guide and motivate clients, demonstrate proper exercise techniques, track progress, and provide advice on healthy lifestyle habits.
11. IT Services
IT services refer to the support and management of information technology systems and infrastructure.
These services encompass a wide range of activities, including computer network setup and maintenance, software installation and configuration, cybersecurity, data backup and recovery, hardware troubleshooting, and IT consulting.
IT service providers can be independent businesses or departments within larger organizations.
They help businesses and individuals ensure that their technology operates efficiently, securely, and in line with their specific needs and objectives.
12. Farmers Market Vendor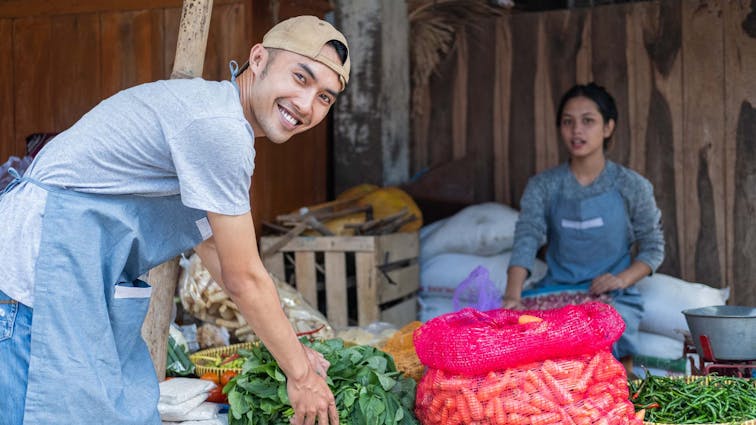 A farmers market vendor is a seller who participates in a farmers market, which is a designated space where local farmers, artisans, and food producers gather to sell their products directly to customers.
Farmers markets promote local agriculture, sustainable farming practices, and the sale of fresh, seasonal produce.
Farmers market vendors offer a wide range of products, including fruits, vegetables, honey, baked goods, dairy products, meats, crafts, and more.
These vendors often have direct relationships with the producers, allowing customers to learn about the origin and methods behind the products they are purchasing.
13. Mobile Coffee Shop
A mobile coffee shop, also known as a coffee truck or coffee cart, is a portable business that sells coffee and related beverages.
It operates from a vehicle or a small mobile unit, allowing the business to move to different locations and reach a wider customer base.
Mobile coffee shops typically serve a variety of coffee drinks, such as espressos, lattes, cappuccinos, and iced coffees.
They may also offer pastries, snacks, and other refreshments. Mobile coffee shops are popular in busy areas, events, and parks, providing a convenient option for people who want a quick coffee fix on-the-go.
14. Food Truck Business:
Food trucks have gained immense popularity in recent years. They offer a wide range of cuisines and menu options in a mobile setting.
As a food truck owner, you can serve your culinary creations at different locations, events, and festivals. This business idea allows for flexibility in terms of menu changes, experimentation with new recipes, and reaching diverse customer bases.
Success in the food truck industry depends on offering delicious food, providing efficient service, and selecting strategic locations.
15. Mobile Cleaning Services:
A mobile cleaning service provides on-demand cleaning services to residential and commercial clients.
With a mobile setup, you can offer services such as deep cleaning, regular maintenance, carpet cleaning, window washing, and post-construction cleaning.
This business idea caters to individuals and businesses looking for professional cleaning services without the hassle of scheduling and traveling to a physical location.
Building a reputation for reliability, thoroughness, and attention to detail is essential for success in the mobile cleaning services industry.
RELATED: 50+ Top Business ideas for women Entrepreneurs at Home
16. Photography Business: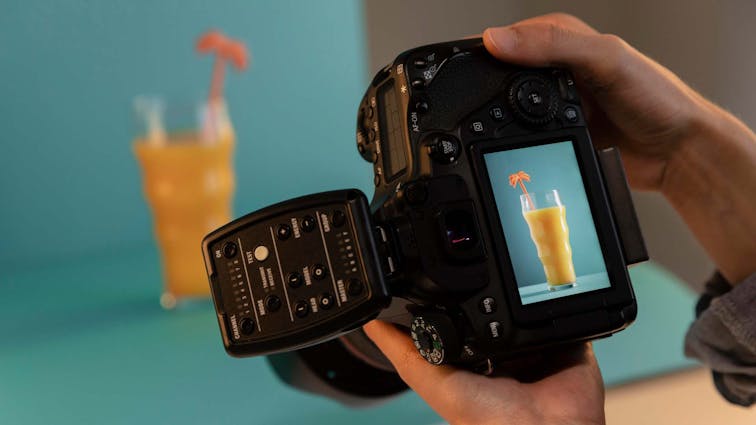 A mobile photography business brings professional photography services directly to clients' chosen locations.
This business idea involves capturing special moments and creating lasting memories. Services can include wedding photography, family portraits, corporate event coverage, and more.
With a mobile setup, you can offer on-location photo shoots and adapt to clients' preferences and needs.
Building a strong portfolio, delivering high-quality images, and providing a personalized photography experience are key factors for success.
17. Mobile Photo Booth:
Mobile photo booths are a popular choice for events and parties. They provide a fun and interactive way for guests to take photos and create lasting memories.
Some companies offer mobile photo booth rentals, where they bring the booth to your desired location.
You can search for local photo booth rental companies in your area to find options.
18. Mobile Phone Repairs:
Mobile phone repair services are widely available, and they can help with various issues such as screen replacements, battery replacements, and software troubleshooting.
You can search for local mobile phone repair shops in your area or consider using authorized repair centers provided by the phone manufacturers themselves.
19. Laundry Service:
Laundry services can be a convenient option for those who don't have the time or resources to do their own laundry.
Some laundry services offer pickup and delivery options, where they collect your clothes, wash them, and return them to you clean and folded.
You can search for local laundry services in your area or consider using laundry apps that connect you with service providers.
20. Airport Shuttle Service:
Airport shuttle services provide transportation to and from airports. They are a convenient option for travelers who want a reliable and hassle-free way to get to their destination.
You can search for local airport shuttle services in your area or check with your airline or airport for recommended shuttle services.
21. Corporate Transportation Service:
Corporate transportation services cater to the transportation needs of businesses and organizations.
They provide professional and reliable transportation solutions for corporate events, meetings, and airport transfers.
You can search for local corporate transportation service providers in your area or consider using ride-hailing services that offer business-specific options.
22. Employee Training Service:
Employee training services offer specialized training programs for businesses and organizations.
They can provide training in various areas such as leadership development, customer service, and technical skills.
You can search for employee training service providers in your area or consider using online platforms that offer a wide range of training courses.
23. Courier:
Courier services specialize in the delivery of packages, documents, and other items.
They offer fast and reliable delivery options for both individuals and businesses.
You can search for local courier services in your area or consider using online platforms that connect you with courier service providers.
24. Locksmith:
Locksmiths are professionals who specialize in locks and security systems. They can help with various services such as lock installation, lock repairs, and emergency lockout situations.
You can search for local locksmiths in your area or consider using locksmith apps that connect you with service providers.
25. Food Delivery:
Food delivery services have become increasingly popular, especially with the rise of online ordering platforms.
They offer convenient options for getting food delivered to your doorstep from restaurants and food establishments.
You can search for food delivery services in your area or consider using food delivery apps that provide a wide range of options.
26. Pool Cleaning Service:
A pool cleaning service specializes in maintaining and cleaning swimming pools. They can handle tasks such as skimming debris, vacuuming the pool, balancing chemicals, and inspecting equipment.
Pool cleaning services can be hired for regular maintenance or one-time cleanings.
You can search for local pool cleaning services in your area or consider contacting pool maintenance companies.
RELATED: 16+ Best Side Business Ideas for College Students to Earn While Studying [2023]
27. Painting Service:
Painting services offer professional painting solutions for residential, commercial, and industrial properties.
They can help with interior and exterior painting, including walls, ceilings, trim, and other surfaces. Painting services typically include surface preparation, primer application, and the use of high-quality paint.
You can search for local painting services in your area or ask for recommendations from friends or neighbors.
28. Window Tinting: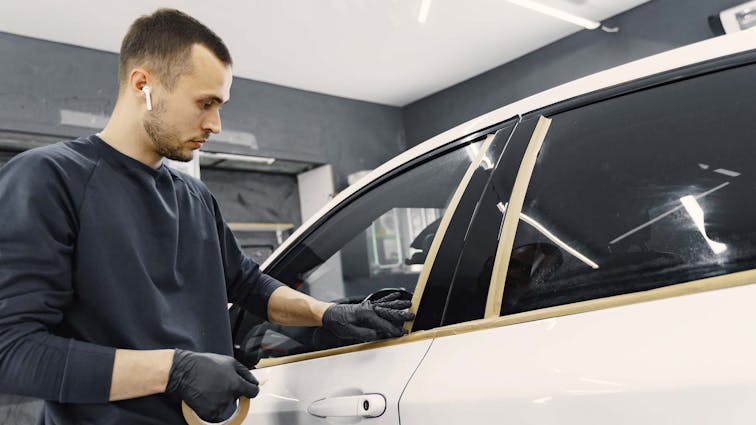 Window tinting services provide the application of a thin film to windows, which helps reduce heat, glare, and UV rays from entering a building or vehicle.
Window tinting can also provide added privacy and security. These services are commonly used for vehicles, residential properties, and commercial buildings.
You can search for local window tinting services in your area or consider contacting automotive shops or window tinting specialists.
29. Massage Therapy:
Massage therapy involves the manipulation of muscles and soft tissues to promote relaxation, relieve pain, and improve overall well-being.
Massage therapists use various techniques such as Swedish massage, deep tissue massage, and sports massage to address specific needs and preferences.
You can search for local massage therapy providers in your area or consider contacting wellness centers or spas.
30. Dog Walking:
Dog walking services offer regular walks and exercise for dogs when their owners are unable to do so.
Dog walkers can provide individual or group walks, depending on the dog's needs and socialization preferences. These services are beneficial for busy pet owners or those who may have limited mobility.
You can search for local dog walking services in your area or consider contacting pet care agencies or independent dog walkers.
31. Personal Shopper:
Personal shoppers assist individuals in selecting and purchasing items, whether it's for clothing, groceries, or gifts.
They can provide personalized recommendations, find the best deals, and save clients time and effort. Personal shoppers can work independently or be employed by department stores or luxury brands.
You can search for personal shopping services in your area or consider contacting high-end retailers or concierge companies.
32. Party Rental Provider:
Party rental providers offer a wide range of equipment and supplies for parties and events. They can provide items such as tables, chairs, tents, linens, decorations, audiovisual equipment, and more.
Party rental services are convenient for individuals hosting events who want to avoid the hassle of purchasing or storing event items.
You can search for local party rental providers in your area or consider contacting event planning companies or party supply stores.
Enhance your online business experience with Aasaan
The go-to choice for exceptional ecommerce websites. Instead of listing features, we believe in letting you experience it firsthand.
Take control and explore Aasaan's user-friendly features. Sign up for a free trial to see how easy, intuitive, and packed with features our ecommerce website builder is before choosing the right plan for your business. Your journey to a strong online presence starts here.
Ready to kickstart your mobile business journey? Book a consultation to create your online store today!
FAQ's On Mobile Business Ideas:
1. How Can I Make My Mobile Business Successful?
To make your mobile business a roaring success, focus on the following key areas:
Market Research: Understand your target audience and what they want.
Quality Service: Offer top-notch products or services that meet or exceed customer expectations.
Effective Marketing: Utilize social media, SEO, and other marketing strategies to get the word out.
Customer Engagement: Build strong relationships with your customers through excellent service and communication.
Financial Management: Keep an eye on your expenses and revenue to ensure profitability.
2. What Business Can You Run From Your Phone?
Believe it or not, there are several businesses you can run straight from your smartphone:
Social Media Management: Manage social media accounts for businesses.
Affiliate Marketing: Promote products and earn commissions.
Consulting: Offer your expertise in a specific field.
Content Creation: Write blogs, create videos, or even podcasts.
Virtual Assistance: Provide administrative support to businesses.
3. What Business Can I Run From a Trailer?
A trailer offers a unique mobile business opportunity. Here are some ideas:
Mobile Retail Shop: Sell clothes, accessories, or even books.
Mobile Art Gallery: Showcase and sell artwork.
Mobile Workshop: Offer repair services for bikes, electronics, or even furniture.
Mobile Fitness Studio: Conduct fitness classes or personal training sessions.
Mobile Gaming Zone: Set up gaming consoles and offer a mobile gaming experience.
4. What Business Can I Start on a Phone?
Starting a business on a phone has never been easier. Here are some options:
Dropshipping: Sell products without holding any inventory.
Freelance Writing: Offer writing services to clients.
Graphic Design: Create logos, marketing materials, and more.
Online Tutoring: Offer educational services in subjects you're proficient in.
Stock Photography: Sell your high-quality photos on stock websites.
5. How to Start a Mobile Business?
Starting a mobile business involves several steps:
Business Plan: Outline your business idea, target market, and financial projections.
Legal Formalities: Register your business and get the necessary permits and licenses.
Funding: Secure the necessary capital for your startup costs.
Equipment: Purchase or lease the equipment you'll need.
Marketing: Create a marketing plan to attract customers.
6: Are mobile businesses only for small business owners?
A: No, mobile businesses can be operated by both small business owners and larger companies. The mobility aspect of these businesses allows for flexibility and reach to a wider customer base.
7: Is it profitable to start a mobile pet grooming business?
A: Yes, a mobile pet grooming business can be profitable as there is a demand for convenient pet grooming services. By providing grooming services at customers' homes, you can save them time and offer personalized attention to their pets.
8: How can I start a mobile photography business?
A: To start a mobile photography business, you need to have photography skills, invest in professional camera equipment, create a portfolio, market your services, and offer mobile photography sessions for various occasions or events.
9: How can I start a mobile retail business?
A: To start a mobile retail business, you need to decide on the type of products you want to sell, source and manage inventory, create a mobile retail setup or vehicle, obtain necessary licenses and permits, and market your products to potential customers.
10: How can I become a mobile pet groomer?
A: To become a mobile pet groomer, you need to acquire pet grooming skills and knowledge, invest in appropriate grooming equipment and a mobile grooming setup, build a client base, and provide reliable and quality pet grooming services.
Get started
Experience the most powerful way to build beautiful & engaging shopping experience for your business here.
Check out our blogs
Aasaan help businesses build headless commerce storefronts using AI without needing to code. And this is our blog.
Read more stories