How to Start an Online Reseller Business?
Starting an online reseller business is a good way to earn money for a first-time entrepreneur. However, it depends on why and what type of online reseller business the first-time entrepreneur opts for.
Growing a reseller business requires a lot of patience and commitment, on the part of an online entrepreneur. He or she needs to be clear about the reason why they are starting a reseller business.
Online reselling business include:
To sell a huge variety of reseller products
To prepare a platform to launch your own business
To sell products without keeping bulk inventory
To diversify into other verticals quickly and easily
To keep financial risk to the minimum
Easier to save time
Manage product pricing to boost profit margins
However, if the first-time entrepreneurs are not sure about how to proceed with setting up an online reseller business, they can make use of the aasaan app.
Using the aasaan app or application, first-time entrepreneurs can effortlessly start an online reseller business of products they choose, develop a brand and grow their business in a cost-effective manner to maximize their profits.
aasaan app is made to help first-time entrepreneurs and businesses use technology to reach their true potential. aasaanapp believes in I-S-P-S or Inspire-Simplicity-Perseverance-Success as the key to building a successful online reseller business.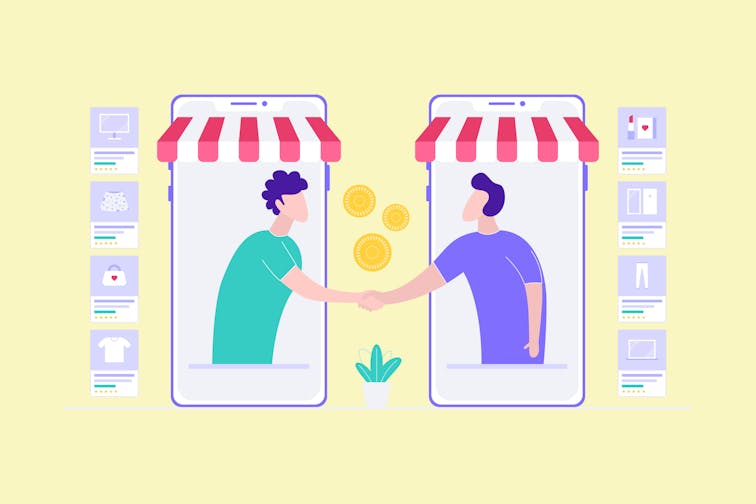 Online reseller business is a form of drop shipping, run by individual men or women who buy things to resell them online in wholesale or retail quantities for a margin to earn money.
The growth in technology, and exponential growth in social media outreach coupled with the use of smartphones has provided huge opportunities for growth for online businesses, particularly in India. Most have successfully transitioned from reselling as a hobby into an actual business.
Online reseller businesses buy from manufacturers, liquidators or other retailers and sell to their own online clientele. While some online reseller businesses need physical premises to keep stocks of goods, others don't and buy and sell over the internet without any pre-purchasing of stock.
They buy goods online and sell them online. On the other hand, many online reseller business owners sell their own work online like videos, art and craft, painting, cloth, and much more. Also, online resellers do not provide any type of after-sales service or marketing assistance to producers.
Advantages of online reselling business
There is no need for large investments while starting.
Initiate quick setup of the business.
No need to build inventory.
Sell proven products.
It is very flexible and versatile.
No need to worry about shipping or fulfillment.
It provides easy growth and expansion.
It provides high-profit returns.
Who can start an online reselling business?
Anyone can start an online reselling business. One doesn't need to be highly qualified to set up an online reselling business.
How to start an online reselling business?
Starting an online reseller business is easy and doesn't require any huge investment or expertise.
Whether you are someone who wants to do a part-time or full-time business, it is important to do proper research to create an effective plan and follow through with it.
The first part of the pan is to get the requisite permits by following a process, which include:
Registering the business and getting a business license. It is better to get a business license in all states that you operate or plan to operate.
Properly research state laws and regulations. Check which state allows an online reseller to operate with out-of-state permits and those that won't.
Submit an application for registration of business backed by all necessary documentation.
Get a reseller's permit in each state where you want to buy and sell goods.
Once the permits are in place, the online reseller business needs to finalize and prepare a list of the following.
1.Product line:
Resellers may want to sell varied products but selling products from the same industry is preferred, like selling either mobile phones and accessories or baby products.
2.Target audience:
Resellers need to have a clear idea of their target audience. Selling/advertising products to audiences who don't have any use for them will affect the business.
3.Competitors:
It is important to know the competition a business is up against as it will help devise a strategy as to how to price a product to make it enticing for online buyers more than the competitors.
After finalizing product line and prices, online reseller businesses need to source their products through:
Reseller apps like meesho, eBay, OLX, and Cartlay
Local sourcing channels like friends and family, flea markets, consignment auctions, garage sales, clearance sales
Online reseller businesses after sourcing their products need to set up a communication channel such as a website, blog/article, or social media channels.
Online reseller businesses after setting up a communication channel need to have a marketing strategy in place to grow the business more. These include strategies like:
Pricing products in the economic range
Free delivery options
Discount offers
Sending enticing messages
Getting testimonials from esteemed customers
Issue referral discounts
1. Establish Payment Channels
Once everything is set up and the online reseller business starts receiving orders, the last crucial step is to set up a payment processing channel.
This is needed to make payments, send late payment reminders, and accept payments seamlessly.
The payment channel also helps receipts on a daily/weekly/monthly/quarterly basis. For this online resellers can partner with Razorpay, Mastercard, Netpay International, etc**.**
2. Establish Accounting System
Once the business starts running, an online reseller business needs to have an accounting system in place to keep track of income and expenses to finally calculate taxes payable.
Most important thing is to ensure that the business has its own verified bank account linked to the accounting system. This is important for ensuring that every business adheres to regulations put in place by the government.
3. Online Reseller Business Opportunities
Some of the best online reseller businesses that can be started with ease are Dropshipping, Apparels, Beauty and wellness products, Sneakers, Vintage boutique products, Pet supplies, Vehicle accessories, Jewellery, Kids Toys, DVDs, Designer sunglasses, Women's apparel, Kids formal wear, Men's accessories, Books, Nightwear, Outdoor Furniture, Mobile phone and accessories, and Electronic items.
4. Keep Track of Inventory
Once an online reseller business is up and running, and the business starts buying and selling products online; it is important to have an inventory system in place. The inventory system will help keep track of products purchased and sold, as well as the stock of products at hand.
5. Choose Hosting Plan for Reseller Business
Once everything is put in place online reseller business needs to have the website up and running before it starts buying and selling products online. The business needs to take help from web hosting providers to make sure the website is accessible online to all potential users.
A proper hosting plan will ensure that the website becomes a digital storage for all relevant information and content about the online business. While Shopify provides web hosting for your reselling business, ecommerce platforms like WooCommerce require third-party hosting.
6. Marketing Strategies for Online Reseller Business
Online reseller businesses try to make money fast. In order to do that they adopt several different types of marketing strategies such as follows:
Make use of online advertising.
Price products well.
Create targeted ads on social media.
Take good photos of products put up for sale online.
Create content through blogging to build a brand.
Prepare a proper and segregated list of products.
All the above steps if adhered to properly by a first-time businessman or businesswoman; aided by AASAAN App will help them launch an online reseller business to make money quickly by selling products quickly with proper strategy in place. Download the the AASAAN App today for free and set up your own online reseller business.
Get started
Experience the most powerful way to build beautiful & engaging shopping experience for your business here.
Check out our blogs
Aasaan help businesses build headless commerce storefronts using AI without needing to code. And this is our blog.
Read more stories